October 7-November 13, 2013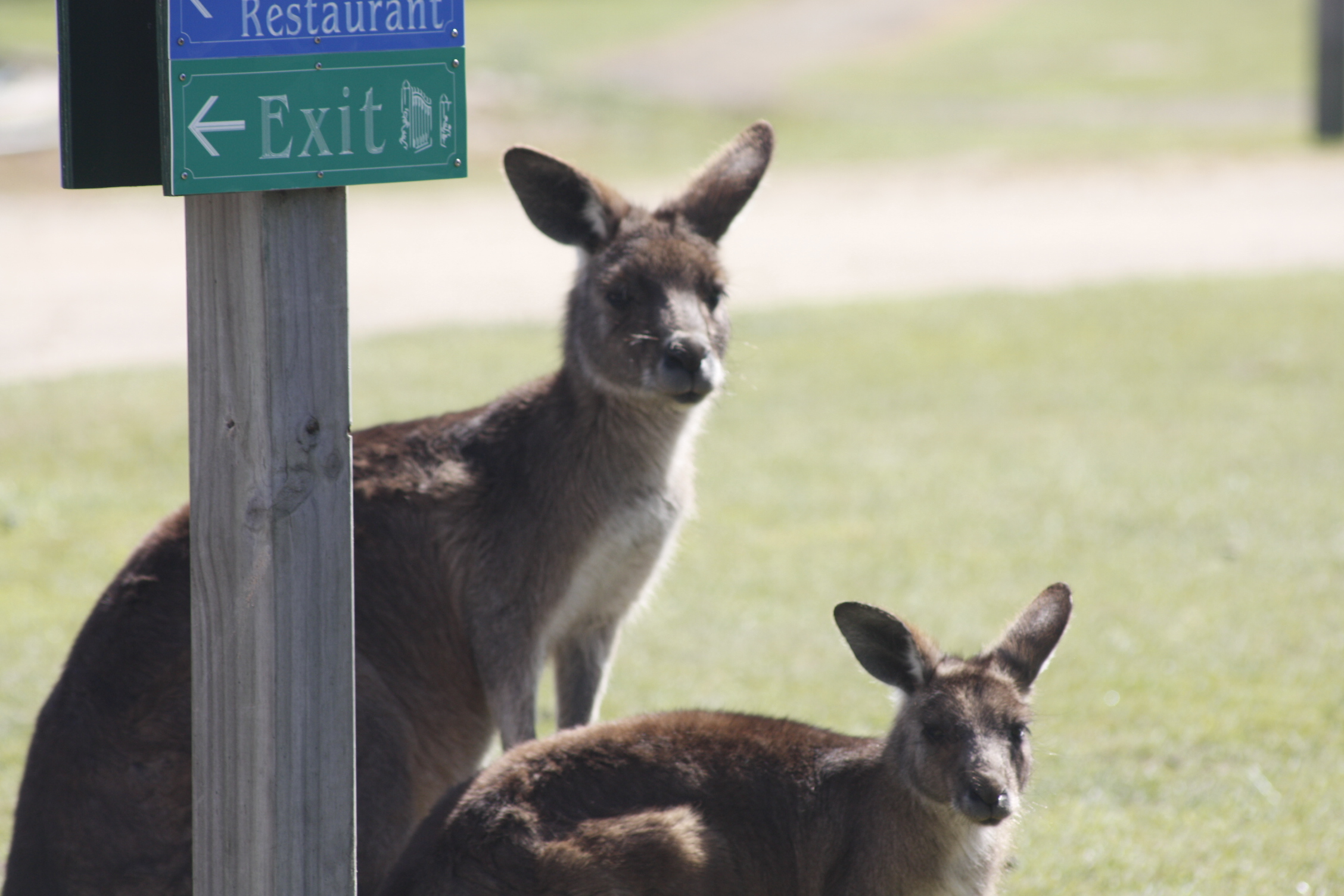 Day 1, Monday, October 7
We leave for the airport. Everything went well and arrived LAX a few minutes early and shuttled to the airport Travelodge. Just looking for a place to sleep but the place was surprising. It is an 1950's hotel and in its day hosted such luminaries as Howard Hughes, Roy Rogers, Dale Evans and, I assume, Trigger had the garden accommodation (got to have Hopalong too). There is a sign to not throw your coffee or other beverages into the potted plants—they take their garden seriously. The bed was good, the room large and quiet and they had the usual "complimentary" breakfast—watch those bagels go through the rotating toaster! See the yoplait trying to fool you that it's yoghurt, etc.
Day 2, Tuesday, October 8
Frank's sister Sue and her husband Bill pick us up at the hotel took us to Venice. They still have "Muscle beach" there, but it's not as good as it was in the 70's. On the other hand, almost every other shop on the beach street was a "medical" marijuana store. Also lots of places to get tattoes, buy funky 60's tie dye shirts, etc. (Frank developed a serious cough and back pains and had to duck into a store)
After that we went to Olvera St—it is the oldest Mexican area and very interesting to walk through. The street is closed to traffic. We had the best mexican food I've ever had there at La Golondrina.
Later that evening we left LAX for Sydney.
Day 3, Wednesday, October 9
This is a "lost" day due to the time difference.
Day 4, Thursday, October 10
Arrived in Sydney. All luggage is inspected before you can leave the airport. They have a lovely little dog who sniffs it all out and he/she didn't like my purse, so they emptied it and found nothing suspicious. Mostly, they are trying to keep insects and plants and seeds out the area. The are trying to limit the invasive species.
We made it to our hotel, the York by Swiss Belhotel, but our room wasn't ready yet so we went to the sauna/pool area and freshened up, then wen off fo find the Telstra office to get a sim card for the phone so we could use it in Australia. They told us it couldn't be done. (After we were in our hotel room and could use our computer, Frank found the blog with the exact instructions on how to do this and after two more trips and Frank sitting with the folks there, we were all set up). Then we walked around the area. We wandered around Circular Quay, had coffee and gelato and walked around the Sydney Opera House. The harbor is just beautiful, full of life, restaurants, boats, ferries, etc. We took a turn and walked back to the hotel through the botanical gardens and then took a nap. Our apartment was just lovely. Went out and found a grocery, which was under a dome where the metro station was and got breakfast food and snacks.
Next, we walked into the Rocks area, the oldest neighborhood in Sydney and went into the Oneida Hotel for dinner, which was just terrible. Probably the worst meal we had on the whole trip, Frank couldn't cut, much less eat his steak and my coq au vin had no "vin" and was in a terrible tomato sauce.
In bed by 9 p.m. and had a great night's sleep.
Day 5, Friday, October 11
We took a local bus tour of Sydney to get better oriented. We jumped off at the aquarium as we were curious what the local fish were about and had a marvelous experience. They have tubes you walk through with fish above and on the sides of you. When we were done, we walked around Darling Harbor which abuts the aquarium and then back to rest.
We had dinner at Mejicos—great food. There was a young, lively, dressy crowd. Everyone was very chic in 5-6" high heels and beautiful dresses (not most of the guys). People in Sydney dress very well in high end designer clothes, with stylish haircuts. It is a great place to people watch—much like a fashion runway. Also, the people are very friendly, and we found this throughout Australia—if you stood on a corner and looked bewildered, someone always graciously approached you and asked if they could be of assistance.
Day 6, Saturday, October 12
Sydney is a mix of older sandstone buildings and tall glass skyscrapers, side by side. Sydney is proud of the old and new existing together. Many of the new buildings were colorful, with either colored glass or colored accents. The buildings were in every shape imaginable for a skyscraper—curved, slanted, offset, etc.
Our bus tour of yesterday allowed us another bus tour to the suburbs so we took that today. We jumped off at Bondi beach and put our feet in the water. It is a funky town . It was a stunningly magnificent beach which was formed by a volcano and is curved and perfect for surfers, of which there were many. We walked the beach and boardwalk, saw a little boy with an all wooden (except the tires) bicycle.
Later on we toured the historic Rocks neighborhood and had a late lunch at Fratelli Fresh on Hickson St. The food was great. The area provides a walking tour, telling you about all the old dwellings. It is now a high end place to live.
We went to the Contemporary Museum in the Rocks where there was a good exhibit called String Art. It was a show of contemporary Aboriginal artists and quite good. We then went home to rest.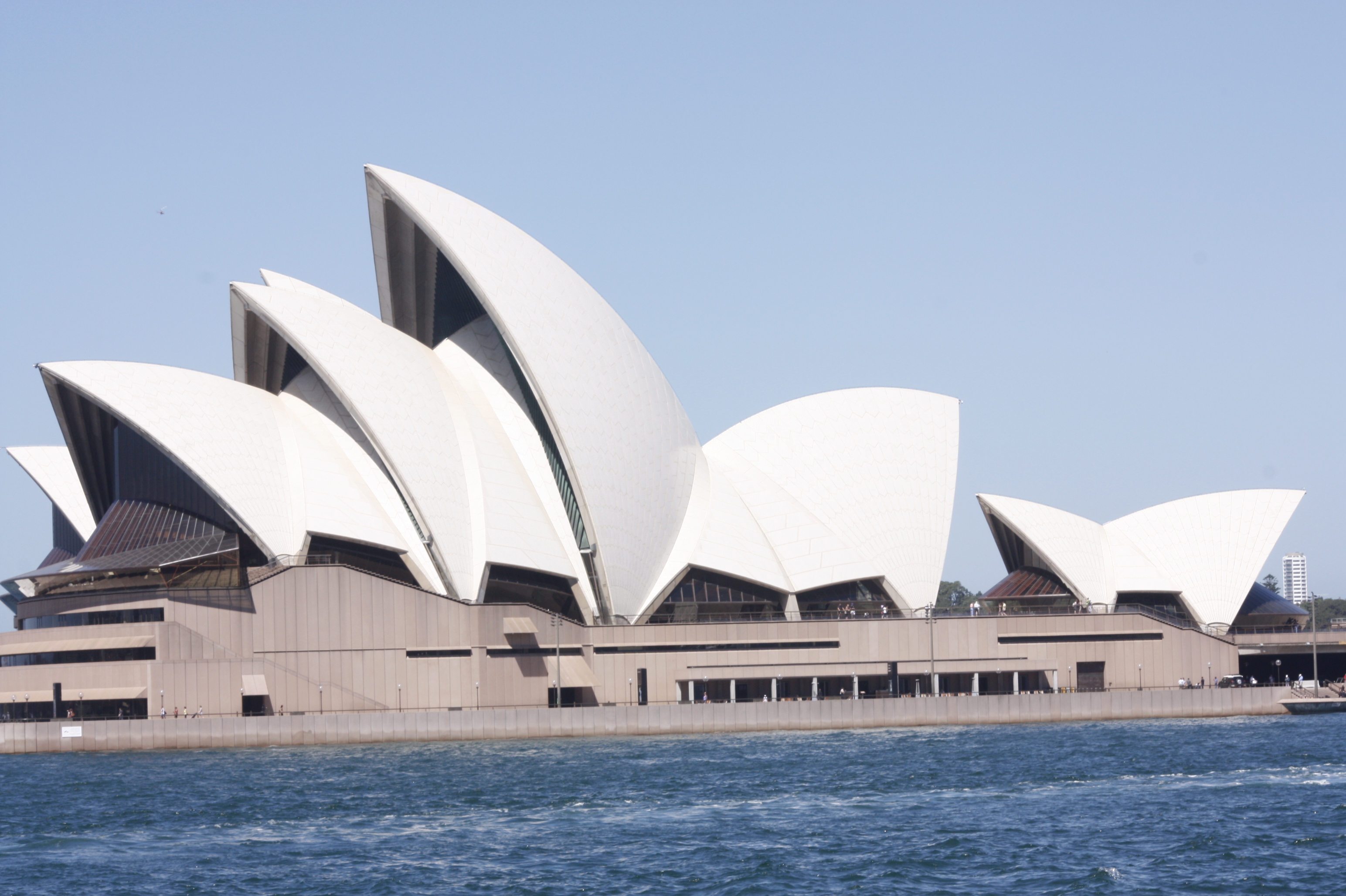 The Sydney Opera House
Then it was off to the Sydney Opera house to see South Pacific. The show was performed by the Sydney Opera company and the voices were great. They stuck to the original sets and dances of the Broadway production which I saw when I was a child in NY with Mary Martin as the lead at that time. The Sydney Opera house was great to experience and they were celebrating their 40th anniversary. The setting is amazing, jutting out on the harbor like a ship at sea, all reflected in the waters.
When we got out, we walked around the harbor, had a late night dinner and watched the boats floating by and enjoyed all the beautiful people.
Day 7, Sunday, October 13
Today the weather was in the high 90's and we decided to take the ferry to Manly beach. The ferries are a great way to see the harbor and they go to quite a number of interesting venues. We swam at Manly, a beautiful stretch of beach and then walked along a pedestrian walkway to Shell beach and swam some more. Now we can say we swam in the Tasman sea. Along the pedestrian walk there are benches and they've made an enclosure along the rocks that let's in the sea so young children or those afraid of surf can swim. We took the ferry back, had a nice gelato on the quay and went back for a little rest. That night we ate at a noodle house around the corner from the York. There are a lot of noodle shops in Sydney and it was food week and they celebrate one weekend with a big noodle party in one of the parks.
Sydney history—the Dutch came first and called it New Holland. They the Portuguese and finally the English, who sent their convicts. When the Queen gave land (not hers to begin with but who cared about the ethics of it all) to some Englishmen to settle the place, the convicts provided all the labor to clear the terrain and build the homes and plant crops, etc. There is a lot of convict history, and they have preserved the jails in many of the places we visited. It was a brutal existence. At some point in their history, they decided to expunge all the records so you would no longer know who arrived here as a convict and who didn't.
Tthe population of Sydney—there are a lot of immigrants. Many come from the Asian Pacific corridor—Malaysia, China, Thailand, etc. They are very integrated in society with a lot of mixed marriages visible. We often saw Asian women with Caucasian men but not the other way around. These women were not meek and subservient. We did not see a lot of black people. There are aboriginals who were very dark skinned, but many aboriginals have intermarried over the years and are not so readily identifiable. As with our native american population here in the US, the aboriginals were treated very poorly—killed, enslaved, subject to smallpox and alcoholism. They were not allowed to speak their language and their children were sent to live with white families so they could have a "better" life---sound familiar? There is a great deal of reconciliation going on –housing, recording of remnants of existing languages, exhibits in all the museums we visited ,etc. Once there were 400 different Aboriginal tribes and numbered 1 million in population, but after the whites arrived, there were only 100 thousand left. Now there are about 250,000.
There are evident in the tourist industry a great number of young folks on two year visas. They are from all over the world. Otherwise Australia, which was once so big on drawing immigrants to its underpopulated country, is now limiting and selective in its choice of who can come into the country, even creating some controversy by turning about boat people.
My friend Marilyn, who recently married a Tasmanian (an island state of Australia) and is applying for a permanent visa, had to submit 150 pages of documents to make her case, although she said that they are very pleasant about it.
Day8, Monday, October 14
Today we headed off to the Australia Museum and on the way saw St. Mary's, a very large gothic church and the oldest in Sydney. The museum was true "natural history"--much of which needs an upgrade, although I really like some of the older museum-ship. According to our volunteer guide, seems they are "happily" getting a new director.
On our way back we walked through Hyde Park (the English brought a lot of their familiar names with them). There is a memorial to the Anzac fighters of the "great war". We continued walking—we could walk almost everywhere and chose different neighborhoods to roam through—and went through another area of the Royal Botanical gardens to the Museum of New South Wales which had everything from contemporary art back through the 1500's and before, similar to the Met in NYC. We saw some very nice work. It's in a beautiful setting in the park overlooking the harbor.
We had dinner at La Bora—a good Italian restaurant with a most beautiful waitress (she said it).
Day 9, Tuesday October 15
Today we took a tour through the Hunter Valley wine region with Boutique Wine Tours. We learned, along the way, that Australia has a population of only 23 million and that 4.6 million live in Sydney, with a third in the suburbs. (By comparison Shanghai has 22 to 23 million people).
There are over 320 species of eucalyptus (or gum) trees only four of which the koala will eat. Given that, and logging of habitat, plus the rise of cats and dogs, the koalas are not doing well. They once were hunted for their furs, but when the pelts dried the fur fell off, so that didn't last long (the hunting either).
Another problem is the termite population, also called white ants. These white ants are responsible for the didgeridoo, which is made when white ants eat ouf the center of the branch. If you were to buy one(and I'm not sure why tourists do as they make a pretty miserable sound) be careful not to buy ones made in China as the are just drilled out.
We went over the Hawkesberry River, 50 North of Sydney. Brooklyn (my hometown!) is on one side. They do oyster farming here. As you will see later, there is a lot of fish farming in Australia.
Australia has 9 of the most venomous snakes in the world. Also the first and third most venomous spiders. With one, when you are bitten, you start to decompose at the bite site so they can digest you more easily.
A guide we had in Cairns wanted us know that although the idea of Australia having the most poisonous of a lot of species—consider the box jelly fish for example—is one that is prevalent through out the world. So he did a study going back about 50 years to see how many people actually died of these critters and it turned out to be average of only 8 a year!
The Hunter Valley is the oldest wine producing area in Australia. There are now over 120 wineries in the area and we were taken to three smaller ones. Most of these wineries only sell from their front doors so you won't find them at a store. The first was the Iron Gate, outside Cessnock where we bought a nice bottle for later. He uses only cork and had a whole speech about it. He gave a very entertaining tour.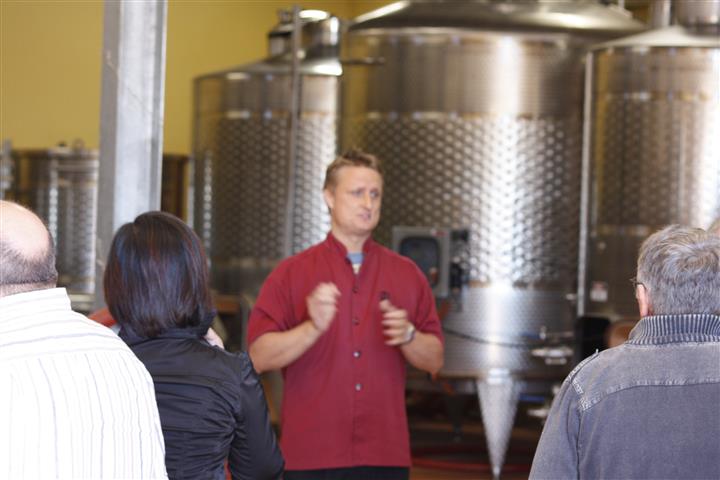 At the Iron Gate Vineyard
Next to Savannah where we saw our first wild kangaroo in the field.
A lunch stop at the Garden Center at Oscars and the the third winery, Ernest Hill.
Day 10, Wednesday, October 16
This was mostly a flight day as we were on to Cairns.
Frank creates the "Great Ketchup Splatter" incident at the airport, managing to get me, the woman at the next table, the wall behind us both, etc. But you should see these ketchup containers. They look like our plastic ones but with no way in. You can't peel the foil back, or pierce it with a knife. We had to be show how to get into it. Obviously Frank was not paying as much attention to the process as needed. (In my defense it's a stupid way to package ketchup.  A tiny little package but the projection reminded me of a scene from the Exorcist.  Amazing.).
We stopped at the tourist office fo find tours and the agent recommended we eat at the Rattle and Hum which was on the esplanade and very good.
We got to our hotel, the Mantra Triology and heard a lot of noisy "birds". Turned out they were fruit bats hanging in the mangrove trees outside the hotel. It was an amazing sight!
Day 11, Thursday, October 17
We picked our tours and made reservations. They we took a walk along the Esplanade and went for a swim in the large public lagoon. The city lets the water from the sea into this enclosed area which keeps the box rays, etc out of the water, they have some wooden dock areas and a sandy area and it is then surrounded by a grassy park with tables and often music. This is all free to the public, and is quite beautiful.
We had dinner at Fettucina which was very good. I had sweetlips, a mild white fish, for my entree/ In Australia they have appetizers, main courses, entrees, sides and dessert. Everything, including bread, is a la carte. There is no tipping in Australia as the servers are paid a living wage of at least $18 hour. Tipping is creeping in, but not in any significant way. You don't tip taxi drivers, etc. On the other hand, restaurant food is often rather pricey. A side of bread can be $7.
Day 12,Friday, October 18
Today is the Great Barrier Reef. We took the Seastar to both Michelmas Cay and Hastings Reef. Michelmas Cay is a soft coral area and bird sanctuary on a small island. Hastings Reef is hard coral, quite large and just amazing. We saw, among other highlights: large turtles, white tipped fin sharks, "Nemo", gigantic clams, sweetlips (what I had for dinner last night) damsel and clown fish to name just a few. And so many colors of coral. It was one of the most amazing experiences I've ever had, just to snorkel and be among these fish. It makes an aquarium look like a fish bowl. The Great Barrier reef area we were in was in the Coral Sea. So now we can say that we swam in both the Tasman and Coral seas. It was warm enough that we didn't need wet suits, although they were offered. As an aside, there isn't enough suntan lotion in the universe!
Dinner was Thai food at Khao and was excellent.
Day 13, Saturday, October 19
Today was an R and R day. We went to the Contemporary Arts museum where they had a show of Contemporary Aboriginal art—there were a lot of prints and they were quite striking. Upstairs there was a sculptor who made Sentinels. Then we were to the Cairns Regional Gallery. They had an art auction downstairs...mostly mediocre art but sold (the idea was to have affordable pieces so folks could have the experience of having art in their homes) and upstairs was Ken Thaiday, a Torres Strait artist who made this complex headdresses that were not for use and often had moving parts.
Later we swam again at the Esplanade then had dinner at Dundees on the water, known for its Aussie food. We started with some great local oysters and then I had crocodile and kangaroo satay. It was delicious.
Day 14, Sunday, October 20
Today we took the bus to the Tropical Botanical Gardens. Not many people go here as it's not often advertised and that is because it is free! And it was spectacular. So many plants—ferns, orchids, etc. They start with a primitive era garden of age old plants and then it just keeps on going through a lot of flowering and exotic tropical plants. We also was bush turkeys. They build mounds out of leaves, about 6 feet in diameter and 4 feet tall. They put their eggs in there to hatch and keep the temperature at 30C. They stick their heads in to gage the temperature and if it's too hot, they scratch away leaves and if too cold, they add them. It also protects the eggs from predators who have to do a lot of digging and be rather lucky to find the eggs. We also saw many butterflies, Australian pelicans and ibis.
We then took another bus and went to Palm Cove ...  a stunningly beautiful beach. Ate dinner at Mother India.
Day 15, Monday, October 21
Today we had our second tour which ws a 4WD up to Cape Tribulation—aptly named as the explorer, James Cook, said that was where all his tribulations began. This area is within the Daintree National Rainforest. On the way we learned that many of the fields were planted in sugar cane. They also grow chocolate in this area, and the two are consumed in large quantities by Australians. Older homes in this tropical area are built on stilts with slatted floors so cool air could ascend on hot days and cool the house.
They have buses here that are powered by the sun too. All the outlets throughout Australia have on/off switches.
We saw wild wallabies along the way. This is a tropical rainforest and the insects, birds, plants and reptiles are still being discovered.
Stopped at Mt. Alexandra Lookout to take pix.
Cassowaries are in the area (although we never spotted one in the wild—they are elusive and nasty—there are signs that say, "Be Cass-o-WARY"). The cassowary is responsible for 240 species existing in the rain forest as they spread seeds through their feces.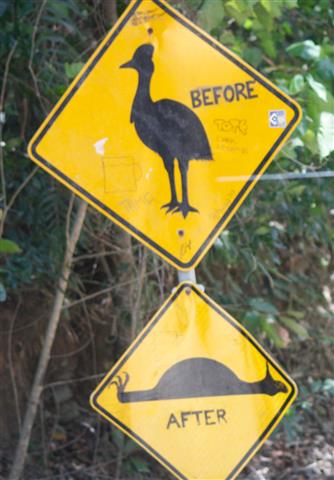 Saw lizards and learned about the flora.
We stopped at Emmagren creek for a swim had billy bread and billy tea (made by swinging the billy tin in a large arc) and ate some exotic tropical fruit. My favorite was this creamy custard apple—the sour sop variety. It looks nothing like an apple by the way and rather large, white inside with dark seeds. I hope I come across another one some time in my life.
At lunch we had a "barbie" of steak and sausage with salads
We went up to Cape Tribulation and went on a river cruise. Saw crocs—crocs lay asexual eggs and the temperature determines the sex. Saw a jabarou, which is a black stork and kingfishers, etc.
Day 16, Tuesday, October 22
Flight to Melbourne. Had booked an apartment through airbnb in the CBD. It was situated in a lane, of Melbourne has many and they all are different, with restaurants, shops, one devoted to graffitti, etc. Had a nice dinner in one lane .
Day 17, Wednesday, October 23
Woke up to rain. Had breakfast in the restaurant across from our apartment. They we rode the free tram around the CBD and got off in Chinatown, ate at Shanghai Street and had pork/crab buns, hot and sour soup and chicken with peanuts and chilis---LOTS of chilis. It was all delicious and very chinese and many chinese were eating here and the place was large and packed.
We walked the lanes some more and wnet to the Ian Potter Center in Federation Square. Federation Square is where there are a lot of outdoor concerts, the HQ's of tourist information, several museums, etc. It is a very disorienting type of contemporary architecture...contemporary with jutting angles everyone that can make you dizzy.
The Ian Potter center is actually two museums, one is here. We saw a history of Australian art from the first painters to contemporary. Many of them studied or were originally from England and Paris and the work was derivative of the movements there. Have found this to be true everywhere we've seen art in Australia. With the exception of the aboriginal artists, and they feed off their history. Some contemporary aboriginal artists are trying to break out and reflect the current times and not be labelled just because of their heritage and these were the best.
Day 18, Thursday, October 24
Off to the Queen Victoria Market. This is an amazing place. It was once wholesale only and is huge—bread, deli, cheese, nuts, produce, fish, meat, etc. We bought fixings for lunch. Late afternoon, Gay's stomach was bad so we hung near the apartment and for dinner had soup from the soup guy in one of the lanes and watched a part of a not so good old Audrey Hepburn movie.
Day 19, Friday, October 25
Ut oh...During the night Frank and I were both suffering from stomach problems---think it was that delicious chinese food we had and shared. So we stayed home.
Day 20, Saturday, October 26
Today we went to the Contemporary museum on the other side of the Yarra river . They had a show of collages that was quite good. Then we went to the NGV (National Gallery of Victoria) which had an exhibit of 60's design, modern prints (Stella, Sultan, Motherwell, etc). This museum had a glass wall with water running down it that was two stories high and quite spectacular.
We walked back along the Yarra river which has shops and restaurants along both sides and makes for a lovely walk. Dinner tonight at The Deanery in one of the lanes and it was quite good.
Day 21, Sunday, October 27
Today we took the train to the zoo. It was a great zoo—you feel like you are in the enviroment of the animals as some of it is open for you to roam through with the emues, kangaroos, wallabies, etc all around you. In the caged area we saw a snow leopard and also meerkats, australian pelicans, platypus, oh my!  And the king of beast ...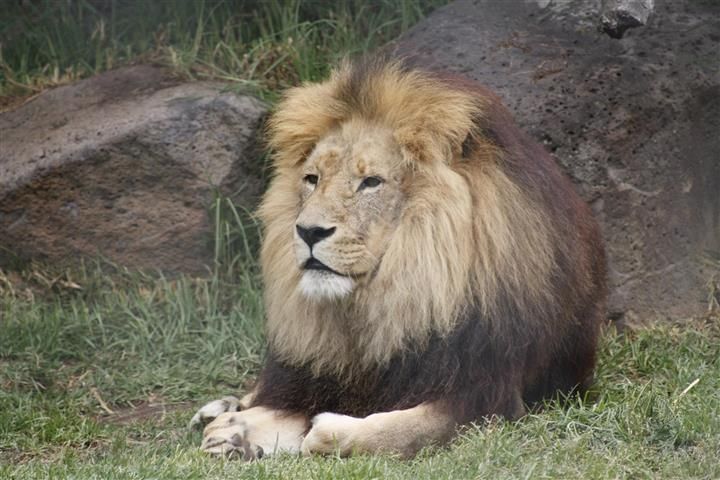 Then we hopped a cruise up the Yarra river to Williamstown. The Yarra river has 77 bridges along its 200+ miles and many of them are quite low. It was a wonderful city river trip.
Sundays find many restaurants closed, and we wound up at Maha's which is an Iranian/Eygptian—mostly Persian restaurant with a very high end chef. They offer 4, 6 and 8 course dinners all set with wine pairings. We each had the 4 course, but should have shared it. The food was very unique and delicious. Most of the courses were 4 or 5 different items. What an amazing meal. We waddled home.
Just another tidbit: In the better restaurants of Australia, the server puts your napkin on your lap for you. None of the coffee is from a pot, and this is true even when you eat in a dive. They always tamp it into the holder and then pour water through an espresso type coffee maker.
Day 22, Monday, October 28
We went to the Old Gaol, which operated from 1845-1924. They do this thing where a woman, playing the part of a warden, gathers you and puts you through the processing of being a new prisioner. She was quite good and hilarious. Then you tour the jail on your own, and each cell has the story of a prisoner, or what life was like inside, (no heat, no cooling, stone walls, very basic).
In the afternoon we went to the Melbourne museum, which is a natural history museum and quite well done. Saw lots of minerals—Australia is big on this as it is a main resource in which they are quite rich). The museum has a combination of old and new.
Ate dinner at Andiamo's where we dined the first night of our trip. We were seated where you could see this street and there was a shop where Frank had been admiring this outfit and wanted to buy it for me and did. It was our 5th anniversary in a few days and this was my gift.
Day 23, Tuesday, October 29
Last day in Melbourne and we finally took the city bus tour—we'd already walked most of the places but enjoyed the 90 minute ride. We got off at the South Bank area on the Yarro and had lunch.
Then just relaxed and pack up.
Day 24, Wednesday, October 30
Off to Tasmania and Marilyn. Marilyn and Dean were there to greet us and we were so happy to see her and meet Dean. We drove to Stanly and stayed at the Cow and Calf, which is situated at the foot of the Nut, which is a volcanic basalt "plug". To get to Stanley, on the northwest coast, we first drove along a beautiful cost and stoppped at Edgecombe beach to see where Dean takes of his rock photos.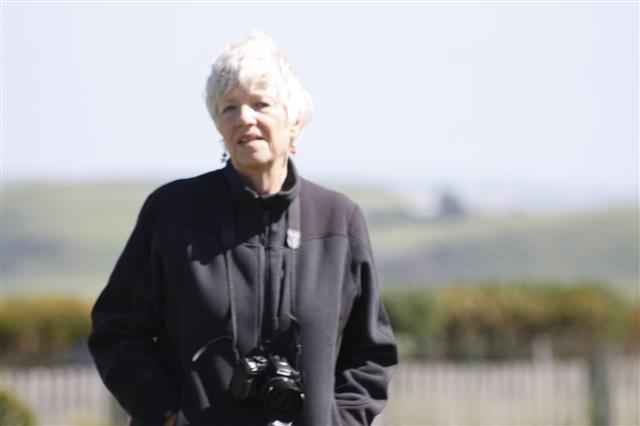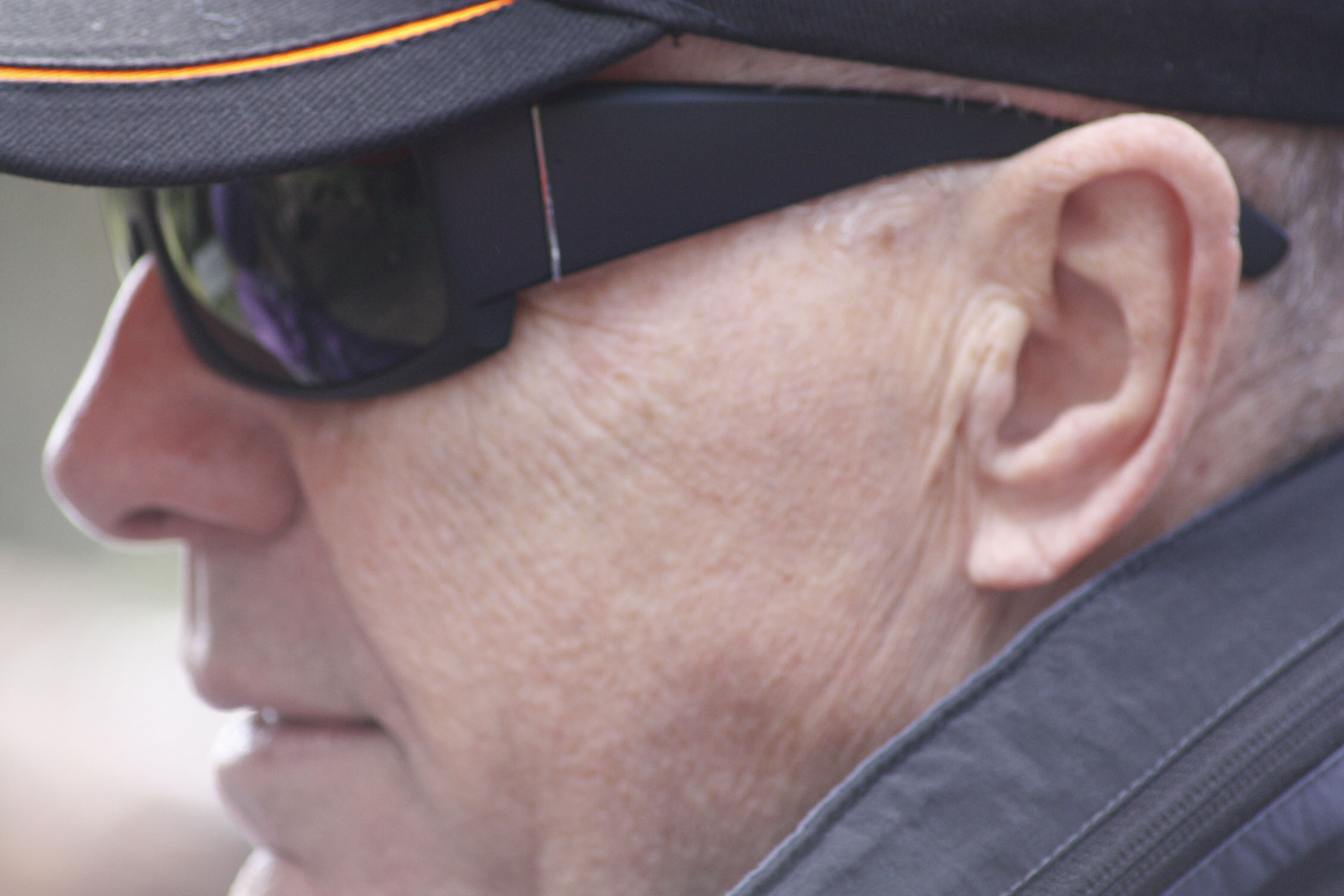 Marilyn Dean
Tasmania only has 500, 000 residents, is an island 200 miles wide by about 200 miles long, and a state of Australia.
Dinner was at Xanders. Stanley is a small town made for romantic tourism.
Day 25, Thursday, October 31
Today we went to Trowutta Arch in a temperate rain forest. We hiked in . When we got there there was an amazing red to the water which is tannin from the button grass. We saw a lot of this in Tasmania. You could smell sassafras. The arch is quite beautiful and hike in was like being in a fairy tale, with tall ferns and trees.
We then went to Highfield House, the seat of the Van Diemen land company. The Quees (of England) bequeathed this even though it didn't really belong to her. They used all convict labor to build this and stones were dragged up from the coast.
Then we walked along Godfrey's beach in Stanley where there is tessallated rock. Marilyn and Dean made us a bbq chicken dinner. It was nice to have homemade food.
Day 26, Friday, November 1
Happy anniversary to Frank and Gay!
We were off to Cradle Mtn. We stayed in cabins in the all the state parks and they really varied in quality. They all had kitchens and baths, but otherwise differed quite a bit. This one we found humorous in that they gave you the usual forks and plates, etc, but only two of each.
We took a 2 ½ hour hike around Dove Lake with views of Cradle Mountain all along the way. Then we rode down to the Tasmania Devil Sanctuary. These animals are dying at an alarming rate from a cancer that affects their face and is spread by touch. They don't have a cure yet, so these sanctuaries are set up to raise the animals until they can stop the disease at which point they will release them into the wild. The devil is the largest marsupial carnivore but was hunted for a long time as it was thought by ranchers and farmers that it was killing their livestock. Actually, the devil is more a feeder on the kill of others like the quolls, which are smaller but are the real hunters. We saw two varieties while we were there. They give birth to about 20 babies, but there is only room on the teat for 4 so only the strongest survive.
On the ride back we saw a wombat and a pademelon -- similar to but smaller than a kangaroo or wallaby.
Day 27, Saturday, November 2
On to Strahan, but first we stoped at the Nature and Wildlife photo show. Some very good photographers and very nice museum. We landed in Zeehan where we toured the local museum which was full of minerals and lots and lots of local history.
Day 28, Sunday, November 3
We took a boat rip up the Gordon river. We went through Hells Gate, say fisherman holding up giant crayfish and saw aquaculture farming. Then we went to Sarah Island, the oldest—and rather brutal) convict settlement. It's in the middle of nowhere, although when they decided to have convicts build ships there, a few did manage to escape (not always successfully in the end though).
We then walked through a temperate rain forest, know for Huon pine which is only grown in Western Tasmania. It only grows 1 mil a year and is now is protected from lumbermen. Only when one falls naturally is it sent to the sawmill. Some trees are over 1000 years old. It doesn't rot and has natural oils and turns a beautiful golden color as it ages.
We spent 6 hours on the river cruise and they gave us a great lunch with lots of local smoked salmon and great salads.
We went to dinner downtown but the power went out—it went out in the entire town, which meant our cabin was without power too. And it didn't go back on—we left 14 hours later and it still wasn't restored. When we arrived at this park, it listed hi-fi but we found out that the building that housed the wiring for this had burned down a month ago. Hey folks, this is not unusual.
Decided to drive to Zeehan for dinner but called when we were on our way and found out that the only restaurant in town closed in 20 mnutes and we were 30 minutes away. Fortunately, Marilyn and Dean have a generator in their RV and she whipped up some great omelets for us and we had a great time.
Day 29, Monday, November 4
Off to Hobart which was 4 hours away and we took our time getting there. We went along a twisting road for a while and every time we turned the scenery was different. Tasmania is very green and lush with mountains and lakes and a stunning coastline. We went through a mining (copper) area.
We stopped at "The Wall", a wood bas relief 100 meters long relating the history of Tasmania and carved from Huon pine. One man is doing this entire work and he is quite good. It reminded me of a WPA project in style.
Ut oh...the RV has a flat. Stopped it the town of Ouse where a mechanic fixed it. Saw sheep and an old church and cemetery while we waited.
Finally arrived in Hobart at the Treasure Island state park. This was the worst one we stayed in—the housing is really chintzy, just metal non-insulated boxes, no stove, just a separate broiler/hotplace combination thing and a very small bed—it was even shorter than most—and a one element heating unit that had no temp control nor would it stay on very long. Oh well. We were all so tired so we went to the Granada tavern which was terrible. The nice thing about the place we stayed was that it was situated on the Derwent River, which is wide and lovely and there are lots of ducks around who come to visit.
Day 30, Tuesday, November 5
Today we headed off to MONA but it is closed on Tuesdays, so we went to Mt. Wellington which takes you high above the city of Hobart and is quite striking.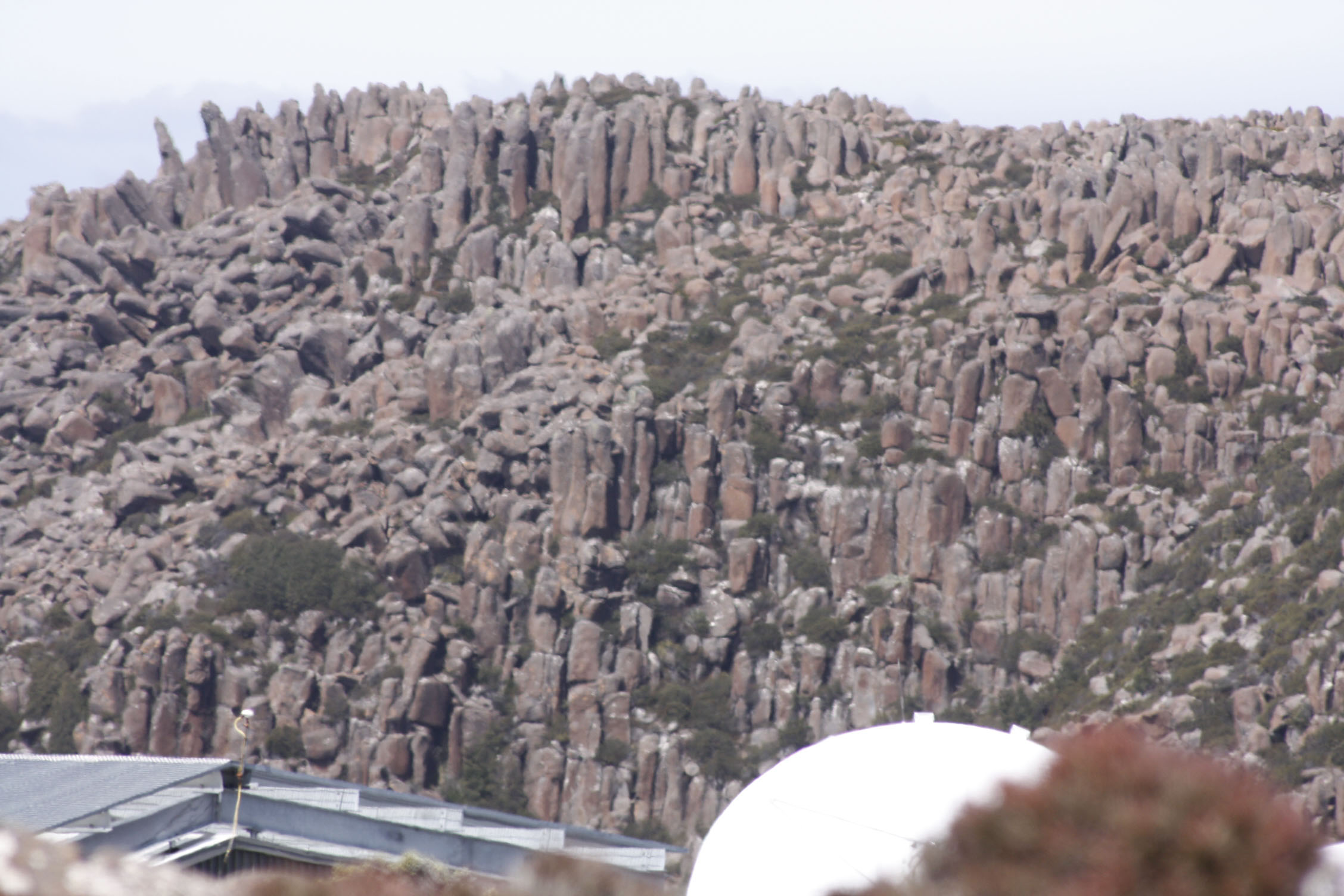 The rocky view at the top of Wellington
We also went to Dean's Gallery and saw his photographs hanging there, had a nice fish lunch at the wharf, bought some for dinner (Gay made fish stew with gummy shark, chili mussels and crabmeat) and wen to the Tasmania Museum Art Gallery which was quite good.
Day 31, Wednesday, November 6
Dean stayed to get the RV looked at, Frank decided to rent a bike and go up Mt. Wellington (which didn't work out too well as the bike didn't even have toe clips and his foot kept sliding off the pedal) [2000 feet of climb in the 14 miles I did, would be 4700 feet to do the whole route -- what's life without a metric?] and Marilyn and Gay took a day trip to Bruny Island which consisted of a bus and boat tour. We saw black swans, baby ring tailed possums that one of our tour guides was rehabbing), etc. The population of Bruny island is 635 and, according to our guide, half do nothing and the other half as little as possible. It's really two islands joined by a sandy spit that lies between the Tasman sea and the Ithmus Bay. .On the boat we say cormorants, fur seals, beautiful arches, a natural blow hole and tore through two stone pillars. It was all spectacular. Back on land we had great homemade blueberry (grown on the island) muffins and pumpkin soup and a nice lunch. We saw a small (fairie) penguin in its burrow. Then we stopped for fresh shucked oysters from the Bay.
We had dinner at the Custom House and I had a great wallaby meal.
Day 32, Thursday, November7
Today we went to David Walshes MONA, the Museum of Old and New Art or, as the New Yorker put it, the museum of sex and death.
I really loved it. First of all, there are no titles or info with any of the work. Instead you are given an Ipad instrument and headphones. The guide has a GPS and you can stand in front of a work of art and it will locate it on the guide, along with what is nearby. You can press buttons to find out the title, artist, etc, and then another one that discusses the idea behind the piece, and another that has a review and another that has an audio interview with the artist, etc. All this is kept on the phone guide device and you can put in your email address and the tour you took will be sent to you so you can review it again. What a great idea.
Tied into this was the face that many of the artworks dealt with the idea of digital influences on our life, from how we process ever increasing information to using the digital 1-2 system to create a design to having your body motion turned into a digital output, etc. Alongside this might be an ancient Sumerian rune carved into stone, etc: Thus, the old and new connection. There were political and social commentary pieces, ruminations on sex as a creative force, the nature of our bodies, history, etc.  We spent hours here.
Frank made his salmon and artichoke dinner.
Day 33, Friday, November 8
We went to Freycinet Park and stayed in the nicest unit of our trip. It had recently been updated and was well done. It was very rainy so we didn't do much, just got settled and relaxed and Marilyn put together a lamb ragout dinner.
Day 34, Saturday, November 9
Windy and cloudy but no rain. Out to breakfast. We walked to a light house and saw Tourville Cape in Freycinet Park. The rain let up and we took another walk to Sleepy Bay. What a misnomer. The bay had red rimmed rocks (lichen) and we walked to the beach which had pink granite rocks and caves. Breathtaking! We also saw a black cockatoo.
We then walked along the Coles Bay Conservation are which had prehistoric plants and was a most unusual landscape.
Later, Marilyn and I took a long walk on the beach and saw over 50 dead muttonbirds. We found out they make an annual pilgrimage from Antartica and done don't make it and die when they get to Tasmania. This year their numbers were higher than usual. Dinner was at the tavern.
Day 35, Sunday, November 10
On to Scamander. We stopped along the way at Natureland, a wonderful wildlife refuge where they save many animals. It is quite large. We saw a "Joey" feeding from its mother Kangaroos pouch, many beautiful birds including a white peacock, walked alongside emues, etc.
We went to Binalong where there is a pure white "singing" beach (sound made when you drag your feet along the sand). The whole area is called "The Bay of Fires" due to the orange/red lichen and pink granite of the coast.
Day 36, Monday, November 11
On Way to Launceston we stopped for a walk along the tallest gum trees called the "White Knights" as the bark is white. One was 91 meters tall. There are also massive ferns here as it is a temperate rainforest. Back at the car we all found we had leeches on us—1 each for Marilyn, Dean and me and 5 for Frank!
Our last night in Australia and we ate at the Black Cow Bistro, known for its beef. It was a delicious meal.
Day 37, Tuesday, November 12
Said goodbye to Marilyn and Dean. The we flew from Launceston to Sydney to LAX
Day 38—hey, it's still Tuesday as you lose a day so you arrive in LA BEFORE you left Australia.
Off to the Travelodge, showered, napped, and then had dinner with Sue (Frank's sister) and Bill at a Thai restaurant. Then back to the hotel to sleep.
Day 39, Wednesday, November 13
After an annoying checkin with United at LAX, finally on our way home. Arrived at 10pm, stayed up until 3am and don't know up from down or day from night but we'll get it figured out.
Nice to be Home, Sweet Home after a wonderful experience..