Chile and Argentina
February 2013
Day 1 Feb 19
Flew overnight to Santiago, Chile
Day 2 Feb 20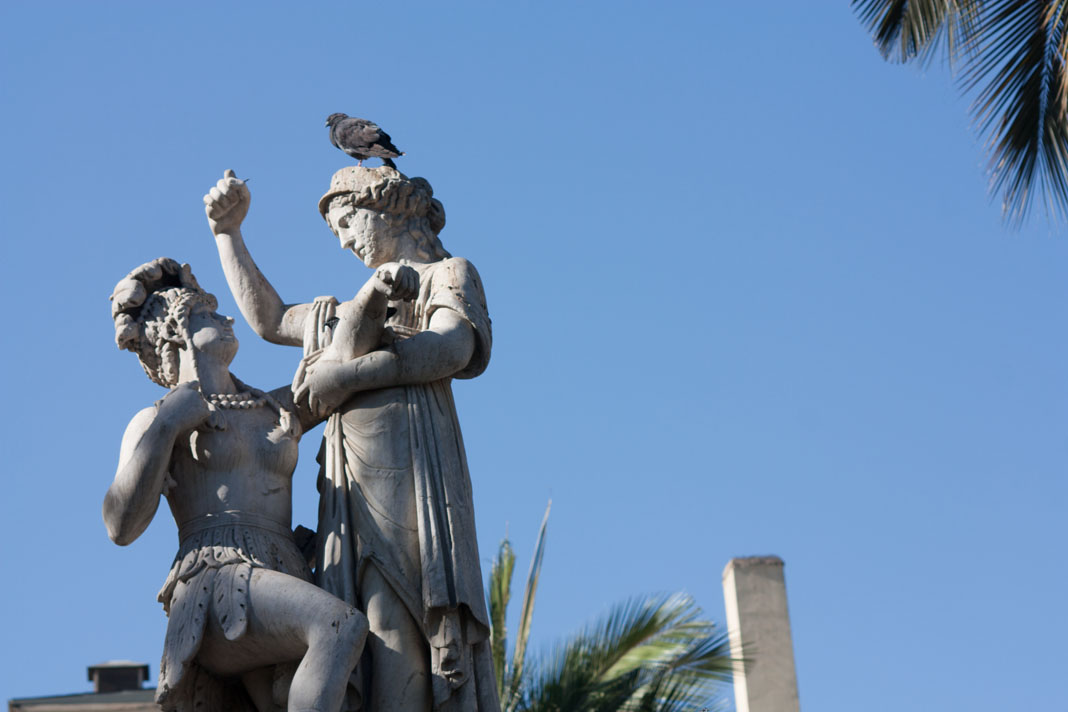 Arrived at Hotel Torremayor. Our main guide is Juan Zapata Oyarce. Met the wonderful and exhausted members of our group. We had a lecture on Chile thatmost folks slept through. Then off to the Church of San Francisco, one of the oldest in the city. Chile suffers from many earthquakes but this church has survived. There were some beautiful wooden sculptures.
Day 2 Feb 21
We had a tour of downtown Santiago and lunch at a pub in the more upscale and financial part of the city. The benches which dotted this area were all painted in unique ways, supposedly as a way to keep the graffiti artists (whose work is everywhere) at bay.
We had a lecture on wine in Chile. Dinner was on our own and we took the subway about five stops to a lovely area where our local guide, Jean lived. The subways, built in the 1980's are quiet and clean with mosaics along the walls and run EVERY minute. Jean is also a licensed somnelier. We ate a nice place and had tapas and wine and then a few of us went to Jean to a second place to have some wine with him. There is a grape grown only in Chile called Carmenere and we had this wine. We saw belly dancers and musicians performing in the streets. We met Jean's wife and six month old baby Emily. We made the very last train back home.
Day 3 Feb 22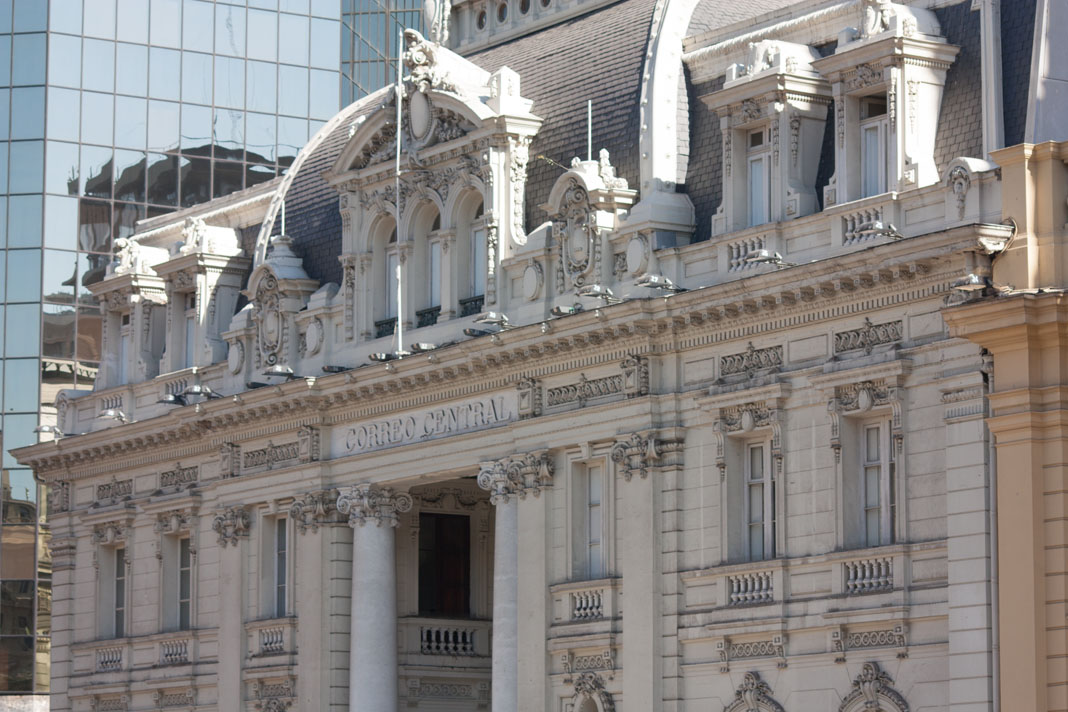 Something about Chile: 80% of Chile is mountains—mostly the Andes. It is about 2600 miles long but only 100 wide. It rains only about 11 inches a year in Santiago and they rely on the Andes for water.
On our way to Vina Mar we stopped for Empanadas. These are supposedly less flaky than their Argentinian counterparts. . We stopped at the winery Vina Indomita, a large commercial winery surrounded by its vineyards. There were roses planted every row, and they are used like the canary in the mines. They are more delicate than the grapevines, so if a disease attacks, it will attack the roses first. It is part of their tradition. They have red and white ones and they used to plant the red roses for the red wine grapes and the white for the whites, but now they mix it all up.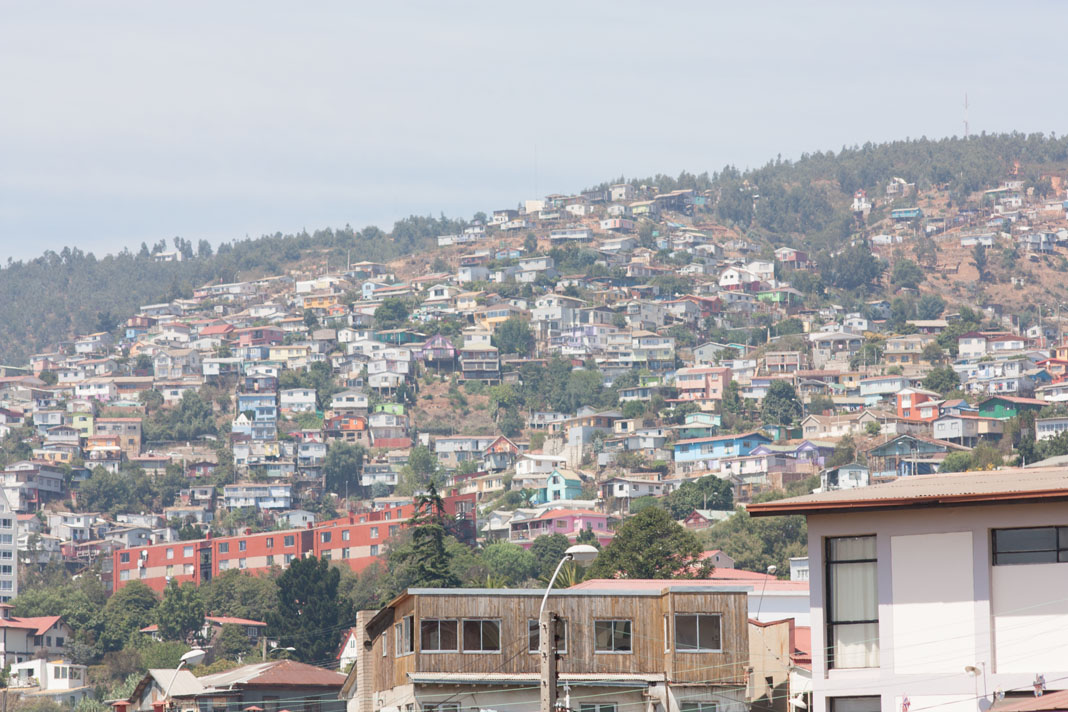 Then on to Valparaiso, which is a huge port that lost a lot of its business when the Panama Canal was built. It is still a large port and cruise ships stop there. There are many universities and colleges. We took a funicular ride up the hillside. The town is very hilly and there are 9 of these funiculars. Ours was built in 1889 and the newest in 1907 and they are all still running. There is varied architecture reflecting the sailors from so many different ports. The house are faced with the used sheet metal from ships and the colorful paint is the left overs from the ships too and is very colorful. It is a city of 300,000—German, Yugoslav, Spanish, French, Italian, English, Irish, etc.
We had lunch high on a hill and had our first Pisco sours, a drink unique to Chile. Pisco is a fermented and distilled grape, (like a brandy) that is 45% alcohol and is mixed with lime juice, sugar and egg whites, with bitter drops.
Last stop: Vina del Mar. Very upscale tourist beach area just a bit from Valparaiso and a city of 400,000.
Day 4 Feb 23
Flew to Puerto Montt, a large port and salmon area. We went to Anselmo, where we saw the fish and vegetable market. There were many small boats in the harbor and the variety of fish and shellfish was amazing. Went to Kiels for lunch and the salmon was delicious, along with more pisco sours. Then on to Cabana del Lago , our hotel in Puerto Varas, about 12 miles north.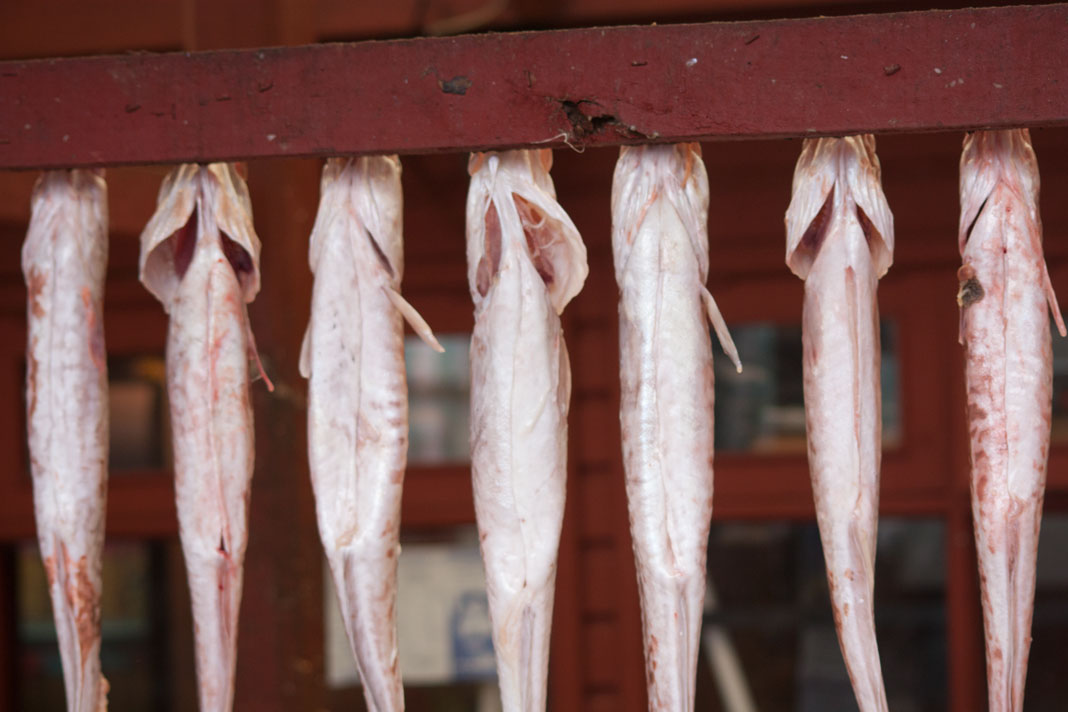 There are many German influences in this town and it is on beautiful Lake Llanquihue (pronounced somewhat like Yankee Way). Our guide Charlie was originally from Alaska, fell in love with a woman and told her he would follow her anywhere and anywhere was Puerto Varas. Another pisco sour and view of the lake. Puerto Varas is called the city of roses. Here they get an annual rainfall of 72 inches. It rained on and off this day.
Then on to a rodeo demonstration by local huasos (pronounced waso). The ranch was a fourth generation owned ranch of the Garcia family.The huasos wore ponchos of different colors to differentiate the ranch as there are over 4000 ranches. These horses are bred for sport: rodeo is for the rich man. The cowboys here are German mixed with Dutch. Nowadays they use vehicles for farming and not the horses.
They use their weight to steer the horses, never digging in spurs or using whips. The steers are nudged into a wedge by two horsemen, not lassoed. The horses are trained to side step and are small in stature.
Day 5 Feb 24
Lecture on German immigration to the area. Then on to Frutillar where there was a museum of several buildings showing the life of the german immigrants and a lovely garden.
On to lunch at a lavender farm called The Lavendar Casa de Te. They had views of lavendar gardens, horses, the lake and volcano. We had lavendar water and lavender tea, etc.
Later we had a lecture on the salmon industry. Salmon are not native to Chile but the geography is similar to Norway where they learned the techniques and got their salmon eggs. Norway is the number one world producer of salmon and Chile is number two.
Day 6 Feb 25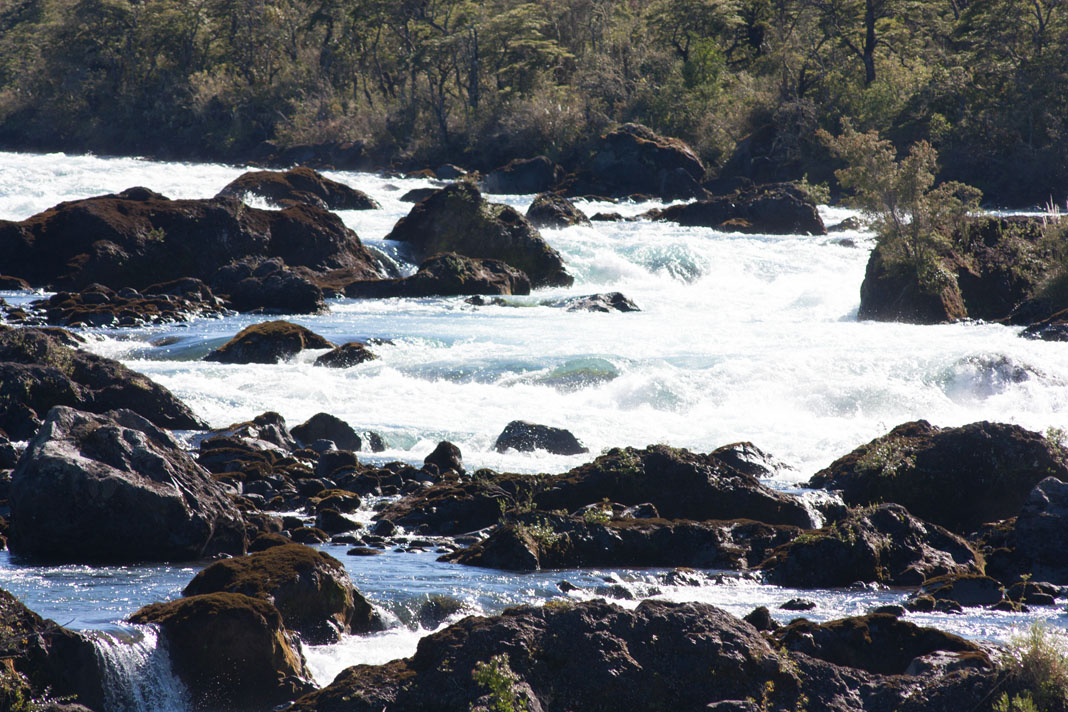 This day was our spectacular crossing from Petrohue falls in Chile to Bariloche in Argentina. In the end we took four buses and three boats to get from one to the other. We stopped to take some pix of Osorno volcano, which looks like Mt. Fuji and is about 18,000 ft high with a glacial top. It was last active in 1835, just when Darwin was docked nearby on the Beagle and is recorded in his journal. Then on to Puntiagoro Volcano, which means sharp point. This is where we stopped at Petrohue falls which is in the Parque Nacional Vincente Perez. Teddy Roosevelt visited the area and said it was the most beautiful place he had ever been. He helped establish it as the first National Park in Chile.
Stopped at Puerto Peulla for lunch, the onto Puerto Frias and the Argentine border police.
Arrived in Bariloche at the Hotel Nahuel Huapi which was in a great location but was a terrible hotel...no ac and the food was terrible.
Day 7 Feb 26
We had a lecture on the native peoples of the area, who, like most of the native people in SA and the USA were enslaved and decimated when invaders came through. Bariloche is called the "Switzerland of SA" and 70% if it's economy is based on tourism. It is a city of 140,000.
We took a ski lift up to the most spectacular view of crystal clear lakes and mountains. Many come here to ski in the winter.
Then we visited a brewery and had lunch—enough food to feed an army and excellent beer. This is a microbrewery and they are enthusiastic and growing.
Day 8 Feb 27
Early flight to Iguazu falls. We saw the confluence of the Parangua and Iguazu ivers. Y=water and guazu=large. At this point, you can see Paraguay, and Brazil and are standing on Argentinian soil. The three countries are very close together and you could swim between them.
Day 9 Feb 28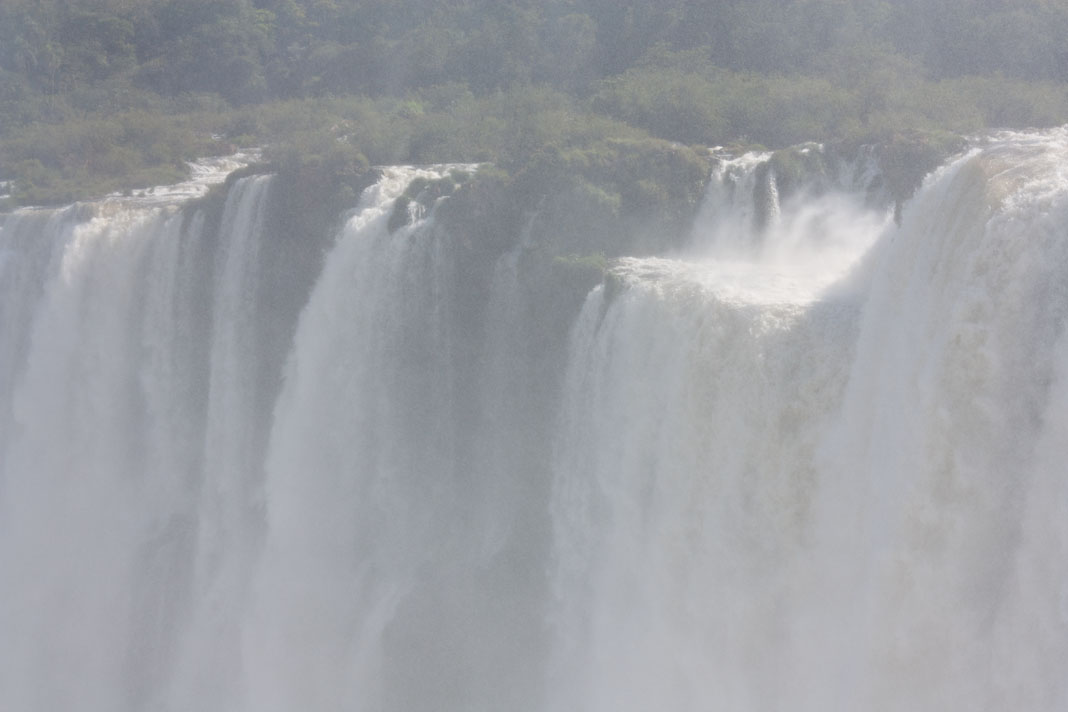 Frank's birthday. Everyone sang and he got a nice bottle of Malbec. We went to Iguazu falls, one of the seven wonders of the world. It is huge and quite beautiful. It makes Niagara falls look like a dripping faucet.
Day 10 Mar 1
Flew to Buenos Aires. It is bordered by the Rio del Plata, the largest river in the world and looks like an ocean. On to Teatro Colon, built in 1908. Many different architects took turns in its design and they were from different countries, so it is a conglomeration of styles. First the French, then Spanish, Italians and Germans. Seats 2,500 with another 300 sro. Supposedly the best acoustics in the world.
Heard a great lecture on Argentine recent history, and the problems with currency, labor, overturn of governments, coups, etc. Our local guide Andrea mentioned that she lost all her money when the banks closed and only just now has gotten 30% of the money back.
Also, her father and brother were in the Falkland war and her brother died there. She felt it was a stupid war.
Day 11 Mar 2
We went to the main square. Saw where they protest by painting signs on a fence. This is in from of the "pink house" (think famous Evita balcony scene). The mothers of the disappeared have been coming here since 1983 every Tuesday. They walk around for two hours. Whitescarves are painted on the ground as a symbol. The pink house is where the president works, but lives somewhere else.
Then to the Cathedral de Jose de San Martin. His mausoleum is there. There is an eternal flame. It is the most important cathedral in BA. Says "ego vici mundum" and "valebunt adversus eam"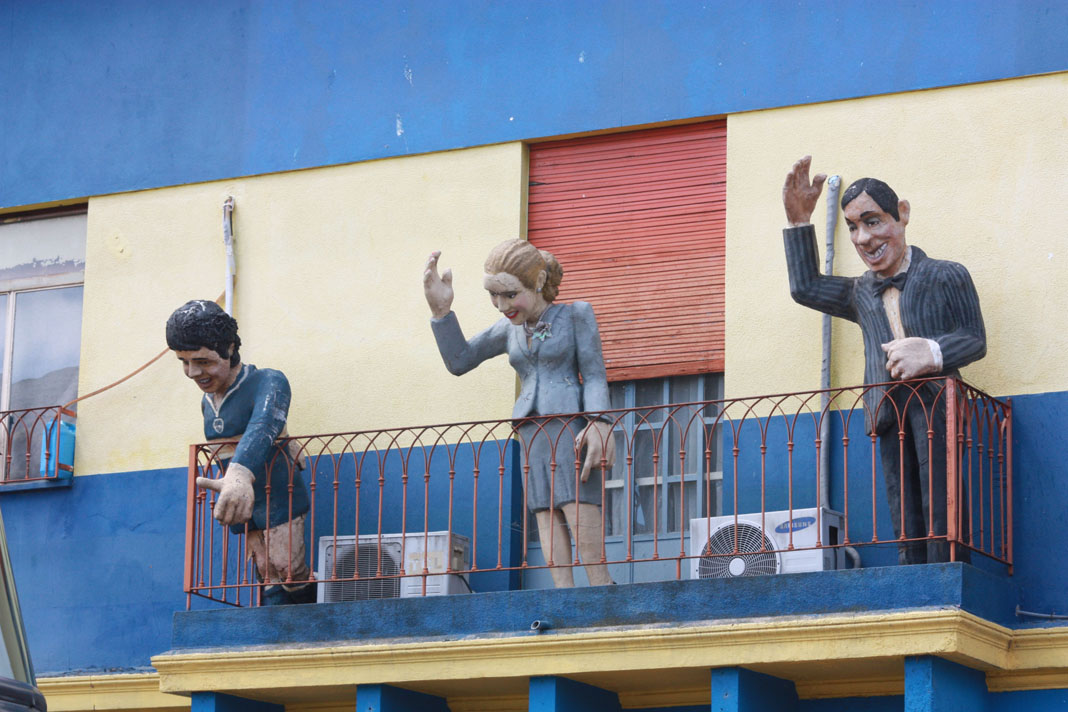 Then went to the first port and called "La Boca" district and Carmenito. The tango was born here. In 1871 there was a yellow fever epidemic so those with money moved north. Now the Boca is for the poor and artists and the north us very wealthy with a lot of beautiful parks. The Boca is very colorful and this is where Frank bought his leather hat.
Ate at Cava, a wonderful restaurant. Had cayote cake. This was really a soft cheese in wedges with some stringy fruit (cayote) jam. IT looks like an oblate watermelon but is really a squash and is yellow inside.
We heard about the history of tango and its meaning in Argentinian culture. We later had a demonstration and learned a few steps. We were at La Ventada for dinner and a tango show. There are a lot of tango clubs around. In the middle of the performance there was an amazing tribute to Eva Peron, with flags unfurled. At the end, the rest of the audience cheered wildly.
Day 12 Mar 3
We went to the cemetery where Evita was buried. Hers is the only mausoleum with flowers. The cemetery is Recoleta. Cats roam freely and one lady feeds them all. Frank joked that the cats were there because it was a mouseleum. Eva Person died in 1952. Still venerated after all these years. People are passionate about her and believe she is either the saint or a devil. Argentina refused to show the movie"Evita" until recently as they did not like how she was portrayed. Later we went to the Eva Peron museum. And then to a farewell dinner at Bisteca.
Finally a late overnight flight home.