LONDON
MAY 7-MAY 18, 2019
TUESDAY, MAY 7
Flight to London via Newark
We packed all the luggage in Frank's car and the battery decided not to turn over, so moved all the stuff to my car. Something to deal with when we get home....
They have already changed our seats because they changed the plane. And so it goes. Get on the plane at Albany airport, all aboard, start to taxi and oops, we have to wait for half an hour because Newark is just so very busy they wouldn't give us clearance to leave. Then they shut off the engine—oh no!--but then turned it on again. So we were 45 minutes late which turned out to be okay because the Newark to Heathrow flight was delayed an hour.
WEDNESDAY MAY 8
Arrive Heathrow, easy customs, got our TFL Oyster card and hopped the train to Paddington Station and our hotel, the Roseate. Very nice room with a little balcony, off the main drag, but only four blocks from the station. Built in 1939. The weather was rain, sun, clouds, sprinkles, etc.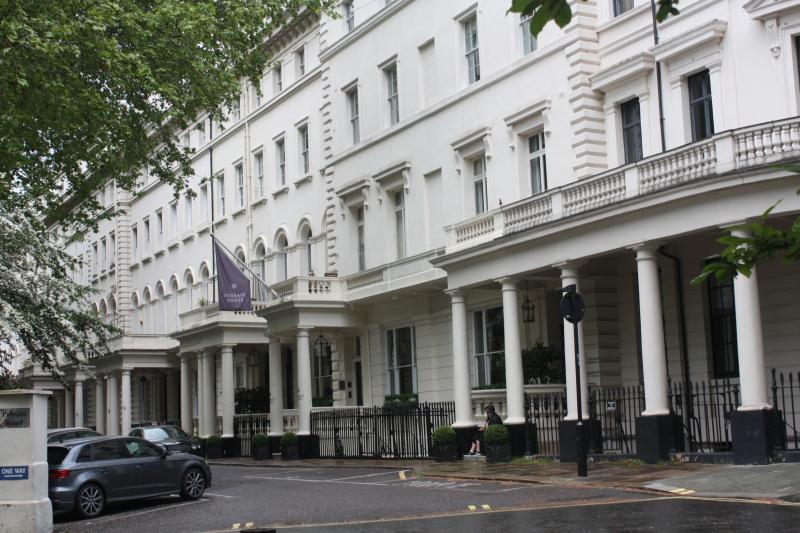 The Roseate Hotel is under the flag
Took a nap and then walked around, wound up eating at the Victoria Pub. Great fish and chips and mashed peas (mashed peas seemed to be a continuing food offering) which was very good along with a beer—or two! This pub is 180 years old and supposedly served the likes of Churchill, Chaplin and Dickens.  Dickens wrote in the upstairs library room. Very nice old pub, a lot of lively chatter and definitely a great intro to all things London. Walked back along the lovely streets and got a good night's sleep.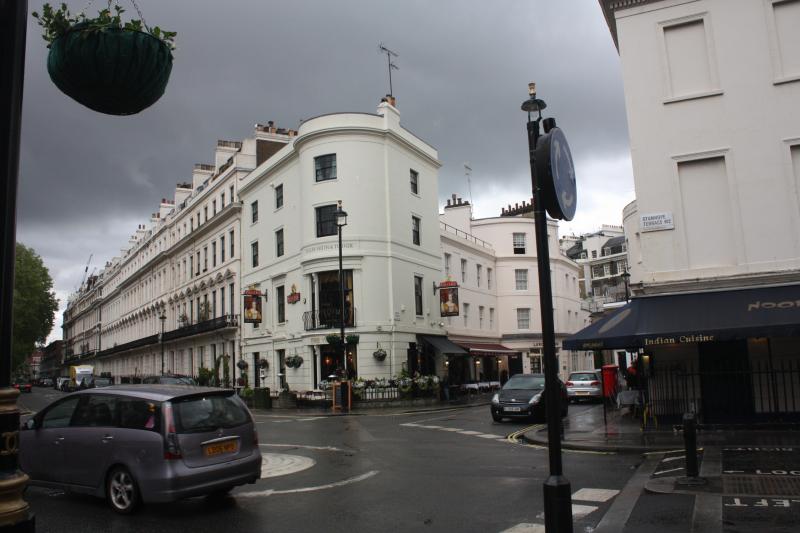 Victoria Pub above
THURSDAY, MAY 9
We had signed up for the breakfasts at our hotel and they were wonderful. As a result, on this trip, we wound up eating breakfast, stopping for a tea or coffee and maybe a sweet mid afternoon, and then dinner. We never had a lunch.
Again, raining on and off—the rain seemed to wait for us to step outdoors. We took the tube to the National Gallery. There was a marvelous da Vinci full size cartoon, a room full of terrific Rembrants, Vermeers, Turners, Van Goghs, and so much more. ALL the British museums are totally free, just asking for a small donation if you wish.
They we wandered around Trafalgar Square. The sculpture of Nelson is so high up—185 ft—that you can barely see him. We walked to the National Portrait gallery which has a terrific collection of famous Brits from very old to quite contemporary.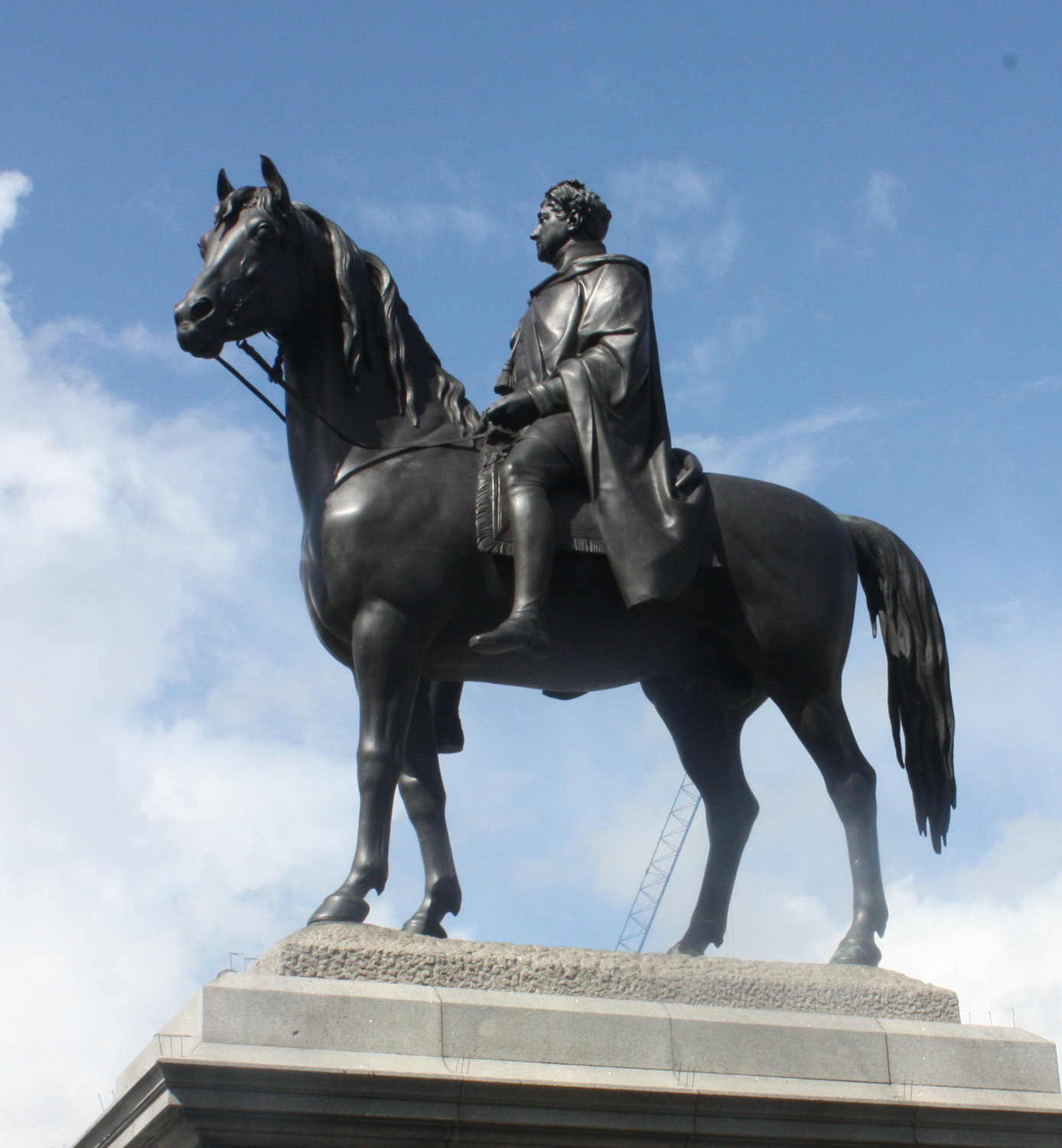 After that we returned to our hotel and for dinner at a lovely Italian restaurant called Stuzzico. Frank really enjoyed his clams and pasta—very small sweet clams (lots of them) and I had the veal cheek with smoked mashed potatoes. During dinner this quite attractive woman sang opera arias for everyone's enjoyment. This is a small cozy restaurant and we enjoyed ourselves.
FRIDAY, MAY 10
Today the weather was very nice. We went to the Tate Modern. Again, so very much to see and all of it magnificent. They have recently put an addition on—really a second building with an interior bridge.
We had tickets in the afternoon to the Globe theater to see Shakespeare's Henry IV Part 2. Very comedic with gender and racial role reversals—Falstaff was a big female—and it was great. The theater also made you feel like you were living in Shakespearean times. The ending was especially great good fun with the actors dancing and hamming it up. Excellent cast.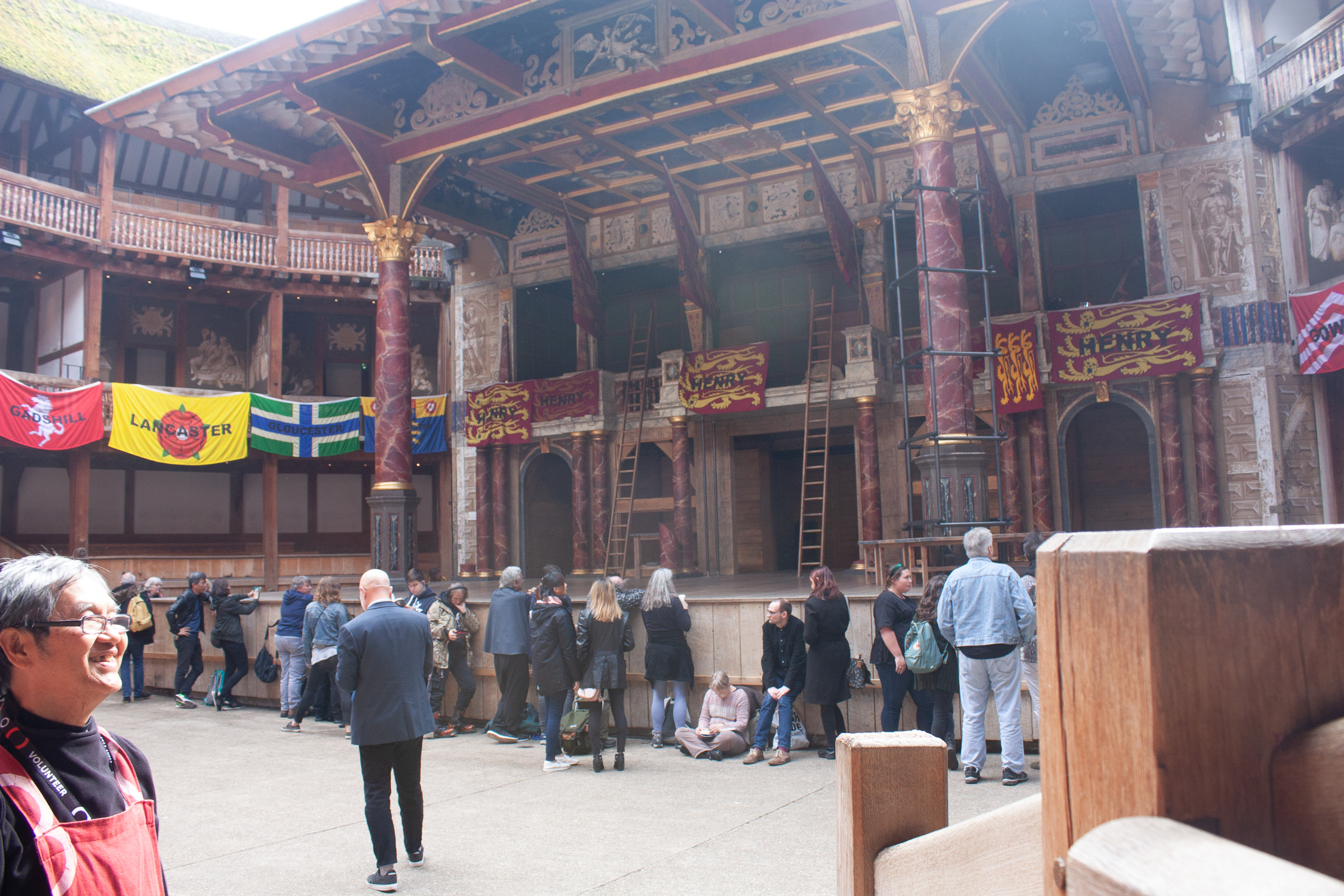 For dinner we went to Bel Canto. The food was good—not great—but the real experience is that the servers were all academy trained opera singers. There were four of them and every fifteen minutes or so, they performed and were quite good. In between (and also during) there was a pianist. When the singers were performing the dining room went silent—no talking allowed, not that you would want to. A wonderful evening.
SATURDAY, MAY 11
Drizzle again. So we sent to the British Museum. The first thing you see as you enter the rooms on the left is the Rosetta Stone. Then you see the most amazing collection of art from Egypt. Did they ever loot that country of its riches! Even mummies...imagine getting away with that now!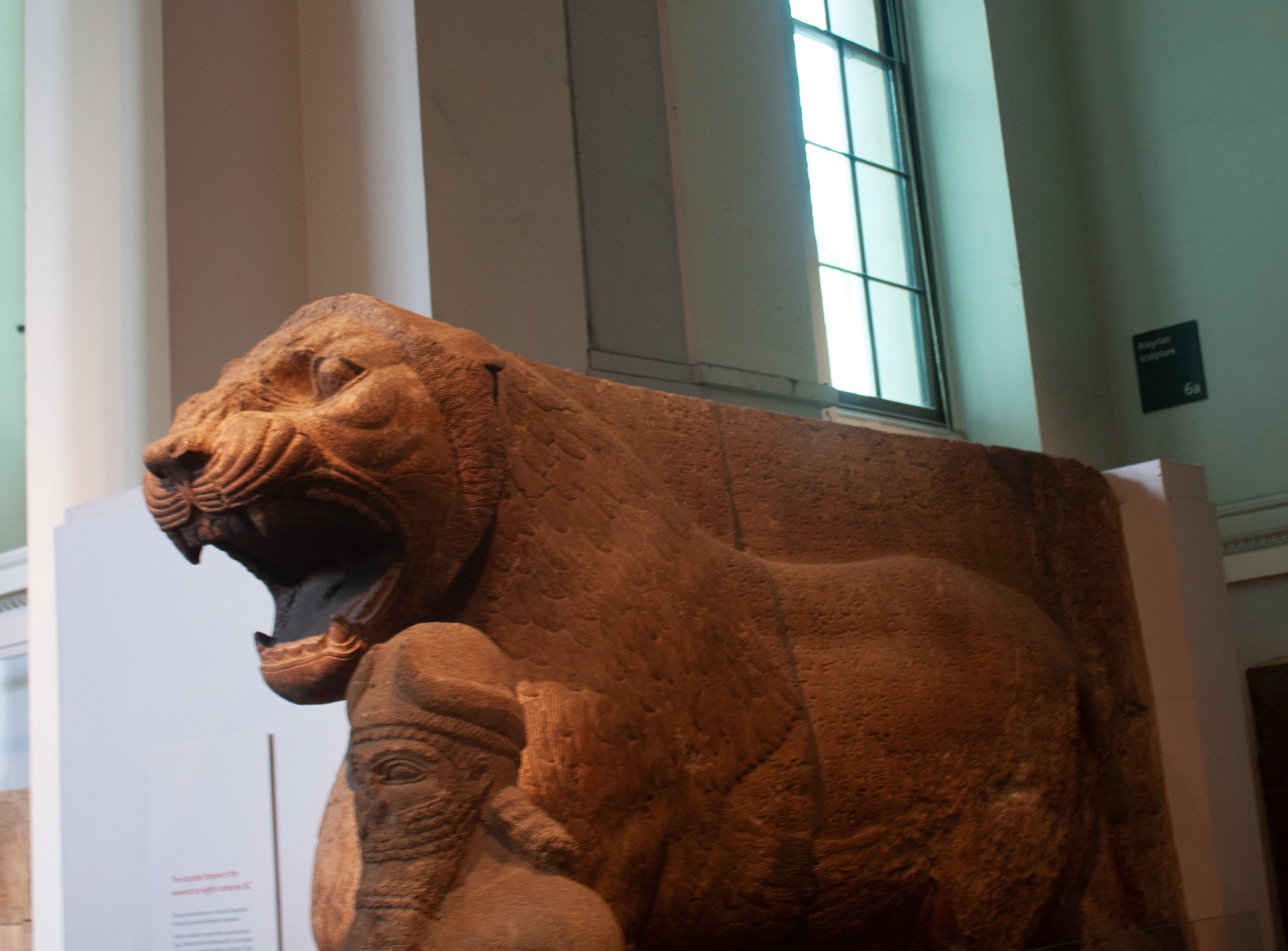 An aside...I really love going to museums with Frank—he is very observant and truly enjoys all he sees and has great insights.
Went to dinner at Noorjahan II. Good Indian food. They sat us downstairs in a lovely grotto area.
SUNDAY, MAY 12
Clear skies, great weather. We decided to go to St. Paul's cathedral but it was closed except for services. Walked down to the Thames and the Millenial Bridge which connects to the other side of the Thames where Tate Modern and the Globe sit. We took a London Walking Tour of Shakespeare and Dickens—supposedly a two hour tour that went for three hours—our guide was terrific and acted out scenes from Dickens books, etc. He really knew his literature and London. We went to sites that Dickens wrote about, saw a memorial to Shakespeare, wandered through St. Bartholomew The Great's church which is the oldest church in London and dates from 1123. We also went through the Postman's Memorial Park which has ceramic plaques stating the heroics of numerous postman over the years. The tour ended at St. Bartholomew the Lesser's church which was very simple and a favorite of Dickens.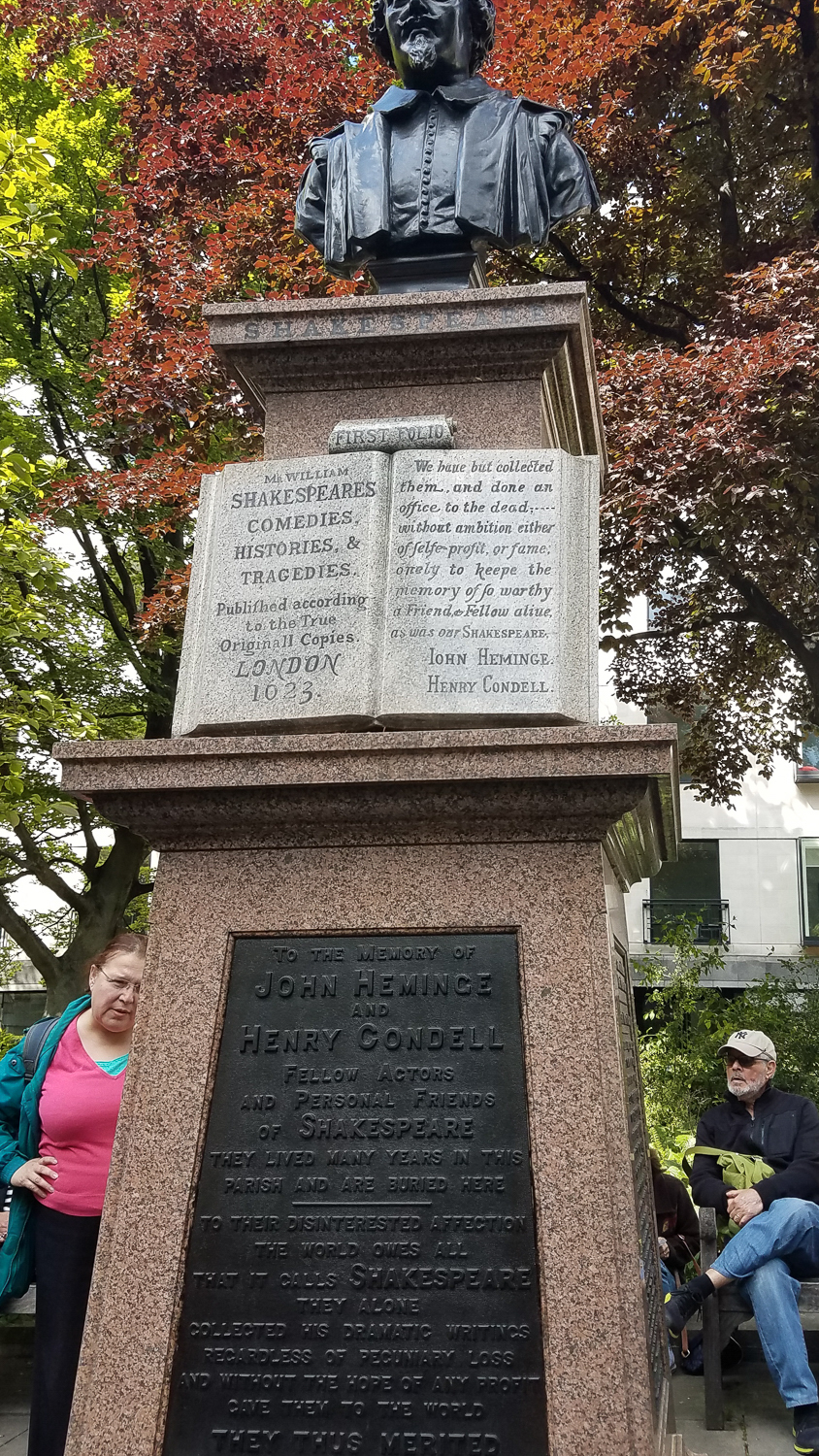 Our guide made the point that we know a great deal about Dickens, the person and his passions, from his literature but that is not true of Shakespeare. We know Shakespeare's insights about humanity, but he doesn't reveal his interior self in his work.
For dinner we ate at the Red Sun, an okay Chinese Restaurant.
MONDAY, MAY 13
We went to St. Paul's Cathedral. I found it interesting that most of the crypts and niches and plaques were dedicated to war heroes. They used the word "intrepidity" to describe many of them. And the biggest tomb was to Nelson.
After that we went to the Museum of London which gives you a history of London from Roman times to the present. So, Romans come and conquer, Romans go out and then they have their first King. There's the Bubonic Plague and then the great fire of 1666 and then they rebuild and eventually become the London of today.
For dinner we went to the Monkey Puzzle, another pub where I heard the owner/server use the term "Cheerio!" Couldn't have been more British. One of the beers was called a Fursty (no typo!) Ferrett, which Frank enjoyed.
Brief digression about the London Tube versus the NYC Subway (I grew up in Brooklyn...)
London Tube: Usually a 1-3 minute wait at most.
NYC Subway: You never know............
London: Easy to use and figure out.
NYC: Have you ever tried to use it if you didn't grow up with it?
London: Announcements are clear, without static and not garbled.
NYC: What did you say?
London: Seats are cushioned and fabric, no graffiti and no trash
NYC: Hard plastic seats, graffiti and sticky crap everywhere.
London: People actually make eye contact and smile at you.
NYC: Don't even try it.
London: No metallic smells or odors
NYC: Stinks
GOOD NEWS though...the man who was in charge of the London Tube was recently hired by NYC to take charge. Here's hoping!
TUESDAY, MAY 14
Beautiful outside today. We walked through Hyde Park to the Victoria and Albert Museum. Hyde Park is amazing—we say swans and parrots and ducks, etc and, being May, everything was in bloom. The walk along the Serpentine was a mixture of cultivated plants and wild growth and felt much more natural than the parks in Paris, etc.
What to say about the V and A Museum...blew us away and we only saw a small part of it. One highlight is that they have five of Leonardo da Vinci's codexes and one was on display. I could imagine him carrying this in his pocket making notes as ideas came to him. I always thought of these are being larger—it was only about 3.5 inches tall, bound in leather and with Leonardo's famous upside down and mirrored writing. You could look through the pages on a computer screen. Another treat was a small, maybe 5 inch tall, wax model of the Slave by Michelangelo.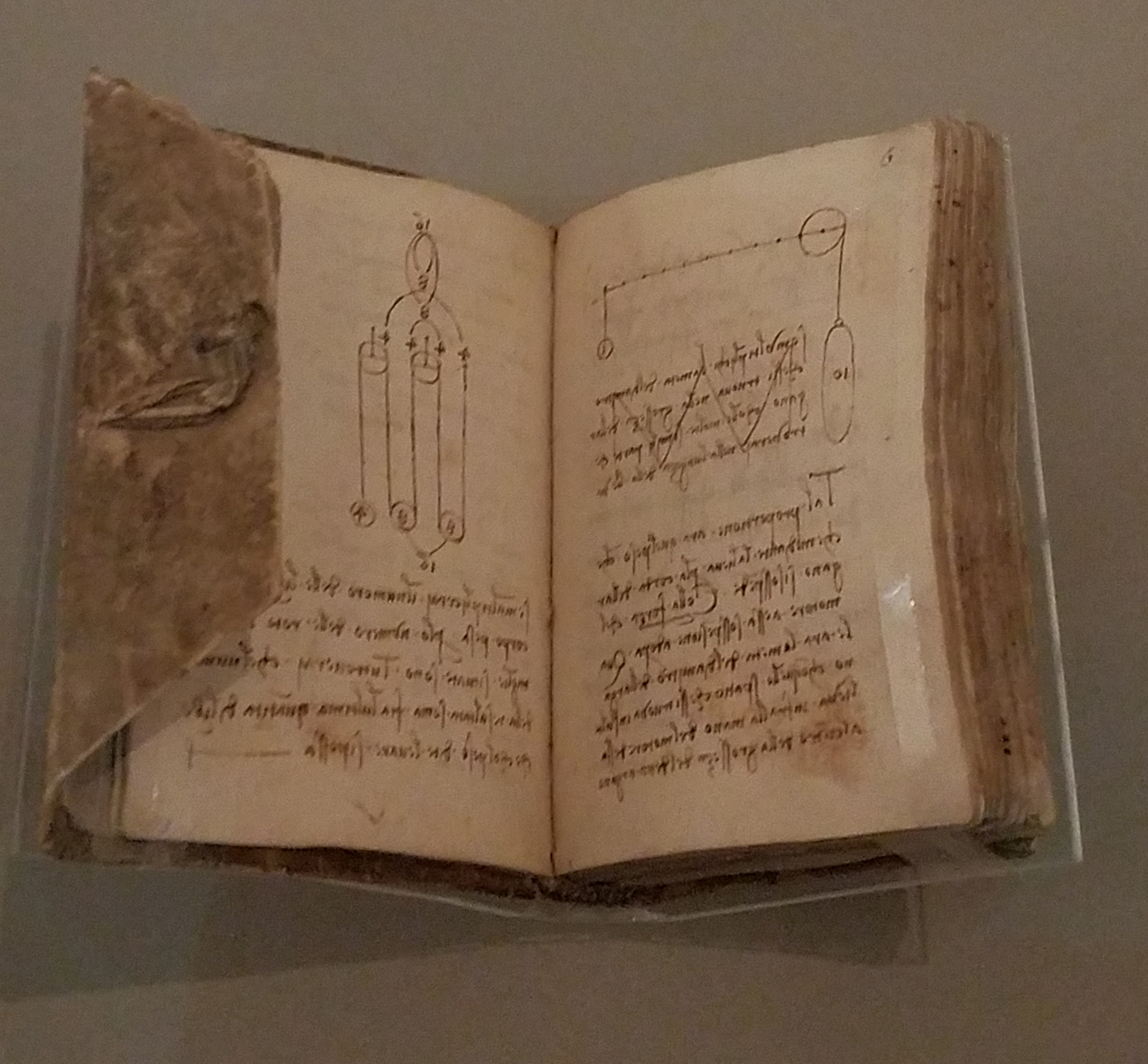 Da Vinci's Codex
And then there are the CASTING ROOMS. It was decided that since most folks could not travel to see the great art of the world, that they would make casts of the most famous works of sculpture, such as Michelangelo's David to name one, and replicate them for all to see at the V and A. They did this from 1850-1950 and worked with museums and institutions around the world. Some of the castings are over 20 feet talk and quite complex. As a mold maker, I was fascinated since all they had was plaster with which to make a mold, and then plaster to make the casts. The molds are a thing of beauty, often 30 interlocking pieces for a small sculpture as there would be many undercuts in the sculptures!
There were some marvelous contemporary Japanese porcelains in the Japan art area and a wonderful sculpture hall. We maybe saw a tenth of this museum and probably not even that much.
We were told that if you went through all the galleries you would walk 8 miles.
Unbelievably, after that we walked to Harrods where I just loved the food area—chocolates, meats, prepared food, amazing desserts, a coffee bar and a tea bar and and and......... Frank sat at the coffee bar and had a double espresso.
And then, as if we hadn't walked enough, we walked all the way back again through Hyde Park.
Add to this that I had a cold brewing!!
Ate at Halepi's—a small family run Greek restaurant..cozy and good spices on the food.
WEDNESDAY, MAY 15
I wasn't in great shape today. My cold was in full swing so we rested in the morning and then headed out to see a West End play, "Come From Away" at the Phoenix Theatre in the heart of the theater district. But first Frank had something called a "twistalicous"--yup, really strange ice cream concoction. We also explored Foyle's bookstore, six stories of books. I could have lived in the art section.
The play was just terrific. (A side note: unlike here here is no announcement about not using your cellphone, or turning it off, or taking pictures, or telling you to donate, or where the exits are etc. The lights merely dims and the play starts without much ado. I think this relates to how Londoner's think about themselves (not as stupid or misbehaving)—they already know not to do these things and don't.) The play dealt with American planes that were already en route to the states but were diverted and ordered to land in Newfoundland on September 11th.  It told of the small towns that took them in without any outside help or resources for the five days before they could travel on. It dealt with many issues this brought up and was a musical, poignant and funny at the same time.
We had dinner at the Island Grille in the Lancaster Hotel. Good food.
THURSDAY, May 16
Another beautiful day. We went to the Tate Britain which presented British Art from the 1500's to the present. There was a show of Contemporary British Women Artists which the accompanying label said were "long neglected" and showcased some amazing work.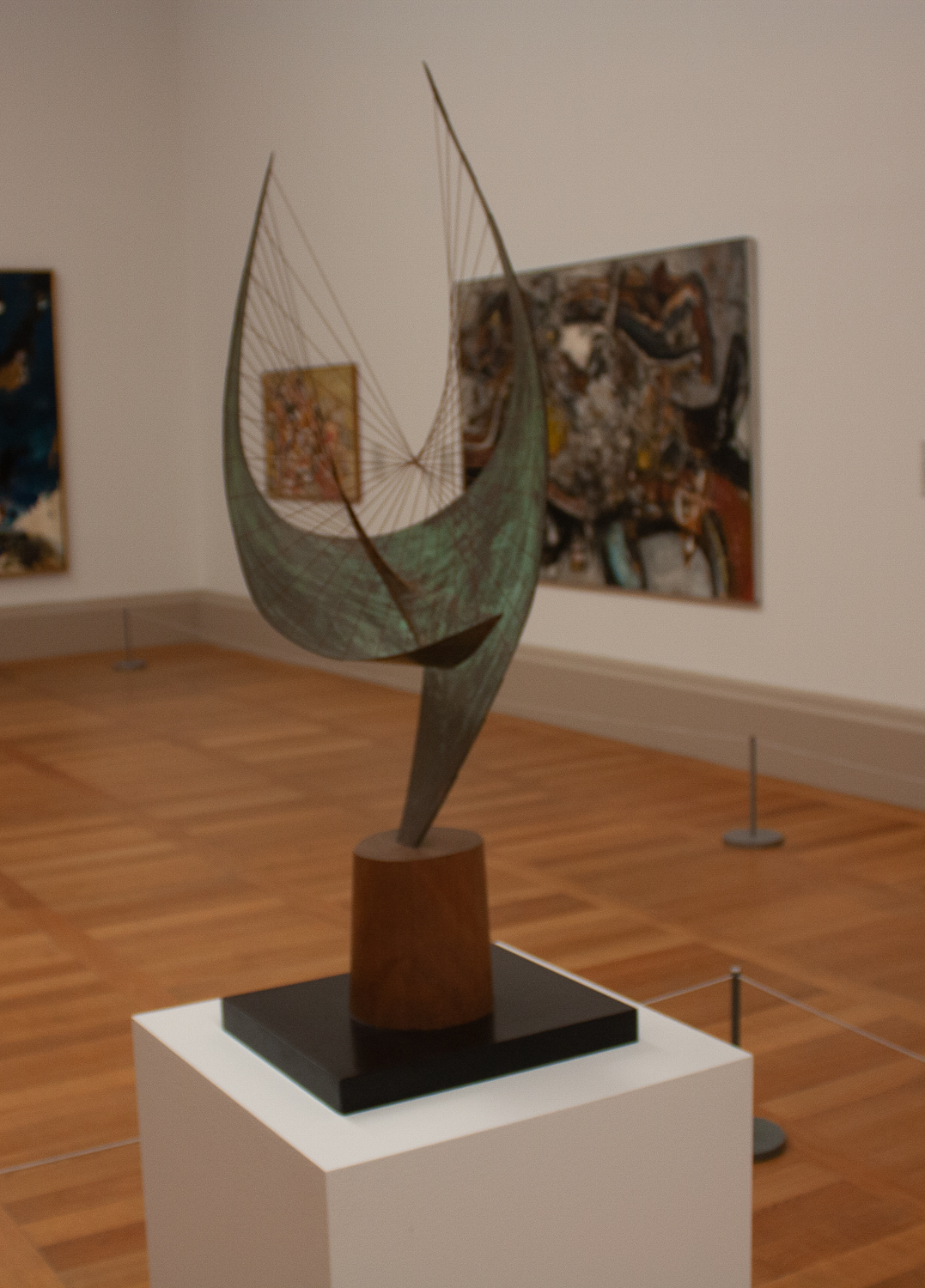 Barbara Hepworth:  Orpheus
There are also a huge number of Henry Moore's (not my favorite but Frank really liked), a terrific Francis Bacon triptych (I love his work) and rooms full of Turners, whom I enjoy only when he got atmospheric and close to total abstraction.
For dinner we walked to the Little Venice area, a lovely and quiet neighborhood just the other side of Paddington Station that has a scenic canal throughout and a lot of houseboats. Had a great meal at the Summerhouse, directly on the canal.
FRIDAY, MAY 17
Last day...I felt pretty sick from this cold and it was grey and overcast all day. Nonetheless, we persevered and went to Westminster Cathedral (eh—it's not the Abbey which was closed except for services anyway) and then tried to go to Churchill's War Rooms, but there was an hour wait (and it started to rain on us in any case) and then it was a two hour tour. This is THE tourist area—there are the houses of Parliament, and close by is Buckingham Palace, etc and it is a zoo—tourist buses galore and lots of guides holding flags dragging hordes of people behind them. Enough...we just took the tube back to the hotel. For dinner we sent back to Stuzzico's, had a nice meal and returned to pack up our belongings.
SATURDAY, MAY 18
Homeward bound. Everything went well but the airports—this time Heathrow and Dulles—are so large with so many terminals and new construction that you probably walk a few miles getting from the train to the check in, through security and finally to your gate. Up escalators, down elevators (oops.."lifts") then up again and down again and across and over and under. When we arrived IAD (and we had our luggage with us so didn't have to get it and then return it to baggage) and went through customs, then security and then to our gate (which was in a another terminal) ---it took an hour, and it wasn't that busy either. Fortunately, we had two hours between flights. Decent flights home, even one decent airline meal, got to our car easily and then home sweet home. Ahhhhhhhhhhhhhhhh...
A few notes:
London is marvelous and I would recommend it highly. So much to see and do, easy to get around, lots of large and small parks and of course many outstanding museums. So go!! It is, like most large cities nowadays, very expensive, but the parks and museums are all free.