THE NETHERLANDS
October 7-October 24, 2017
FLYING
Saturday, October 7
Flying is a hassle. We had made our flight arrangements months in advance but of course, United changed them, leaving us only 50 minutes between flights. They claim this all you need but we know that just deplaning and then finding the next gate, going from national to international terminals, etc, takes far more than that. Also, big international flights start boarding — guess what — 40-50 minutes in advance. Add to that, your first flight might not even arrive on time. In 50 percent of our last four flights, this has been the case.
So we re-booked , leaving us 3 hours between flights. But this meant we now had to go through Newark, which we were desperately trying to avoid. First flight was 1 hour late in leaving Albany. And the United lounges are still a mess. Nonetheless, we made it.
Once we were on our flight to Amsterdam, all went well. This is an overnight flight so now on to:
ARRIVAL AND ROTTERDAM
Sunday, October 8
During our descent, the sun was beginning to rise. We arrived about 20 minutes early, at 7:30 a.m. (which was 1:30 a.m. our time) and customs was super-fast — maybe three people ahead of us. Once we arrived at Schiphol airport, we easily went to catch a train to Rotterdam. The plane to train situation in the Netherlands is wonderful: an easy walk, get your train ticket, trains leave often (about every half hour) so no need to rush. And the train stations in the cities are located well, with restaurants and hotels nearby. I had made a reservation at Premier Suites, thinking that we would be jet lagged and needing to take it easy. This hotel was directly across the street from the train station.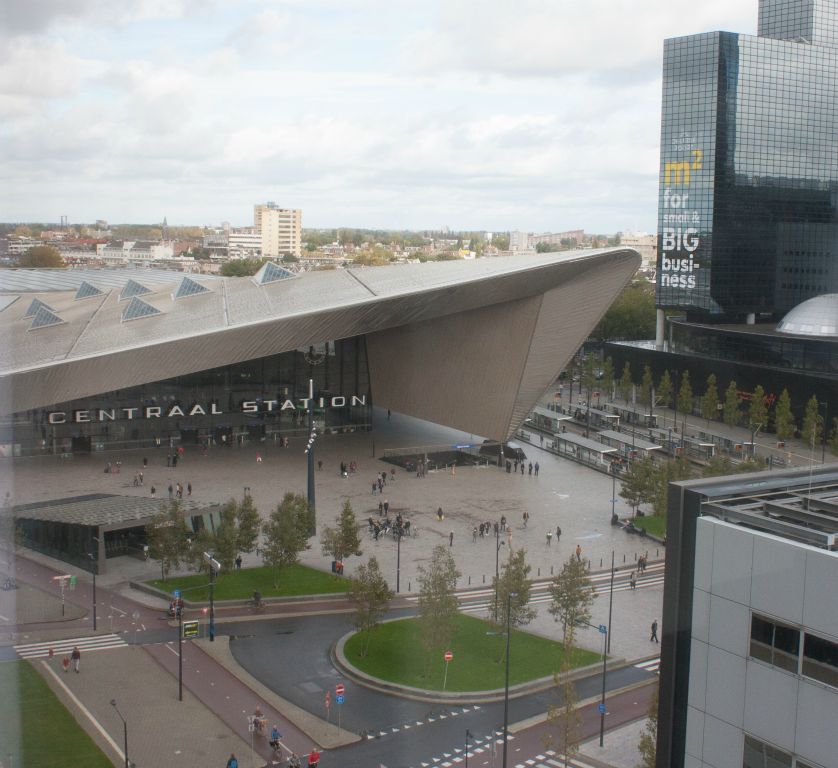 Rotterdam Central Rail Station
We unpacked, rested, and then walked around the area.
Rotterdam, like the rest of the Netherlands is filled with bicycles—bicycles with panniers, bicycles with boxes in front (you could put your luggage there), bicycles with covered front carriers for children, bicycles for two, for three,etc. A horde of bicycles. No one wears helmets, but everyone, and I mean EVERYONE, rides a bike. And, although the bicyclists seem unafraid of going without helmets, I make the case that the pedestrians are the ones who need them, along with suits of armor, etc. The bicyclists don't seem to obey normal traffic rules, and perhaps there are few. Places where cars have to stop, bicyclists don't.
Rotterdam was totally destroyed during World War II so everything was rebuilt, and the architecture was modern and varied. Some of it was highly colored too. So we saw every variation of building. Also, there was sculpture everywhere. They indicated on a map about 48 pieces situated around the Centrum area—including a George Rickey which was definitely not kinetic (it was a static tapered column) and a weird Santa Claus that no one seems to like (I can see why) that has therefore been moved several times.
We were on the edge of Chinatown so we googled the "best" Chinese in the area -- Tai Wu. The food may have been good, but we'll never know. It took about 30 minutes to get a menu and put in an order, and then 1 ½ hours to get my soup. This was only after I got up three times to tell the manager. I could see that others were having the same problem. Our water never came and, after the soup we waited another half hour in hopes of getting our main courses before we left. We found a cheap Chinese express place instead and were done in half an hour.
ROTTERDAM 2
Monday, October 9th
Woke up and had a nice bagel at a chain called Bagel and Bean. These are all over the Netherlands. When I asked for ginger tea, they brought me fresh slices of ginger to brew.
We went to see the Cube Houses. Designed by Piet Bloom, based on the concept of "Living as an urban roof". It was meant as a village within a city, with high density housing and ground level space for shops and green areas . The cubes are titled at a 45 degree angle making the interiors quite unique. They are yellow and orange, making them quite colorful.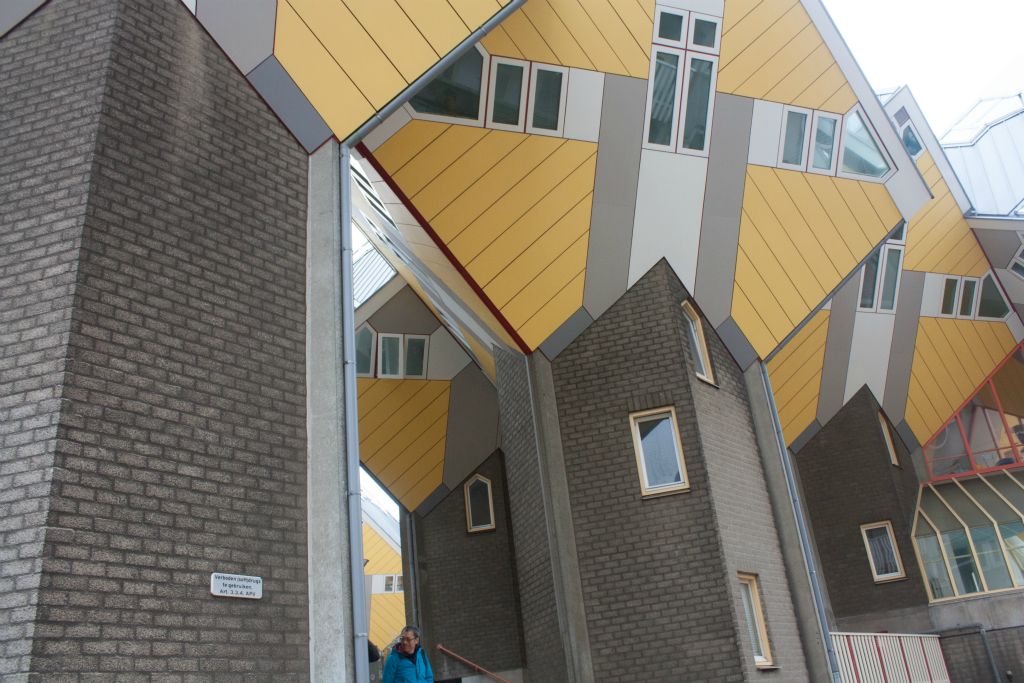 Across the street was the wonderful Markhaal, an enclosed market filled with stalls of beautiful cheeses, dried meats, desserts, nuts, olives etc and eateries. That night we ate at Amarone's. It was a wonderful meal with great service and a nice bottle of Sancerre.
ROTTERDAM 3
Tuesday, October 10th
Today we had a VIP tour of Ketel One, arranged by Charles, one of our second cousins who is a manager in the liquor distribution business. We were picked up in a Mercedez Benz and driven to the town of Schiedam, a suburb of Rotterdam. We then had a three hour tour, including a nice lunch. Ketel One was founded in 1691 was founded by the Nolets and has stayed in the family ever since. They are currently on their 10th generation, with the 11th in the wings. Obviously, they have grown the business over the last 300 plus years and it was interesting to observe the growth.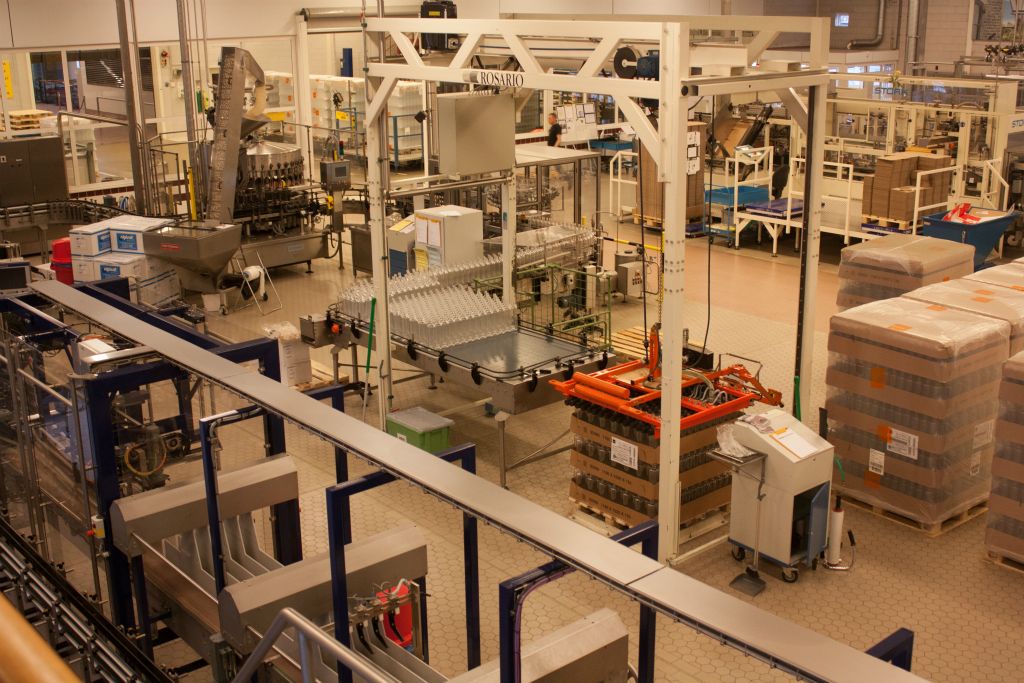 Three side stories of interest: Our guide told us about being invited to visit some important personage who lived in the Bible Belt area of Holland (yes—there seems to be a Bible Belt everywhere). In conversation, this person mentioned that a man couldn't possibly have traveled to the moon because heaven was above the earth and, since you couldn't go through and out of heaven, how could you possibly go to the moon. (I realize this raises a lot of questions that could be answered rationally, but hey … ). The second point of interest was that, while showing us the original and still main office of the current head of Nolet/Ketel, our guide mentioned the paintings that were painted directly on to some of the walls of the room. These turned out to be painted by a Jewish man who, with his family, was hidden in a room with a cleverly entrance behind the wall. He came out at night when it was safe and painted these images. And finally, in this room of the Ketel One executive, there are two desks. One is larger than the other. The larger one is for the current head and the smaller one for his successor. When the patriarch decides it is time to step down, he changes desks with his successor. From then on, he never offers his opinion unless asked to do so.
After the tour we were each given a large sampling of the the product and asked to be dropped off at the Boijman's Museum. This was a nice mixture of the old and the new shown together, the idea being that art over the ages is linked—although it didn't always appear to make the connection to my satisfaction, it was intriguing. We got a museumkaart, which most travelers don't know about. If you are resident you can get one of these that is good for a year, but a traveler can purchase one of 59E that is good for a month and for over 400 museums in the Netherlands. It was a much better deal than the Iamsterdam card if you are visiting for more than a few days.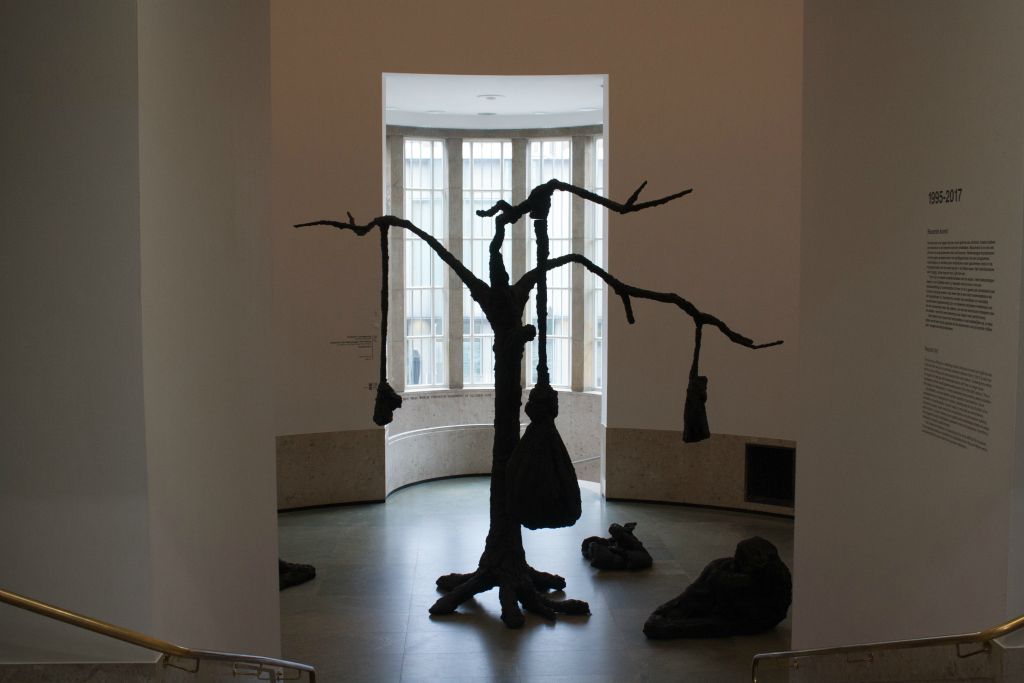 We had dinner at Entrecote, a nice restaurant serving only steaks, fries and salad.
ON TO ANTWERP
Wednesday, October 11th
And on to Antwerp. We had decided on Antwerp mostly because friends of ours, James and Susan Deem, were living there for three months. In 2016, they spent a year in Brussels. James is an author—he has written a great book about the horrors of the camp Breendonk—and was doing research. He and Susan have many friends now in the area and just love it.
We figure we're pros at the train by now, get our tix and find our train track, etc. I have heard that the trains are wonderful unless they are late or canceled. Ours was canceled. This was announced in Dutch but we got the drift when we saw everyone leaving the track. So we had to go to another track and take a local, switch trains in Roosendaal where there were no escalators and schlep our luggage down a flight of stairs and then up another flight, etc.
When we arrived in Antwerp—a beautiful train station—we then walked about three blocks to the De Baron B and B. We were greeted by Luc and taken to our room. Luc is a BIG collector of comic books and showed us the room filled with bookcases and jammed with these comics and some TinTin memorabilia. The b and b has three rooms and is filled with antiques. We had the room called Miss Lucy—a very large room with a large bathroom. The bathroom had a big modern bath tub which Frank quite enjoyed and a weird shower stall with no place to put your soap and a detachable shower head that shot water everywhere. The best touch was that our pillows were embroidered with the words "CARPE DIEM" Breakfast was laid out beautifully—cutlery on a silver rest, layers of plates, etc. The breakfast, however was basic Dutch: some cheeses, cold meat, breads and a soft boiled egg in it's cup. There was also yogurt and cereal, etc.
We met the Deems back at the train station as they were returning from Paris and took the tram to their apartment where we caught up, laughed, and had drinks. We then went to Enoteca Savini, which served homemade pasta and was delicious and was in their neighborhood.
ANTWERP 2
Thursday, October 12th
After breakfast we met the Deems and went to the Plantin Moretus. This is a UNESCO World Heritage Site. It was a printing house set up in the 16th century by Christophe Plantin and then continued under his son-in-law Jan Moretus. It was also their residence. It is now owned by the city of Antwerp. What an amazing collection of early books, numerous typefaces—so many languages, various printing presses and inks, etc. There are many Ruben's portraits of the family from the 1500's. Fascinating.
And, a long solved mystery. Have you ever noticed how the beds in olden days looked like they made only for very short-limbed persons? It turns out that they slept in them sitting up as it was thought to promote better digestion and health in general.
We then walked around the area. In one of the many lovely plazas there is a statue of a man throwing a severed hand—the Brabo Fountain (water is coming out of the hand). Supposedly, this is how the city got its name: Ant meaning hand and werp, meaning throwing. It seems that tolls were being forcibly collected on the river by a giant and Brabo challenged him and won, severing his head—thrown into the river—and his hand. This plaza is surrounded by the Grote Market, a collection all the guilds. Atop each guild building is a depiction of what the guild was.
We then returned to the Deems apartment for a delicious chicken tangine.
ANTWERP 3
Friday, October 13th
Frank and I first went to Ruben's House. It was very large and fancy, showing off Ruben's weatlth. There were many paintings there by his friends. I found his studio particularly fascinating.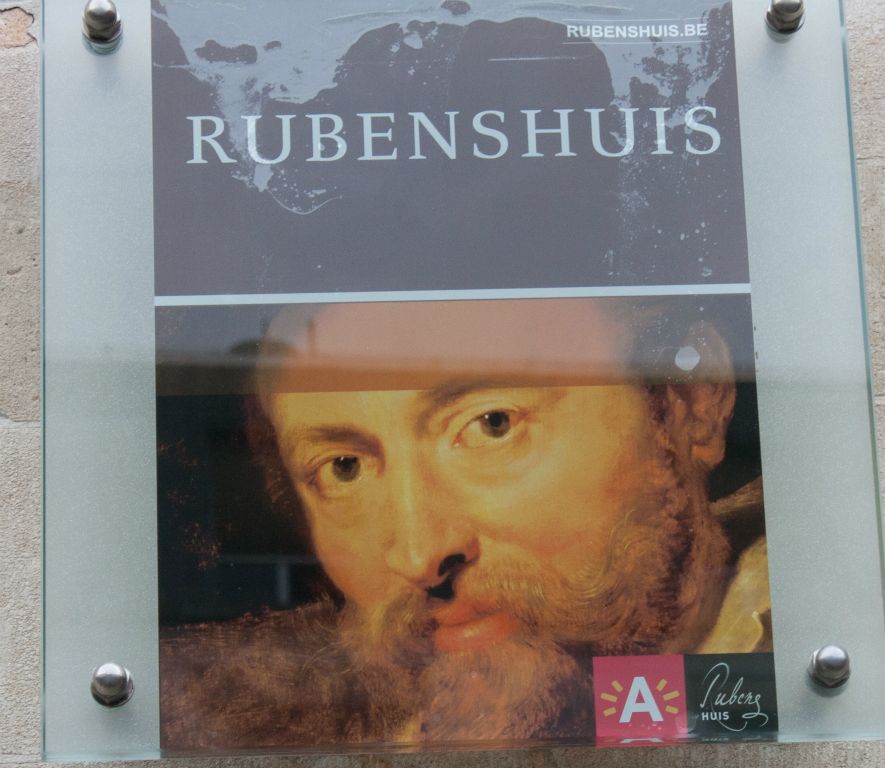 We then went to the Cathedral of Our Lady. Every space is filled with artwork—paintings by Rubens and Van Dyck, etc and wonderful sculpture, including a contemporary piece of an everyday man with eye glasses balancing a cross in the palm of his hand.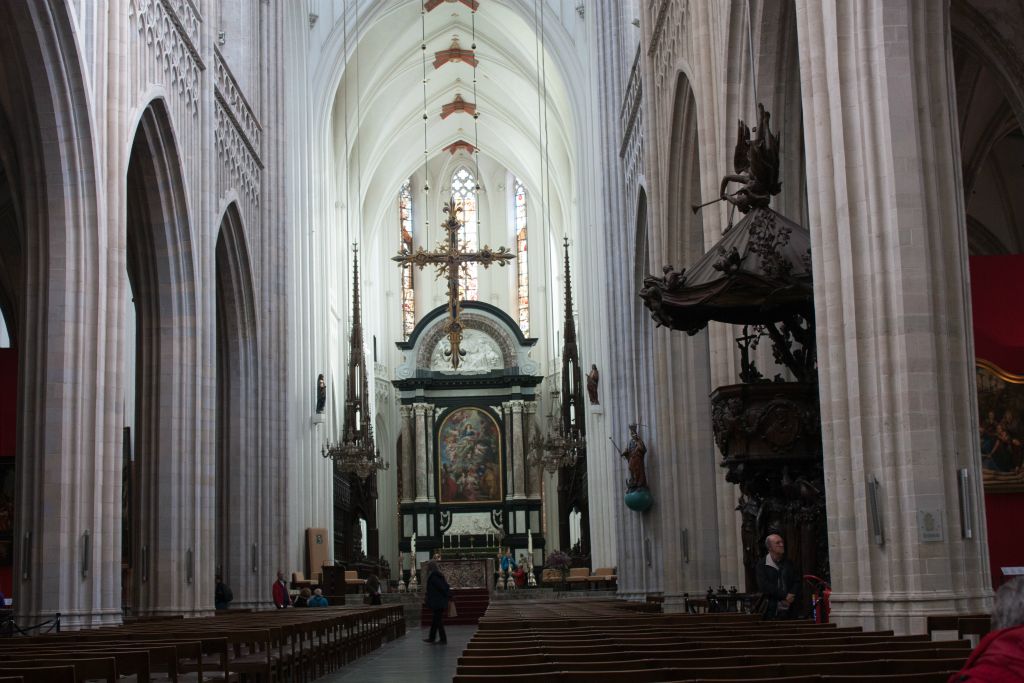 Cathedral of Our Lady
Jan Fabre: the Man who bears the Cross
We went to the Brabo fountain area to meet up with the Deems and had a traditional waffle snack—very crisp and delicous. Next we walked to the MAS, which translates into the Museum by the River. In a modern structure and from the 10th floor you can walk out and view the entire city and all the rivers leading to the North Sea. You could also see remnants of the old city walls. Before we arrived at the museum, though, we walked through Antwerp's red light district...prostitutes in doorways and glassed storefronts, showing off their wares, looking rather bored and often on their cellphones. The MAS has a variety of exhibits—each floor is different. We saw Pre-Columbian art, amazing model ships, a display about old and new food utensils, etc.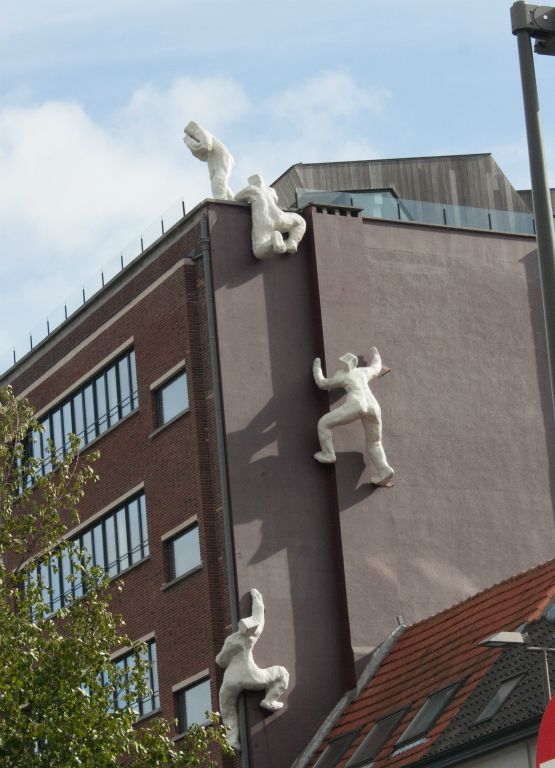 On the Way to the MAS
Dinner was once again courtesy of our wonderful friends, Jim and Susan Deem. This was stuffed tomatoes and again, delicious.
ANTWERP 4
Saturday, October 14th
It was a beautiful warm and sunny day to go to the Middleheim Sculpture Park. We walked and walked through this lovely park and saw works which varied from Maillol to Minimalist.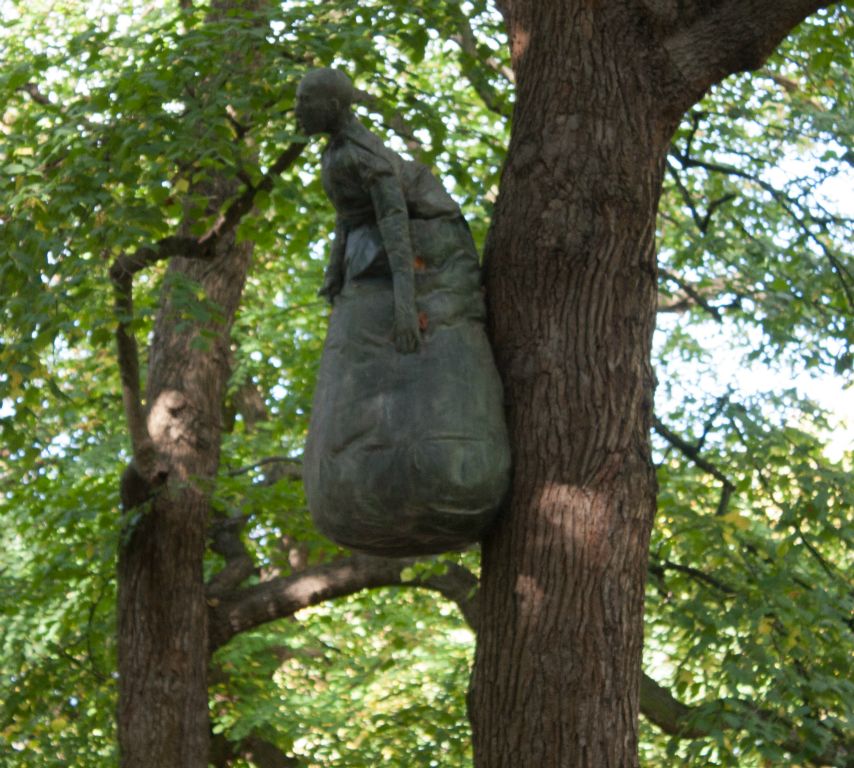 Juan Munoz sculpture
Jim resting in another sculpture.
Dinner was at Bourla, an Antwerp landmark. Had a great dinner with Dame Blanche for dessert made with the best chocolate sauce ever.
ANTWERP 5
Sunday, October 15h
Today we off to the Museum Mayer Van den Bergh. It is a small museum in a Baroque building that was his home. Highlights included many Brueghels and Metsys's, one of the founders of the Antwerp school circa 1465-1530. There was a series of twelve panels depicting "country life" and the last one was of a man pissing at the moon.
We had lunch near the train station at a sidewalk restaurant called Hulstkamp and didn't expect anything special but had one of the best sandwiches ever. Another lovely day to sit outside.
Dinner was at Susan and Jim's again. They made us traditional buckwheat crepes. We said goodbye and miss them already!
OFF TO AMSTERDAM
Monday, October 16th
Off to Amsterdam. Train and then tram to our perfect apartment. It was tasteful and comfortable with a nice living room, a small but well set up kitchen with all you could possibly need, a bedroom at the back, another room with desk and chair and a balcony with two chairs, small table and ashtray in case you wanted to partake of the "local product" which was available in stores on every block.
We went to the Markt which was a "biological" supermarket (translate: mostly organic) and got some breakfast foods and pate and cheese, etc. We walked along several of the stunning canals, admiring the great architecture. Later that night we ate at Port Galia, a Portuguese restaurant.
A word about "Dutch" food. Basically, what is referred to as typical dutch fare is ham and cheeses: lots of cheeses, bitterballen (meatballs) and these thin large pancakes with different sweet or savory toppings. But truly, Dutch food is really international food — after all they colonized a large section of the world. So while in Amsterdam we ate Portuguese, Uruguayan, Indian, Indonesian (rijsttafel—rice with many small dishes, as many as 15-20 ranging in spiciness) Asian fusion, Italian etc.
AMSTERDAM 2
Tuesday, October 17th
We went to the Rijksmuseum..WOW!! Beautiful Rembrandts, Vermeers, etc. Rembrandt was a true genius. He also led the way to modern movements such as pointillism—look at the lemons and lace, then impressionism—look at the use of contrasting colors that the eye mingles to make another color, and even expressionism, including abstraction—in his latter portraits he used a trowel or palette knife to lay broad bans of color. Of course, he was a master of color theory too.  Everything in one artist. If you are a painter, and you study Rembrandt, you will have it all.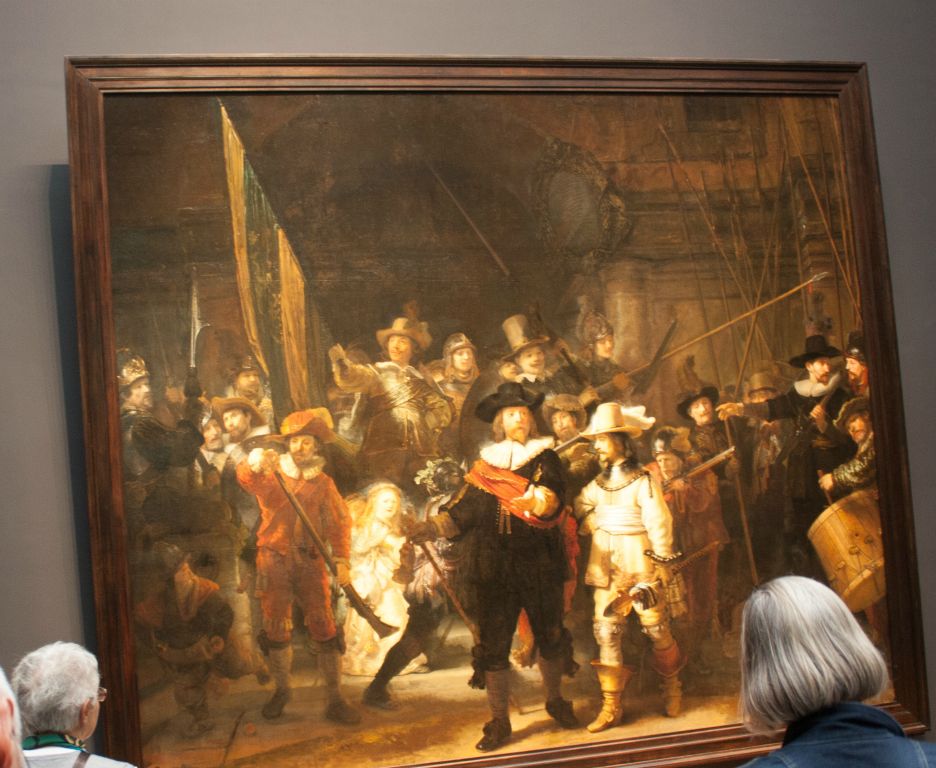 The most famous, of course is the Nightwatchmen (with appropriate crowds).  But the most interesting are the self-portraits ... one below: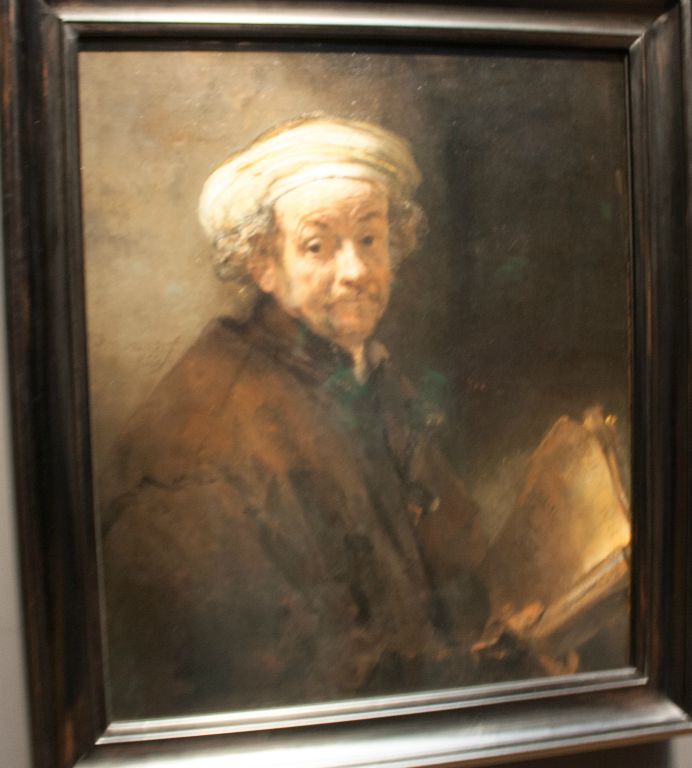 Most everyone else, including me, is a hack in comparison to Rembrandt. We ate lunch at the museum and spent most of the day there, walking to and from our apartment down different streets.
Every street had such interesting and beautiful architecture. The Dutch have a sense of proportion to their buildings and much of the city is intact from the 1500-s on. There is some new intermixed with the old, and most eras and styles are represented.
Later on we bought some of the local product and were transported back to 60's and 70's. We ate dinner at Tandoor's—a middling Indian restaurant.
AMSTERDAM 3
Wednesday, October 18th
Off to Rembrandt's house, about a mile walk along fascinating streets. They had a special exhibit of Bol and Flinck, two students of Rembrandt's who then went on to their own careers, challenging Rembrandt. In my opinion, although Bol in particular was good, he was no Rembrandt. This was Rembrandt's house and studio. Rembrandt was a prodigy who was famous and wealthy early on and bought this house for 20,000 guilders (quite a sum then) in 1639 when he was just 33. We were able to not only see his printing making room, but given a demonstration on his etching press made of three different kinds of wood. That was special.
Rembrandt's House from the street
We had some lunch and then went on the Hermitage Amsterdam museum where there was an exhibition of Dutch masters from the Hermitage. Seemed the Russians loved Dutch art and collected it on a large scale. There were five spectacular Rembrandt's along with other amazing treasures.
Dinner was at Alberto's Uruguayan steak house where Frank had a good steak and I had some small delicious lamb chops.
AMSTERDAM 4
Thursday, October 19th
Hopped the tram and then the train and were off to Den Haag to the Maurithuis. It was a short walk from the train station. We saw a painting done by both Rubens and Bruegel: Adam and Eve. Rubens did the figures and Bruegel the plants and animals. It was meant as showpiece for both to exhibit their talents to prospective patrons and was a common practice. We also saw more Vermeers and Fabritius's Goldfinch. We only know of 38 to 39 Vermeer's in existence and on this trip we saw about a third of them. Quite a treat. The Milkmaid was my favorite, although everyone flocks to Girl with Pearl Earring.
(As does Frank:  here it is)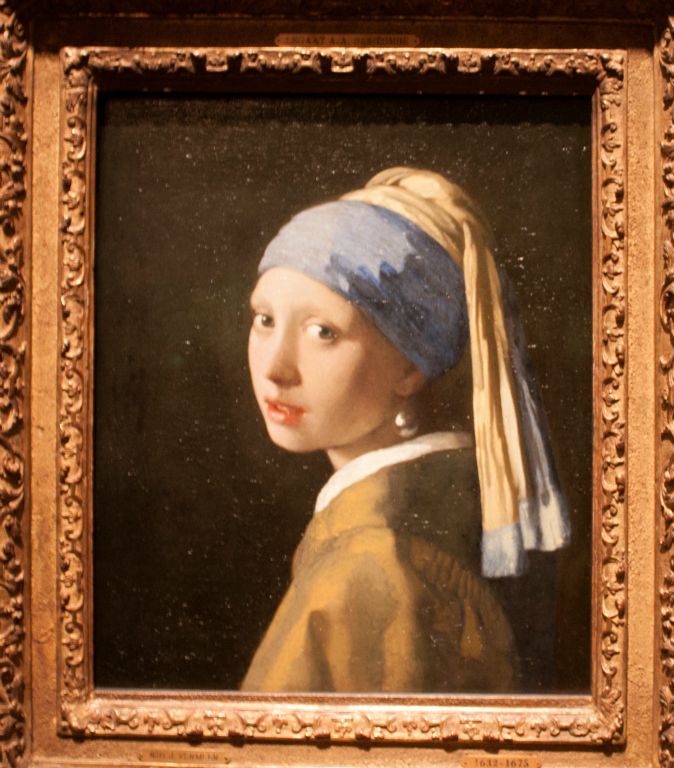 There were more Rembrandt self portraits and each one was extraordinary. I would like to have a book of all them in chronological order.
Here's portrait of Rembrandt the younger to contrast with the "older" one above: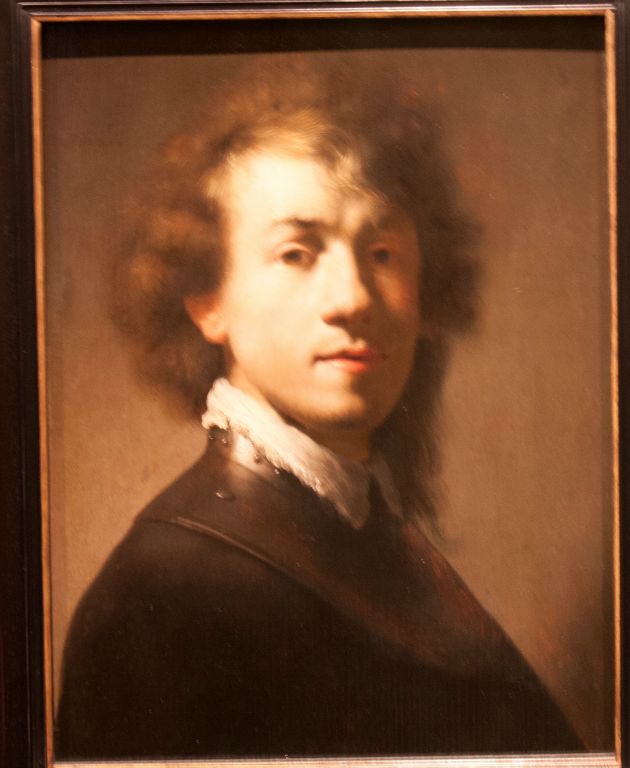 Dinner was at Puri Mas—an Indonesian place with rigsttafel—rice with lots of small dishes. Our hostesses said this is a combination of traditional Indonesian food served in a Dutch style. She did not seem to be fond of the colonization of her country.
AMSTERDAM 5
Friday, October 20th
We went to the Van Gogh museum...so many Van Gogh's! I especially like his ink drawing of the countryside—all different strokes: curves, straight lines, dots, daubs, swirls etc to indicate different parts of the landscape. They presented the story of his life but since I have read the recent biography by Naifeh and Smith (quite a slog) and there seems to be a reinterpretation about the lopped off ear and his death. There were also paintings by his contemporaries, letters to and from Theo, etc. A modern painter, Zeng Fanzhi presented a reinvention of Van Gogh that was of some interest.
But ut oh, I felt a cold coming on.
AMSTERDAM 6
Saturday, October 21st.
Okay, I do have a cold. Hope Frank doesn't get it. Nonetheless, we took a long walk to the Amsterdam Museum, which presents the history of Amsterdam in a building that was originally the city orphanage. The neighborhood around the museum had many old buildings filled with restaurants and shops.
We had a typical Dutch pancake lunch at Luciens. --a big large dish size of a flat pancake with bacon and onion on top. Dinner was a De Pastini—very nice pasta dishes.
AMSTERDAM 7
Sunday, October 22nd
My cold took over so we just hung around—it was drizzling anyway—and read. Frank organized his pictures and rested up. We had some lunch at a nearby Bagel and Bean and dinner again at Port Galia since it was nearby.
AMSTERDAM 8
Monday, October 23rd
Felt pretty crappy so just hung out, packed and cleaned up. Had one of our best dinners at Ron's Gastropub directly across the street from our apartment. It was high end Asian fusion with terrific Dim Sum and then small plates of deliciously spiced mains.
FLYING HOME (Did I mention how much I HATE flying!)
Tuesday, October 24th.
Okay, being the loving wife that I am I shared my cold with Frank so we were both feeling off today.
We were up early to catch a tram and then train to Schiphohl airport. That was the easy part. From there on things got sketchy.
When we arrived we were notified that our flight to Dulles was to be over 3 hours late. This meant that we would miss our connection to Albany. Off to the counter to see what could be done. We got new flights (thank goodness we had arrived early) for a flight that left an hour earlier, went through Chicago, and arrived home only two hours later than scheduled. I say we were lucky we got there early as both these rescheduled flights were eventually fully booked and even asked for two volunteers to give up their seats. If we had gotten to Schiphol later, we probably wouldn't have gotten on those flights.
Then it was on through security. I was pulled out and patted down (and felt up) but finally let through. Okay, thought that was it. But when we got to the gate for the flight from Amsterdam to Chicago, we had to again show our passports and boarding passes. At this point they separated me from Frank (who had a tsa pre approval on his boarding pass) as I had what I have now learned is the dreaded SSSS designation on mine. This meant that I was taken to a separate area and was swabbed from head to toe, shoes off, all luggage swabbed inside and out and then waited for the results of the swabbing while standing there. Not a pleasant experience. I read forums later on about who gets picked—some say random, some say there's a list (beware artists!!!) but no one knows nor I do think we ever will. There were about 20 of us singled out this way. The flight itself was without problems and customs at Chicago was relatively easy.
Usually when we arrive home we are still a bit jazzed and unpack, do a laundry, have a bite, look over the mail, etc but we had been up for 20 hours straight, a tad stressed out and both with colds. So instead, within about ten minutes (we did brush our teeth!) we were both in bed, thoroughly exhausted.
A final note: we just loved the Netherlands and especially Amsterdam. We remarked that if we were younger we might even have considered emigrating there. And, as an artist, I was just totally overwhelmed by Rembrandt's genius. I had seen works of his before, of course, and admired them. But seeing so many of them within a few weeks, and studying them up close and "in the flesh" (both literally and figuratively) so to speak, I can think of no painter who comes close.
A note on photo galleries
Feel free to look at the photo galleries that are accessible from the menu on the home page.  All the Netherlands (and Belgium) related photos are under the Netherlands heading on the menu.  The Galleries are set to autoplay and the file size is reasonable to display the pictures quickly on most connections and computers or phones.  You can stop the autoplay by clicking on any picture.  You can then page through manually by clicking ... either faster or slower than the default 5 seconds setting.  In the upper right of each gallery this a little icon box.  The middle icon shows the picture in its own "window" together with the file name.  If you want a copy you can right click on this and then pick save image as ...  Enjoy.  Email Frank with any problems or suggestions or corrections.