PARIS
May 2015
Monday, May 4
First flight ... off we go .... well sort of. This flight was delayed over an hour as the plane wasn't there yet. (Good thing) It was a bumpy ride on a crop duster from Albany to Newark.
The second flight was also over an hour late ... this time due to "technical difficulties" -- the entertainment system was not working. The flight to Charles DeGalle airport was an easy one. When we getting ready for landing, the area around Frank's seat was the scene of white fluff, which turned out to be the pillow he had decimated. The pillow was defective.  We all had a good laugh as we gathered up the stuffing.

Tuesday, May 5
From CDG we took the Paris Shuttle to our apartment at 21 Rue du Dragon. This is a quiet street between St. Germain de Pres and rue de Sevres. There is no parking on this street so, although we were in the heart of the left bank, it was quiet. Next door to our building was a great bakery and where we bought our morning breakfasts. We were greeted at the apartment by the owner, Deloris Foskey Stern. Both she and the apartment were wonderful. The building dates from the 1700's and had an inner courtyard, which our bedroom faced so it was very peaceful. Deloris's husband, Bernard Stern, was a very serious artist who unfortunately died in a car accident at the age of 82. The apartment was filled with his art work and the work of others. It was such a delight to stay in these surroundings.
After getting settled we took a short nap. Then we took a walk around the neighborhood. There were a lot of art galleries and boutiques and restaurants and cafes right out our door. We walked to the Seine hoping to take the Batobus but alas, the Seine was in flood stage and the Batobus couldn't land at it's designated stops and was therefore not running. So we walked along the Seine as much as we could and were stopped by an area that had not only flooded over the banks, but clear to the retaining wall.
Then we had coffee and dessert at Paul's, which has been around since 1889 and is located where the Rue de Buci and Rue Jacob meet. We sat outside and watched the lively street scene.
Wednesday, May 6
When we woke up, we went downstairs to what became our morning bakery. We got a bread stuffed with jambon and cheese, made some coffee and tea.
Then it was off to the Louvre. We went down below the museum proper to get ourselves a six day museum pass. This provides free admission to over 50 museums and sites and the extra reward is that at many of them you don't have to wait on the long lines, but get quick access.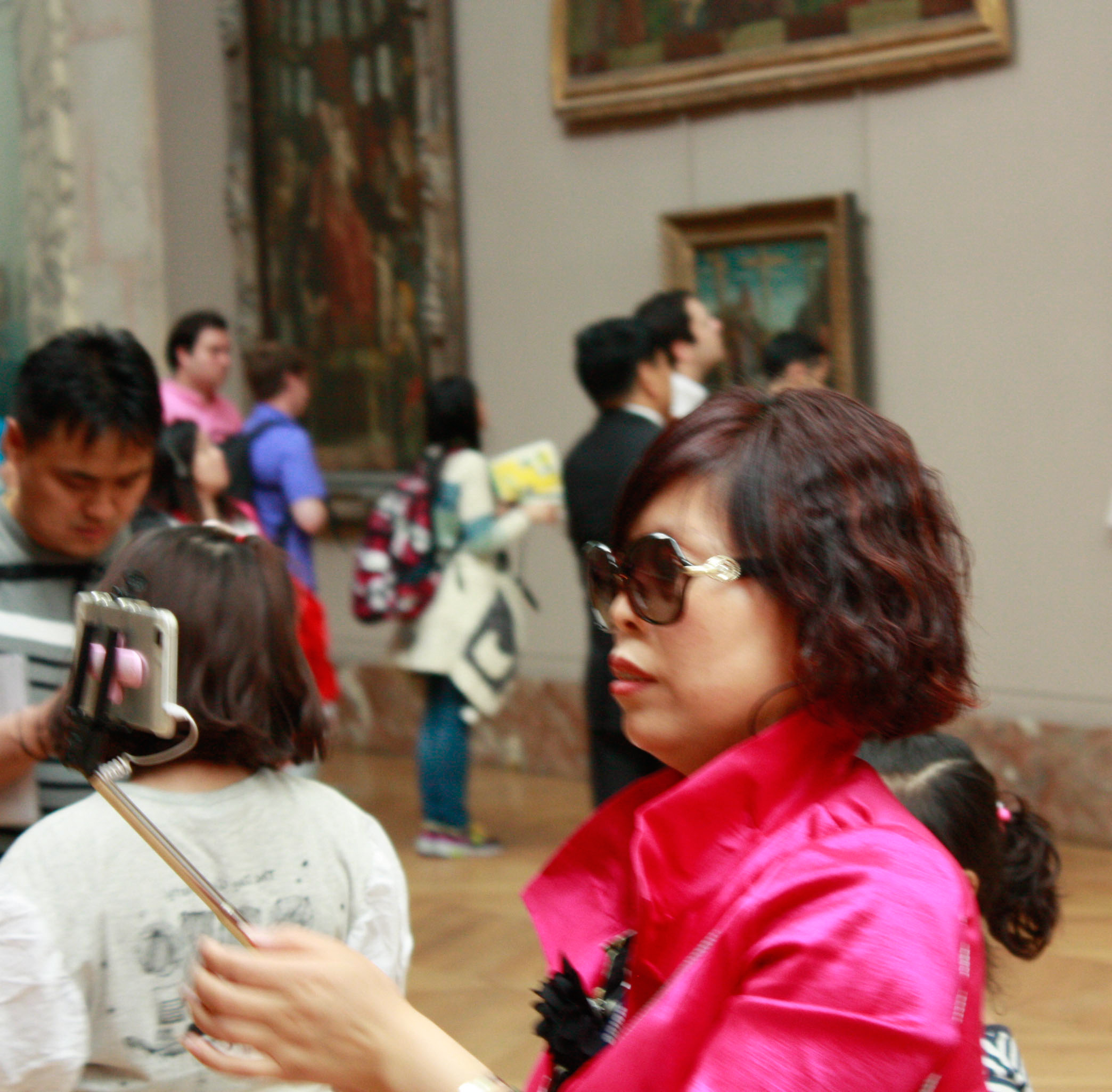 We spent three hours at the museum before we were overwhelmed by it all. There is just so very much to see, and there are just so very many tour groups. The big draw, of course, is the Mona Lisa and the room they devote to it, which is behind what I assumed was bullet proof glass or plexi, was jammed. Cellphone cameras were clicking away and people were making selfies, although most couldn't get close enough to actually see the painting. We avoided this and instead looked at two other magnificent Da Vinci's in another hall, which most folks didn't even bother to study. I doubt they even knew they were there!
<-- idiots
We saw a great number of masterpieces and enjoyed our outing.  After we couldn't absorb another work of art, we wandered along the Tuilleries.
We went back to the apartment and rested a bit, then walked to the Luxembourg Gardens. We veered off the direction we had intended and enjoyed the streets we were on. The Luxembourg Gardens are the ones that are famous for the oxagonal pond with children floating their sailboats. We sat on chairs around this pond and watched one young boy float his boat until he dropped his push stick in the water where it had to be rescued.
On the way back, we wandered into the St. Suplice church.  Dinner was at AG's at 2 Rue Clement and it was terrific.
Thursday, May 7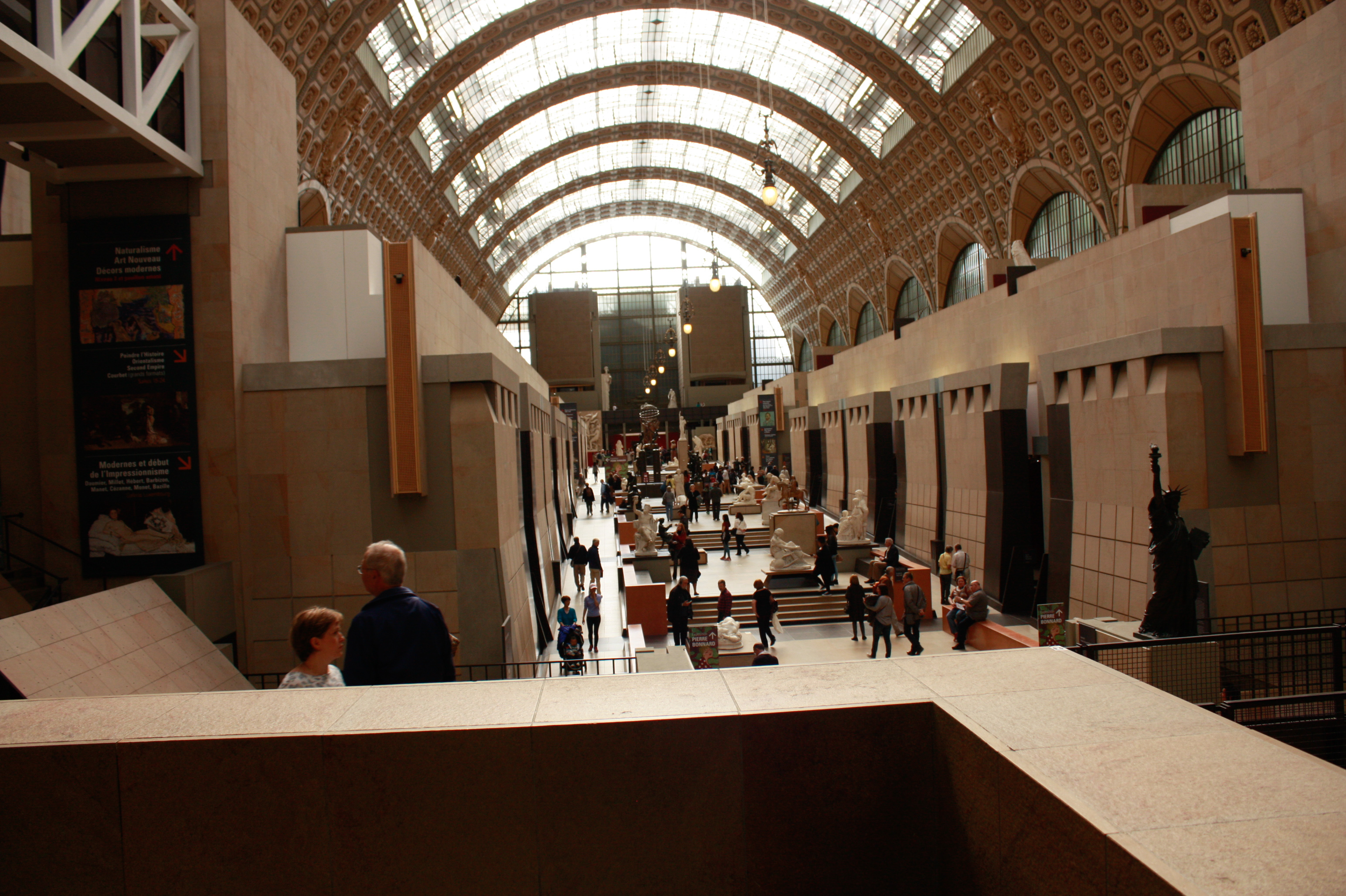 We walked to the Musee D'Orsay and spent the day there. This is an old railroad station, built in the 1900's with great vaulted glass domed ceiling and two large ironwork clocks. The architecture alone is worth the visit and then there is the artwork. If you've ever taken art history, you will see many paintings and sculptures that you only saw in books before your eyes.
We had a very good dinner at the Bergamote, which is named after a fruit that is a cross between a lime and an orange. I had the crepes aux bergamote for dessert and it was wonderful.
Friday, May 8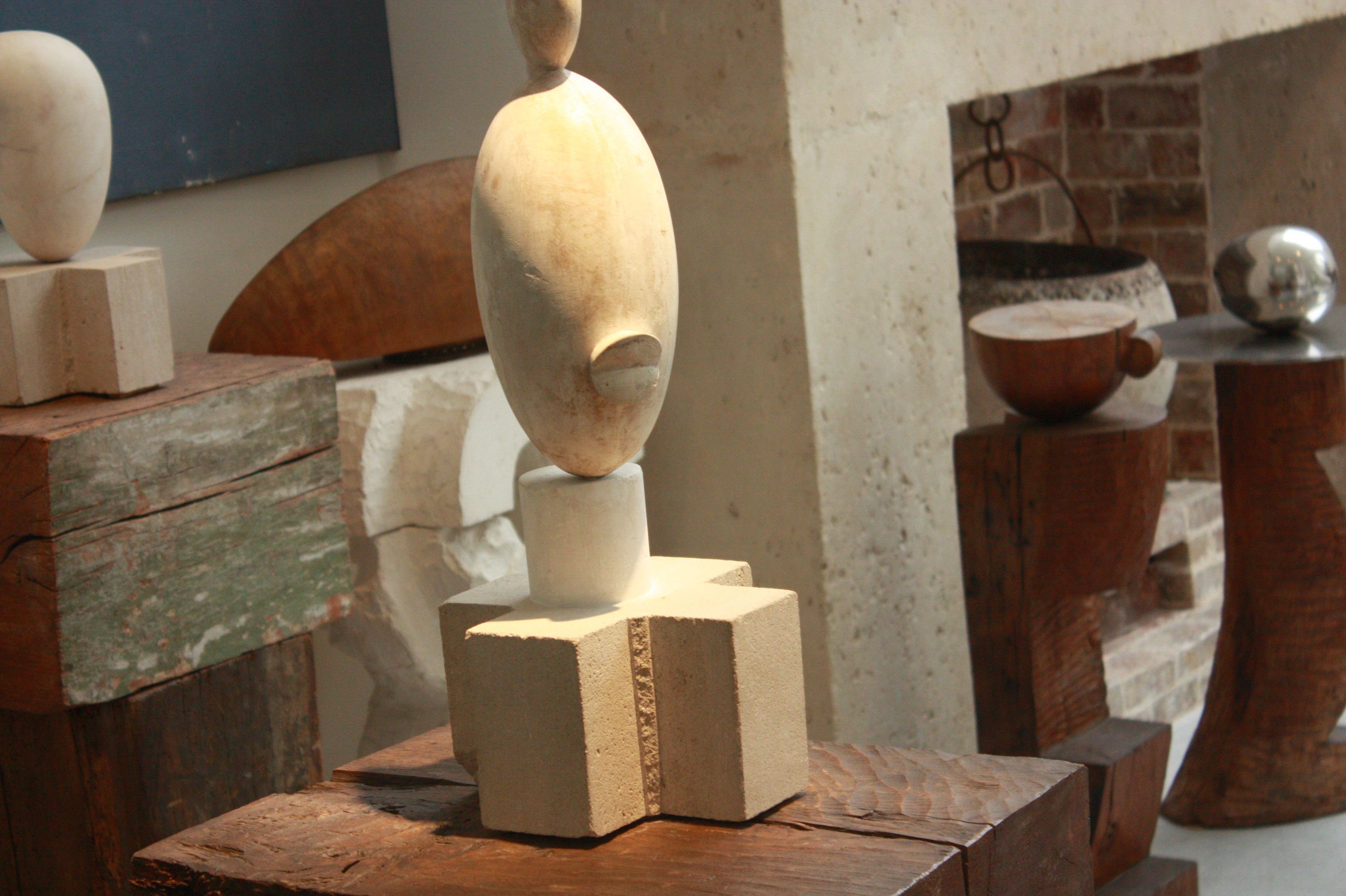 Today we took a very long walk to the Pompidou Center, which meant walking through the Ile de la Cite. The Pompidou center is a contemporary art museum built in the 1970's and was quite controversial as it was so modern, with colorful exposed duct work. The exhibits were great . Three works that really impressed me were: The Pie Throw Room, the enlarged cellphone pixels of executioners aiming their guns at them, and a large room where you could chalk messages on the walls regarding Hiroshima. On the plaza area outside the museum, there is a small building which houses a replica of Brancusi's studio which is not to be missed.
For dinner we ate at the Le P'tit Ferdinand.  I had skate for dinner.
Saturday, May 9
We went to the Cluny museum, now called the Museum of the Middle Ages. It is very well done and there are wonderful paintings, sculptures, stained glass and artifacts of the times. The big draw are the Unicorn tapestries, which depict the five senses: sight, smell, touch, taste and hearing along with a sixth titled : A mon seul desir. They are magnificent and are of spun gold, wool and silk and were created in Flanders around 1500.
On the way back, we stopped for coffee and a cheese plate. We had dinner at Seraphin where I had an delicious duck tornadoe with foie, which was somehow in the center. This was accompanied by purple mashed potatoes.
When we walked home from dinner we stopped at a bar opposite our apartment and sat outside and sipped some cognac.
Sunday, May 10
Today we walked to the Ile de la Cite and toured first the church St. Chapelle. This church was built for the private devotions of King Louis IX and to house his relics which included Christ's Crown of Thorns. It is a gothic building of the 1200's and the framework supports huge stained glass windows so that the entire building seems to be made of glass alone.
Next we walked to Notre Dame cathedral.  On the way we passed the famous bird and flower market.
We arrived at Notre Dame in time for Sunday services, as Notre Dame is not merely a tourist attraction but, like most of the churches of Paris, as fully functioning one. Bells were ringing, then the organ played and one beautiful voice sang out and those attending the service sang along and incense was swung. Quite the high drama indeed!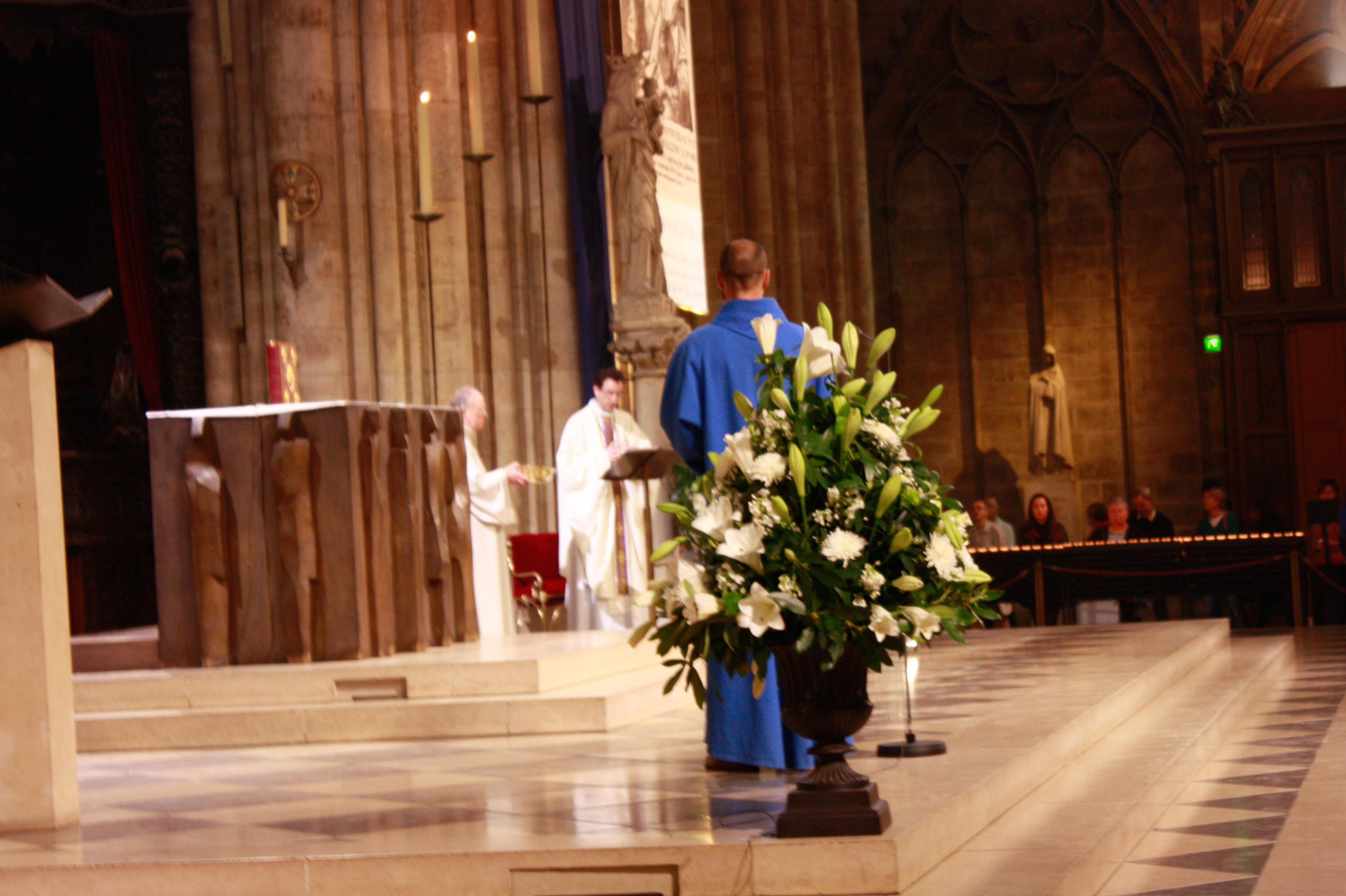 I might add that on the Ile de la Cite, and especially around the Notre Dame area, there were armed personnel. Paris has had several terrorist attacks and are very security conscious. Bags are checked at every museum and site throughout the city.
In the front of the church, at the far end of the plaza, there is the Archaeological Crypt which shows Paris from the days it was called Lutetia to the present. It is quite a good history and well worth the time.
We had dinner at Au Club des Siciliens where I had a good veal marsala.
Monday, May 11
We walked through the Tuilleries to the L'Orangerie. This is the museum that Monet had built to house his Nypheas, or water lily paintings, along with other of his works. There are also works by many other famous painters. The room for the Nypheas is an oval and so the paintings are slightly curved. I had dismissed these paintings as too pretty but seeing them made me realize how truly revolutionary they were ar the time. They are definitely precursors to abstract art and I got lost in them. I have a whole new appreciation of Monet now.
We had dinner at Le Petit Zinc. The building is a treasure house of the Art Nouveau style.
Tuesday, May 12
Felt a bit off today and rested most of the day and read some of the books in the wonderful library at our apartment. We had dinner at La Locanda for a change from French food, and Frank had a great fettucini a la vongole (clams).
Wednesday, May 13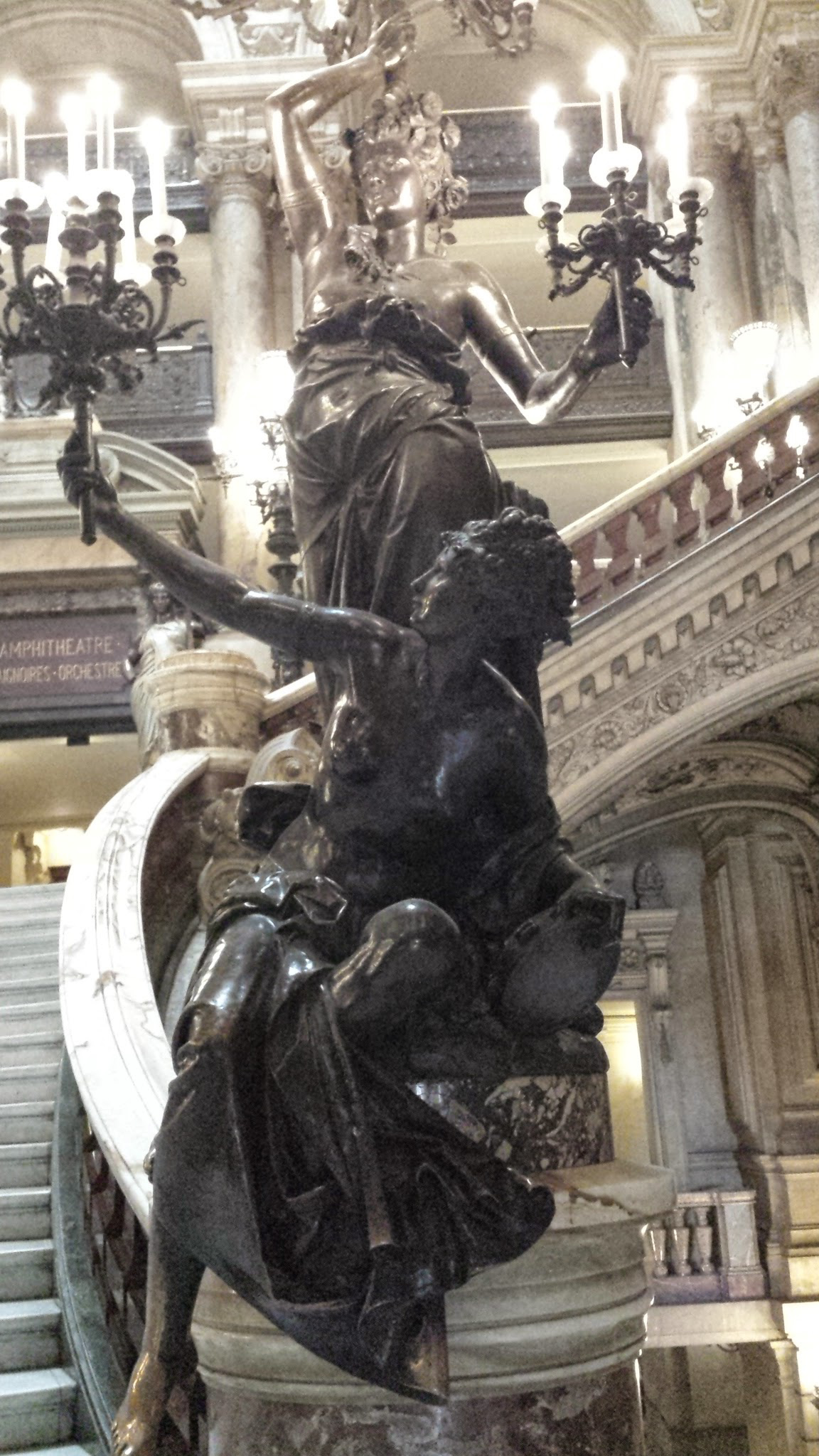 We decided to take the city bus tour and see parts of Paris we might not get to. We got off at the Opera House and took a tour. It is a lovely building and has the distinction of being Hitler's favorite building in Paris. Built from 1861-1875, it is a good example of Beaux Arts style and quite elegant inside.
Across the street from the Opera House are the Galeries Lafayette which is difficult to describe. In crass terms, it is a shopping mall but the architecture is so grand that you would think you were in a theatre. Six floors with a stained glass domed ceiling, with Art Nouveau staircases and circular railings.
We had dinner at La Bocca della Verita, where I had an amazing tortellin with white truffle cream and chives. I relished every bite.
Thursday, May 14
We took the Metro today to the new Louis Vuitton Museum. When you get off the Metro you are met by an electric bus that takes you the rest of the way and travels through the Bois de Bologne where the museum is situated. The building's architecture, created by Frank Gehry, is meant as an artwork in itself. It is typcial Gehry, all curves and sails outside, but inside works well as a museum. The collection if quite strange—rooms with Polke and Kelly and some very contemporary artists, and then a room filled with Giacometti's. They had a new show downstairs which was masterpieces of modern art, everything from Matisses' Red Dancers, to Picasso's and one of Munch's Screams and Mondrian, etc.  It was a great show.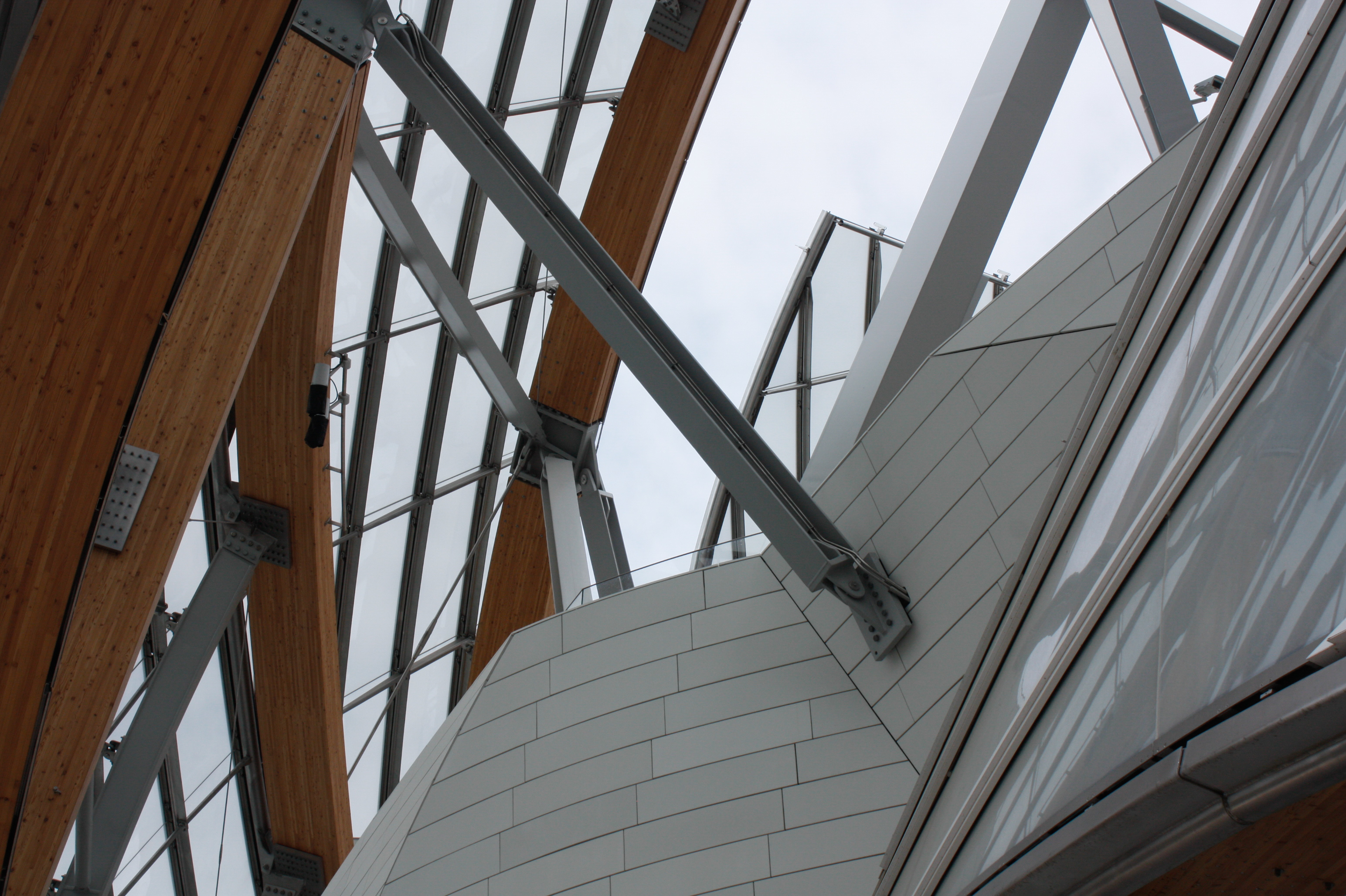 We had lunch at the museum at Le Frank, named after Frank Kelly! (oops, that should read Frank Gehry)
In the evening we had tickets for a concert at the Eglise St. Germain de Pres, a concert of strings playing Albionini , Vivaldi, etc. The solo violinist was very qood and quite the showman.
Dinner was L'Entrecote, which has no menu and only serves steak in its famous sauce and pomme fritte. IT is a large and always full restaurant, takes no reservations and folks wait outside for a table. We went at about 10 p.m. (it is across from the church) and were seated quickly, but it was still packed. The meal was okay but not great.  Which is equivalent to saying "not good".  A fast food steakhouse.
Friday, May 15
We decided to tour the Marais area today and took the Metro there. A word about the Metro—it is clean, efficient, easy to figure out and a great way to get around the city. There was a train every five minutes.
We walked the streets and then wandered into the Musee de Carnavet, which is the museum of the history of Paris. Although it didn't look it from the outside, it is enormous with a lot to see. It certainly displays the entire history of the city in paintings, sculptures, artifacts, etc. We couldn't get through the entire museum as it goes on and on and on.
Dinner was at L'Antiquarian, where I Had a great creamy risotto with mushrooms and Frank had the canard. It was the kind of place that I felt was worthy of having the crepes suzette and it was great.
Saturday, May 16
The water level of the Seine having subsided, we were finally able to take the Batobus which is a water taxi (no tourist blah blah blah) that goes along the Seine for about an hour. You get a day pass and can hop and off all you wish.  It has eight stops and you see many of the 17 bridges that cross the Seine in Paris, which are all of different styles and eras. You probably get the best view of the Eiffel Tower you hope for also.
For dinner we went to Le Procope, which dates from the 1600's and is the oldest in Paris. The food is still very good. Frank started with fresh oysters and then moved on to the coq au vin which had a rich dark sauce and delicious flavor. I figured this was the place to have escargot and then their osso buco.
Dessert was frozen sabayon with amaretto.
Sunday, May 17
We walked to the Delacroix museum which was where Delacroix, in the latter part of his life, rented apartments and had a studio built and lovely gardens. The museum, however, is bereft of Delacroix's (only one of two minor ones) as they are scattered at the Louvre and other important museums, and the studio wasn't laid out as a studio per se. It was all rather disappointing.
Dinner at La Locanda, I had a great artichoke and asparagus lasagne.
Monday, May 18
We just took a walk around the neighborhood on some new streets, discovered a lovely little park for which Paris is famous, and packed up our belongings for the trip home. We ate at Les Siciliens again and had a lovely meal.
Tuesday, May 19
Our last time at the bakery before catching the Paris Shuttle to the airport. The flight between Paris and Newark was good and customs were quick. The flight from Newark to Albany was death defying though. Our pilots looked like they were about 16 and had not fully grown into their gangly bodies, while our stewardess looked to be their grandmother's age. We were 24th in line to taxi off from Newark, and then we flew through thunderheads and lightning, while our child pilot told us he would "try" to skirt the lightning. It was a spectacular sight to see from the air. The plane rattled and bumped and we told that the pilots asked the stewardess to remain seated throughout the flight and NOT to serve those "complimentary beverages" (not that anyone could have kept them down in any case). We were never so relieved to land on the ground in our lives.
We had the most wonderful time on this trip and saw so many sites and enjoyed the ambiance that makes Paris such a special city.
Ca, c'est tout!