PROVENCE AND COTE D'AZUR 
May 18-June 8 2016
This journal was written by Gay with photos by Frank. See the photo galleries for the complete pictures that he took.
May 18--Travel day
We traveled to Provence with our good friend Werner Feibes, age 86. We had our plane and train tickets and one B and B and two apartments arranged.  Got to love VRBO!!! Our plan was to go from Albany to Newark and then on to the CDG Paris airport, and catch a TGV (high speed train) from the Paris airport to Avignon for three nights at Face Au Palais for three nights before renting a car,  on to Vence for 8 night followed by Nyons for another 8 nights before reversing the trip home.
Before we left we received news that France is experiencing a strike.  Okay, they are always on some sort of strike, but this one concerned air controllers, trains and other travel systems.  There were also trucks blocking the entry to major cities like Paris.  Flights from Britain and Spain were all canceled but so far they seemed to be allowing the big overseas flights through.  The train from CDG to Avignon was scheduled to run but for others continuing past Avignon--Marseilles, Cannes and Nice, etc--were not. Of course, all of this could change ... So, here goes!
All went well.  Flight arrived in Paris 40 minutes early. We had asked for a wheelchair for Werner upon arrival since distances are very long at major city airports. None was there.  This was a problem every single time we asked for one.  Be forewarned--we were later told that United has a terrible reputation regarding their wheelchair system.
We walked to customs and the line wound all throughout the customs area and extended out into the walkway area.  We were told it was about a two hour wait.  Werner found a staff person and made the case that he couldn't stand two hours and, after a bit of sweet talking on his part allowed the three of us to go to the front of the line and through. Whew!
Getting to the TGV train station was easy and soon we were on the train to Avignon. Riding through the French countryside reminded me of  Diebekorn paintings--many shades of flat green with tinges of a purple brown, shadows of pink with lots of white cows. One nice rule was that no cell phones were allowed to be used in the cars--only in the spaces between.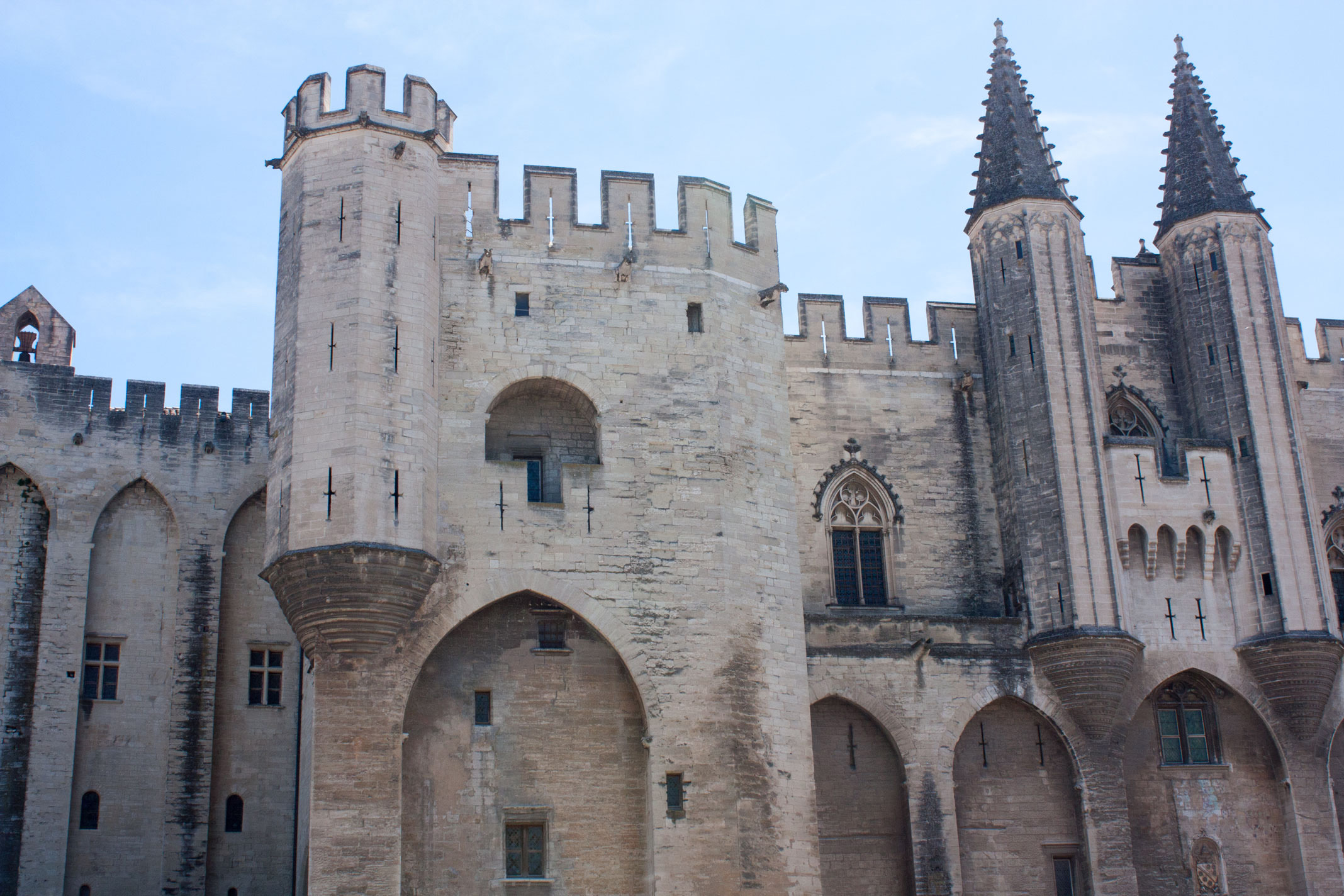 Our B and B host had arranged to have a cab pick us up at the train station and there he was! We arrived at this wonderful B and B which directly faces the Palais des Papes and an enormous plaza where musicians perform daily. What a treat! We went through the covered passageway of our place to a beautiful garden area with a resident outdoor cat (he came with the place and is named "Chat") and quickly became Werner's companion when he sat on the chaise lounge. Our B and B was one of the best I have ever experienced and our host, Alain Christophe Tchakaloff was terrific. This B and B only has two magnificent rooms on the other side of the garden. It was very private and quiet. The B and B is in the old city surrounded by ramparts. The streets are narrow and charming.
Alain treated us to wine and pate in the garden (he did this every night we were there) and then made a reservation for us for dinner. Werner and I had a rabbit stew and Frank a  tagliatelle with salmon fume.
Friday, May 20:
Today was sunny and warm as was every single day we were on this trip with the exception of one morning when we were treated to a spectacular thunderstorm before clearing up. Werner sat out in the garden with Cat while Frank and I found a store to purchase french sim cards for our phones.
We went to the Palais des Papes, an enormous Medieval Gothic structure which is a UNESCO world heritage site and was built and rebuilt numerous times starting in 1252. Numerous Popes, having been chased out of Rome, resided there.
After a refreshing ice cream, we then went to the Musee Angladon,which housed a beautiful painting of a dead rabbit by Manet and some nice Degas's with a few other works of interest but mostly second rate otherwise.
We had a mediocre dinner at La Cuisine Chic which was a new restaurant about which Alain had heard good things. Between us we had steak, lamb and grilled tuna with passion fruit cream pie and macaroons for dessert.
Saturday, May 21
Off to the Avignon Market, Les Halles which is open every morning from 8am-11. The variety of cheese and fish is not to be missed. If I lived here I would try a different fish every day, with a new cheese or pate and olives to start. We then walked through more of the old city where it is easy to imagine the warren of narrow streets as it might have been centuries ago.
We decided to go to the Petit Palais Musee to see the Quattrocento paintings which was to open again at 2pm. Everything in southern France is closed from noon -2 so the French can enjoy a long lunch/nap. We got there and it was closed because it was "museum night" and wasn't to open again until 4pm, so we went to the Lambert Musee which had contemporary art and special exhibition of Andres Serrano, he of "Piss Christ" fame. The museum offered a very good film about Serrano.
Back to the B and B where Werner and Frank needed their afternoon naps, while I returned to the marvelous Petit Palais Musee. This is a great collection of Quattrocento paintings. I should mention that hardly anyone was in either the Lambert or this museum although there were hordes of tourists throughout the old city. As I left the museum, I wandered through the church that is between the museum and the palace—the view from above was wonderful.
Alain made us another dinner reservation at the Five Senses. This was a wonderful meal: vol au vent, asparagus beet salad, duck, duck cassoulet and pistache zabaglione, strawberry glade with red fruit and a delightful amuse bouche.
Sunday, May 22:
We got our rental car—an Opel diesel—and drove to Vence and our apartment. We had some trouble finding it—it was up a hill/mountain with numerous narrow switchbacks. Eventually we arrived, managing to put our car in an overhanging position from which the owner had to rescue us by towing us out. Once that was resolved we arrived at a truly beautiful house with a view all the way to the Mediterranean and even Sicily on a clear day. We didn't want to try going back down to dinner and then up again so the owners had pizza delivered. One thing that seemed to be predominant in southern France were the number of places that served pizza.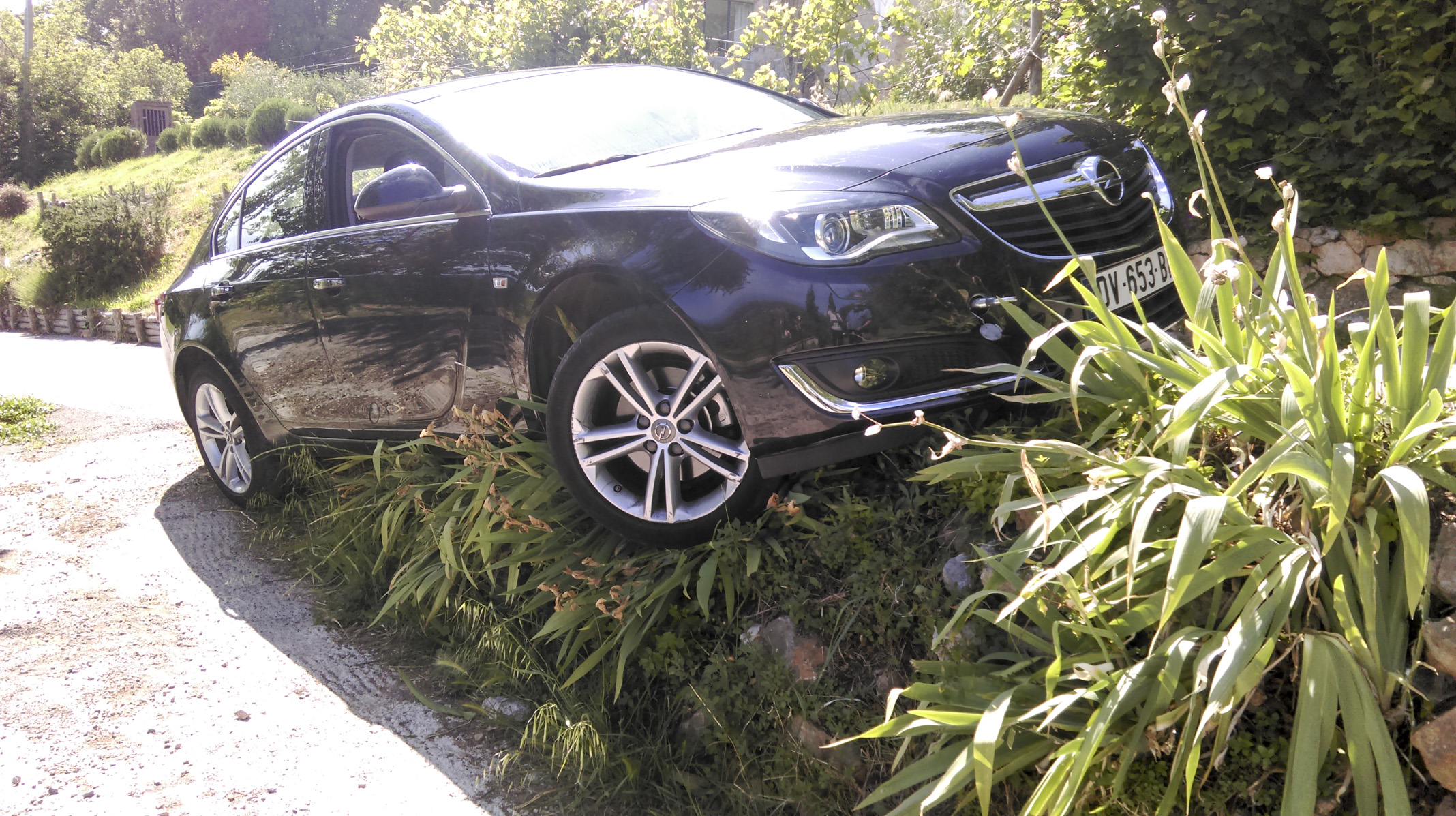 That night Frank woke up at 1 in the morning and took a shower. I hear this voice awaken me: "Gay, Gay, come in here—I'm stuck in the shower!" Turns out that the shower door was a bit wonky and had locked Frank in but we finally got it undone and the next morning the owner came over to repair it .
Monday, May 23
I should mention that we were enchanted by a large black and white bird later identified as a magpie. We tried to get a picture to no avail, even though it delighted us every day and perched itself on a nearby (but not near enough!) treetop.
Went to the small and delightful old town of Vence.  There was a small church that has Chagall mosaics of Moses being found among the reeds. We couldn't figure out why this was in the church...We then had a lovely lunch and shopped for some dinner food.
We went to the Henri Matisse chapel which is a small gem that Matisse created with scenes from the Stations of the Cross and a beautiful stained glass window.
Tuesday, May 24
We went to the Fondation Maeght but half of it was closed. We wandered through the Miro Labyrinthe and saw many wonderful works of art.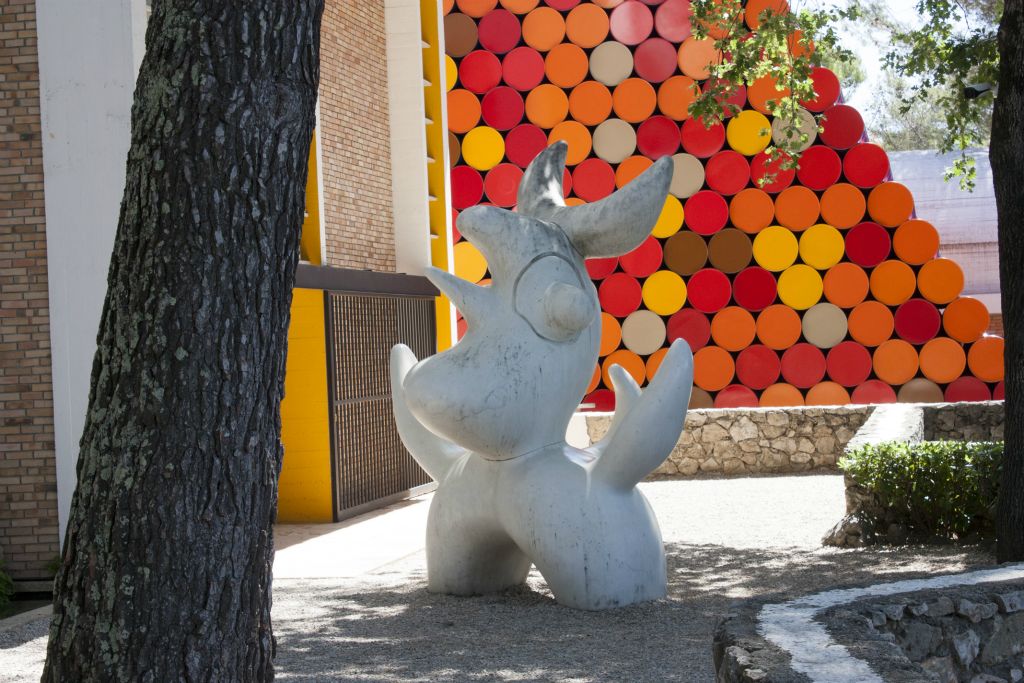 Then we wandered around the old town of St. Paul de Vence. A well known restaurant is the Columbe D'or. We managed to get in for lunch and it was wonderful—lunch: Cod with five vegetables with homemade mayo, escargot, shrimp were our three different meals. This restaurant is also a hotel and filled with major works of art—Picasso and his contemporaries ate here and traded their work for food. It is definitely work going to both the restaurant and touring the art work inside.
The old town of St. Paul is beautiful but very touristy.
Wednesday, May 25
Today we went to Antibes. We wandered through the market place and bought some red mullet,which is a specialty of the area. After a lunch of moules, fish soup and artichoke pizza, we walked to the Picasso musee which is in the Grimaldi Castle. It is a very good museum with an outdoor balcony of Gerhard Richter sculptures highlighted by the amazingly blue Mediterranean sea. The view is not to be missed. On the way back to the car we walked along the rampart.

Thursday, May 26
Our goal was to go to both the Chagall and Matisse museums but we could find no parking near the Chagall. We realized, too late, that what we should have parked the car in downtown Nice and taken a bus up to the museums.  We did, however find a place to park near the Matisse museum. From the windows of the museum, which is in a park, we observed a children's festival of dance which was just delightful to watch. The museum was filled with wonderful art work. There is also an Archaeological Museum in the park with ruins of the Cemenelum—three baths. The museum itself was quite well done.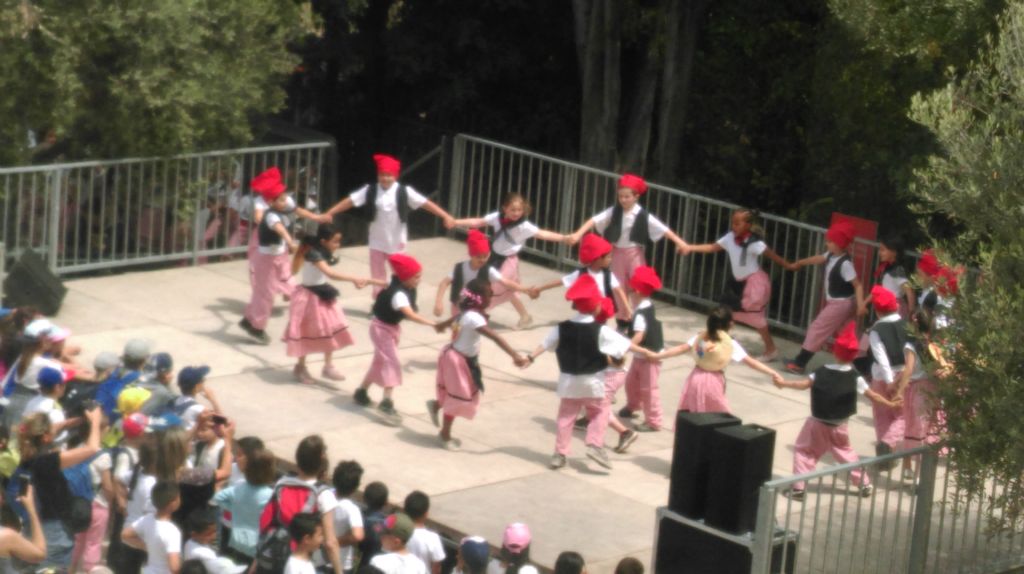 Unfortunately, when we got back to the car someone had smashed our rear side window. We knew enough not leave anything at all in the car and nothing was, therefore, stolen. It looked like vandalism for vandalism's sake.
Friday, May 27
Frank and I had to deal with the car and were told to go to another Europcar for an exchange. We first went to the one in Cagnes-sur-mer but they were sold out and had nothing to trade so we wound up at the Nice airport and all was well. We returned to our place in Vence and relaxed and swam in the pool, then made ourselves a lovely dinner. Now we have a Peugot which is not a diesel which actually was great as we found out later that diesel was in short supply due around the area.
Saturday, May 28
We decided to see Vallauris and the Musee Ceramique. Vallauris is a major ceramic center which Picasso revived when he created a lot of pieces there. Once again, the museum was partially closed—the part with the contemporary ceramics (although Picasso's pieces were to be seen).
A real treat was that in a separate building which had the feeling of a bomb shelter but was actually a very small 12C Church, Picasso had created and donated a vast mural titled "War and Peace". This is a true gem.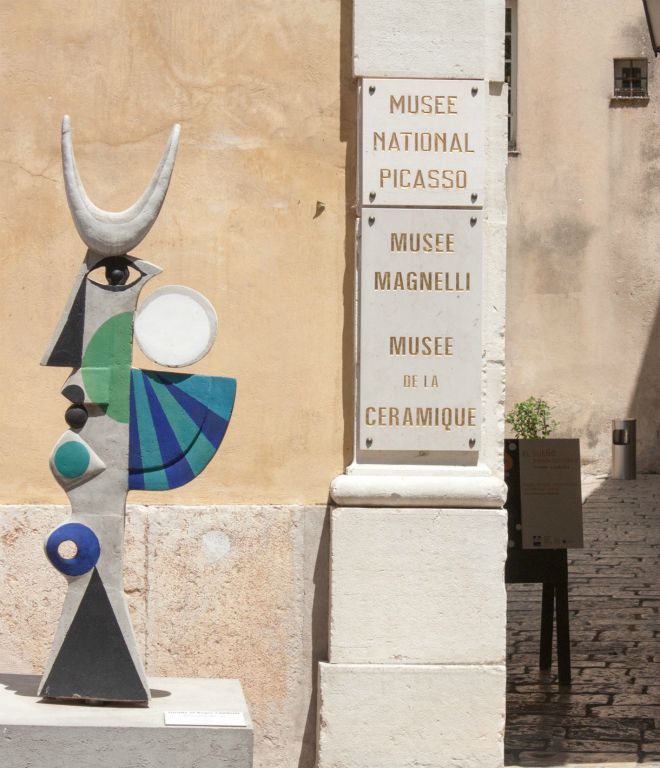 The town of Vallauris is filled with ceramics that are touristy and not of any value, although there were a few galleries that might have held better work but which, of course, were closed.
Sunday, May 29:
This was our designated day of rest and packing before leaving for Nyons. There was quite a dramatic thunder and lightning show—everything smells just wonderful
Monday, May 30
Down those switchbacks for the last time and this time Frank made them all without having to back up once—yay Frank! We are off to Rousset-les-Vignes which is just outside Nyons. We are staying at a guest house that is on the property of our host Deloris. Last year we stayed in her Paris apartment rental. She has invited us for dinner and martinis. She made some tadziki and a lovely roast chicken, etc.
I should mention here that all the scenery that we have experienced so far and will continue to view for the rest of this trip is beautiful beyond description. From Deloris's place we had a view of Mt. Ventoux and all the lovely vineyards of the area. There are also cherry trees (the cherries were in season), olive trees, and magnificent roses of every variety.
Tuesday May 31
We explored the old town of Nyons. This area is unspoiled and not touristy like the Cote D'Azur. People live in these old towns. There is a beautiful bridge across which we walked. We had lunch in the center of the city. I had a salad that had delicious and warm tiny octopi (poulpe). They were less than a half inch in size. While in the old town we met a woman and asked her for some restaurant recommendations. She listed three and the first was Resto Des Arts which was a great meal. Started with St. Marcellin cheese en croute avec almandes. Then I had the guinea fowl and Werner had durand and Frank had what turned out to be one very large and thin ravioli stuffed with shrimp. Dessert was a platter filled with crème brulee, a small melted chocolate tarte and ice cream. Wonderful!
Nyons is know for its olives which are black with a slightly crunchy skin. Unfortunately, Frank broke a tooth on an olive pit!
Wednesday June 1
We drove to Orange to see the Amphitheater, one of only three in the world that is completely restored. It is 2000 years old and has had many uses over the years. It was meant as an entertainment and to spread propaganda about the Roman empire. Later is was used in a variety of ways: it housed soldiers and served as a defense post, then the citizens of Orange took up refuge and build homes inside until the early 1800's when it was restored to its original purpose. Plays and operas were performed once again—Sarah Bernhardt and other luminaries of the era performed—and it is still used to this day and draws large crowds. Across the street is a museum that has many original artifacts from the amphitheater and is wonderfully done. An interesting fact: There is always a statue of the emperor and thousands of these were mass produced and sent throughout the empire.  The bodies were always the same but the heads were made separately and attached later on.  When there was a change of emperor, new heads were sent out and the old ones removed and tossed while the new ones replaced them!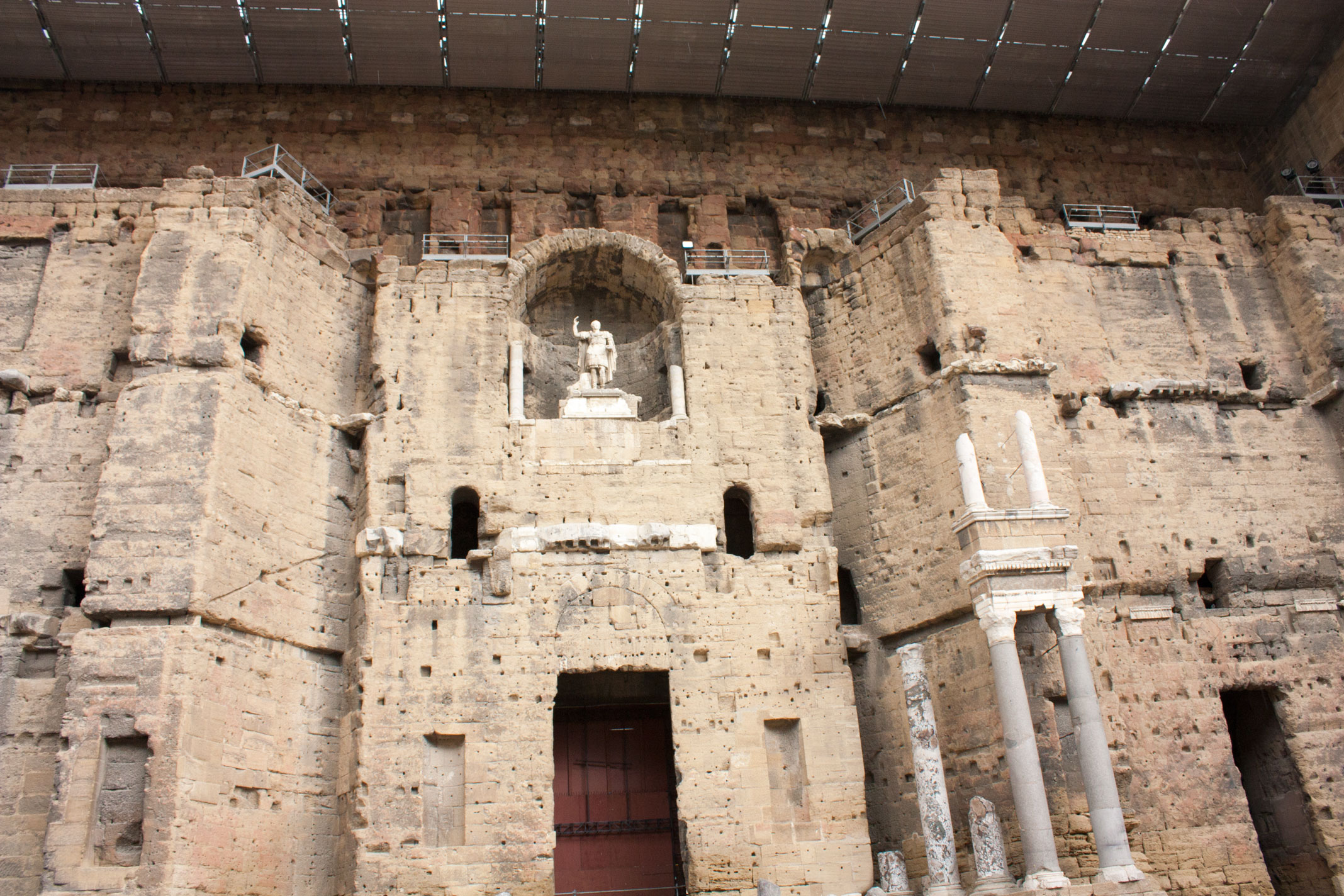 We drove back to Nyons and had a great meal in the old city at D'un gout a L'Autre..Frank had fish (we still don't know what kind) and Werner and I have veau filet in a saffron cream sauce. Dessert was listed as crunchy chocolate with meringue with dark chocolate ice cream ... delicious!
Thursday June 2
Today we went with Deloris to see the retrospective art exhibition of her late husband Bernard Stern.
This was held in the beautiful village of Grignan which is about 20 minutes from Rousset-les-Vignes. First we ate at the spectacular restaurant La Rosarie. We sat outside in a garden filled with roses and had a most wonderful meal. Her friend, Hubert Valayer, joined us. He has a winery, Domaine de Deurre and also trades in truffles. A charming fellow. Deloris and I had a soft boiled egg that was served with celery and herbs and bread with truffle, followed by a lamb dish and completed with a warm chocolate tarte. Great wine—Hubert is a trained oenologist . Bernard's expo was beautifully done. There was a "cave" next door and the owner had us taste the wines...the most unusual (which we did not taste) was a black truffle wine. Truffles are hunted with either dogs or pigs and Deloris told us that there wild pigs who came onto her property.
Friday, June 3
Today was Mt. Ventoux day...we drove first to Bedouin then down again into Malaucene where we enjoyed a nice lunch....I had a lapin (rabbit) terrine. On to the drive---narrow switchback roads with breathtaking views. There was some sort of huge event (a Fondo) of riders of all ages going up the mountain—we saw a man with a boy who looked to be about 12, others with handicap recumbent bikes attached to a regular bike being taken up the mountain. After an arduous drive up the mountain, ducking other cars and bicyclists all the way, we arrived at the cloud obscured top of Mt. Ventoux. The mist was rolling through and it was eerily wonderful. Mt. Ventoux is often part of the Tours de France, and has grades of 10 percent. It is nicknamed "The Beast of Provence". The ride back down was just as challenging.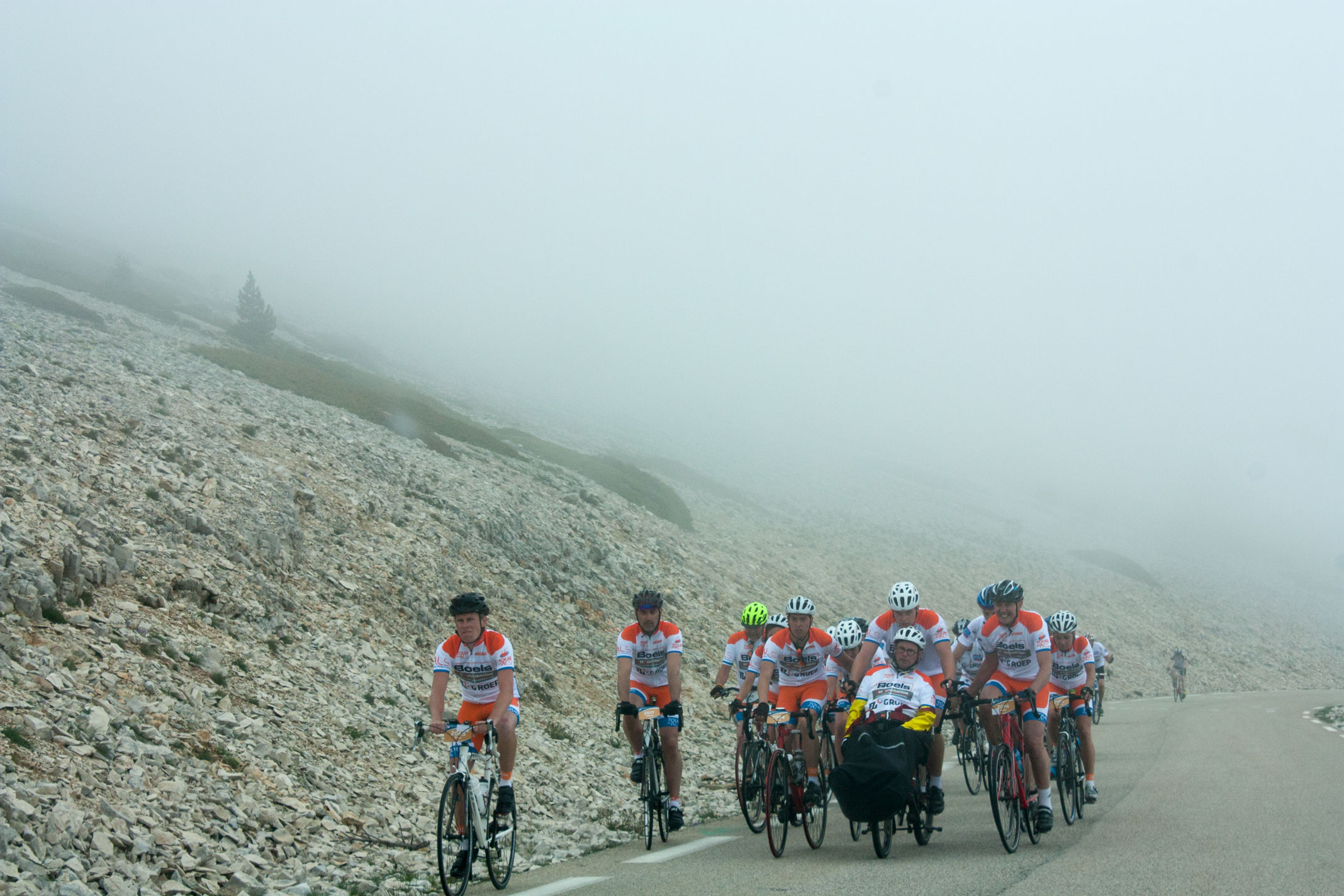 Saturday, June 4
Off to Rousillon, known for it's red cliffs of ochre, mined here for centuries. The scenery on the way to Rousillon was beautiful, and we passed by a huge field of red ground poppies on the way back down near the town of Murs. Rousillon was filled with tourists but was so unique and well worth the drive filled with narrow switchbacks.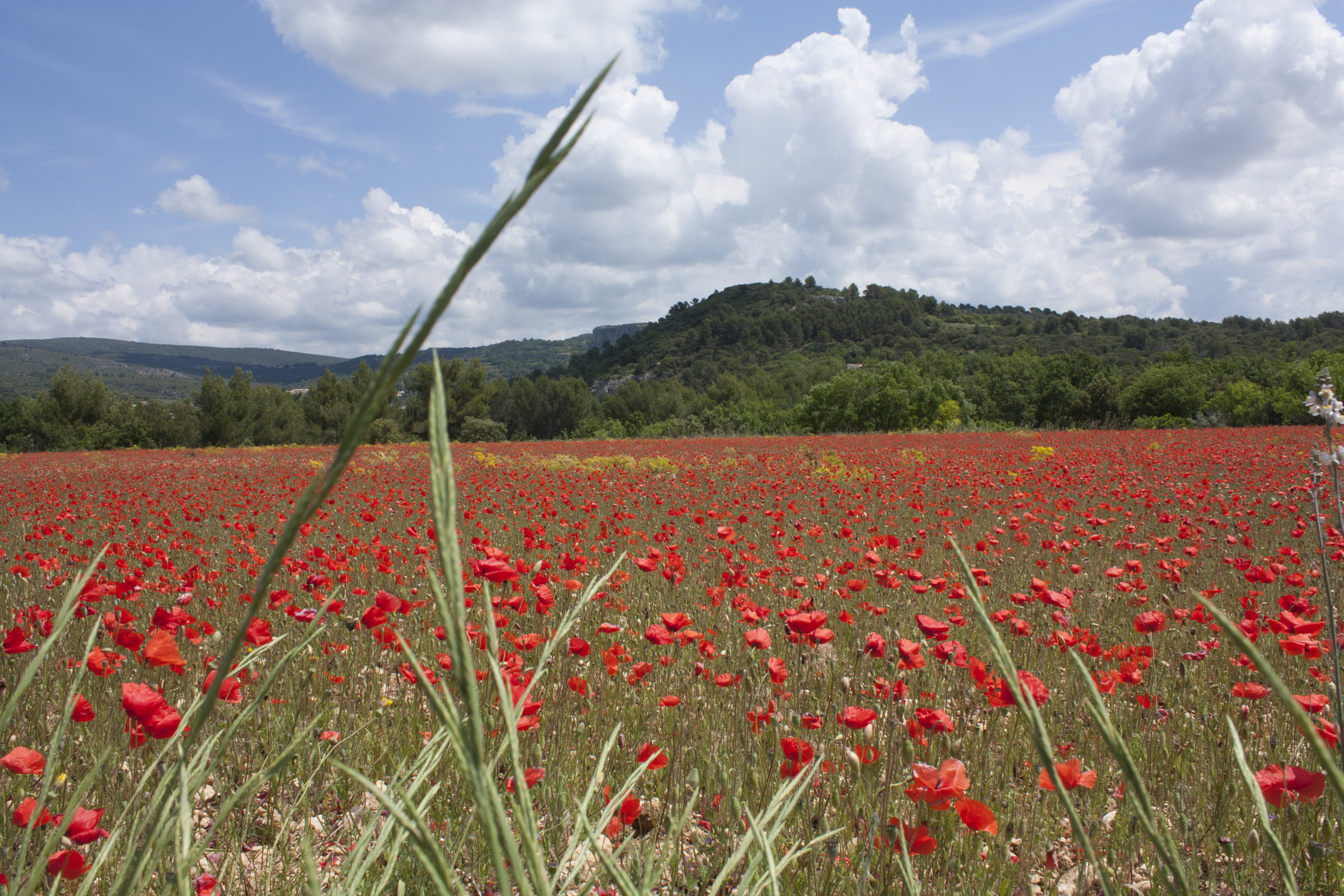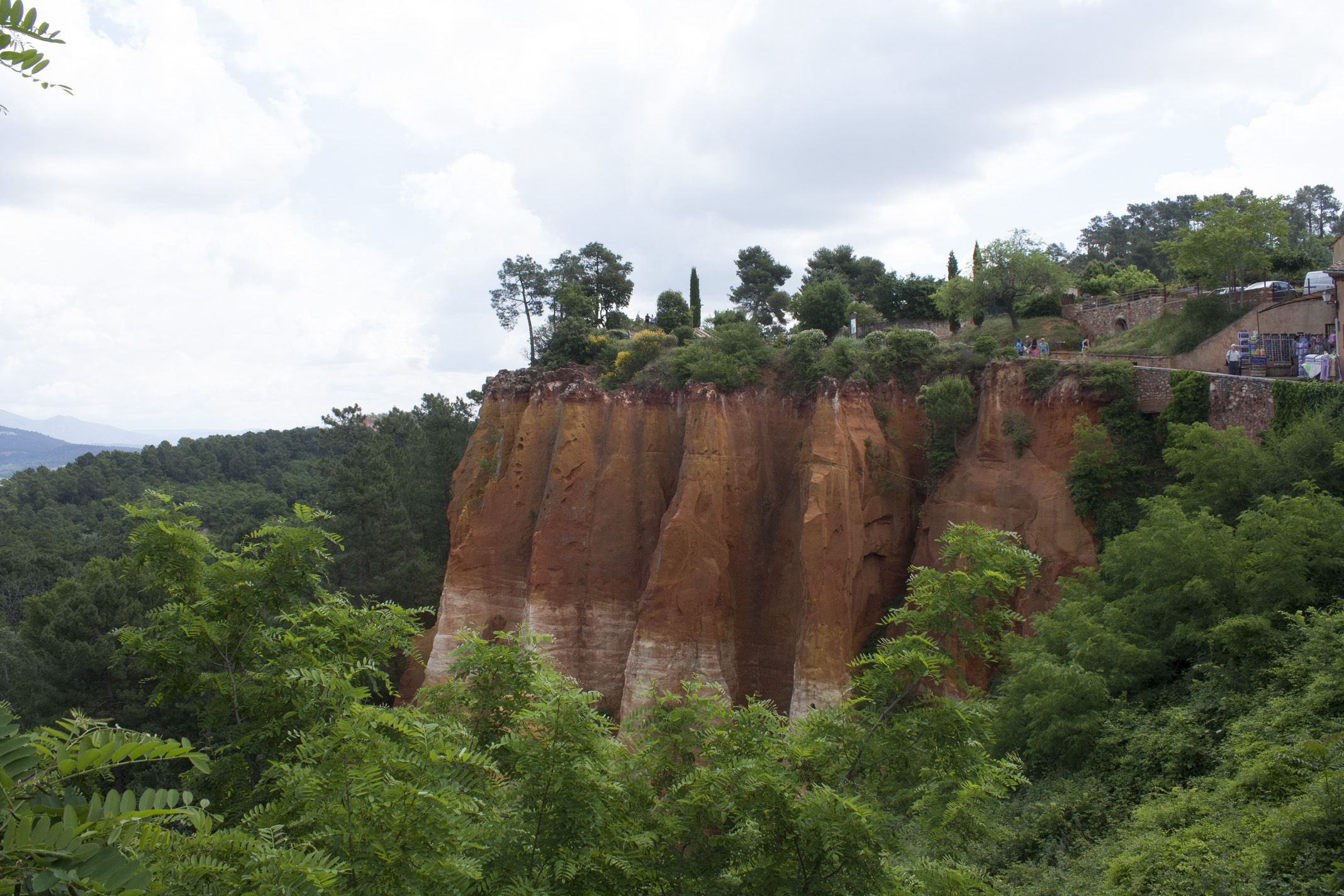 Sun, June 5
After two long days of white knuckle driving we decided to rest a bit and just enjoy the grounds.
Monday, June 6
We decided to explore the small medieval villages nearby that we had passed by while driving elsewhere. We went to Rousset-les-Vignes which had a very dark and poorly restored 11-12thC church and then Venterol where we had lunch at Cafe de la Poste, a one item menu of Bavette aux boeufs with the best scalloped potatoes. These old cities are still occupied and quaint, with folks living their everyday lives. It is totally unspoiled.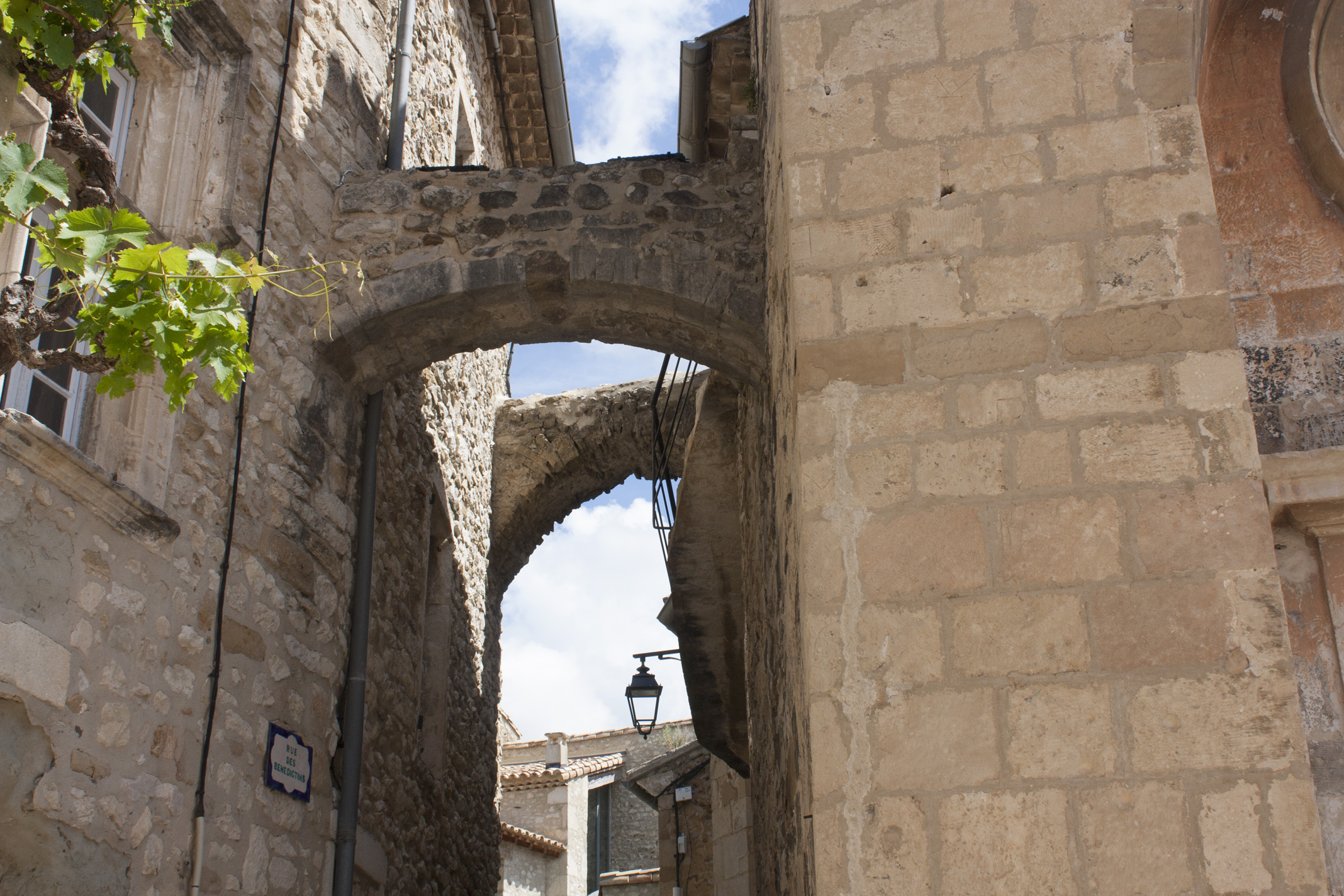 That night Deloris invited us and some friends for a soiree—we had martinis and wine from Hubert's domain and he also made us all truffle omelets. Many other wonderful things were served with a homemade tarte tartin for dessert. We ate outside and enjoyed the beautiful view.
Tuesday June 7
We drove to Avignon TGV for the train ride home and then stayed at the Ibis Styles which is practically in the airport and arrived at by taking the tram from Terminal 2 to 3. We went across the street to the more upscale Pullman hotel and had a great dinner—chicken in a wine sauce and Salmon with thai sauce for Frank. They did not know how to make a martini though, using a sweet vermouth and no gin. Very strange. But dinner was delicious.
To sleep and then............

Wednesday June 8th
Tram to Terminal 1 and our United flight. A very long and aggravating day—wheelchair problems again, almost missed our Paris flight home,  thrn more wheelchair problems and finally a two hour delay (due to weather) for the final Newark to Albany section. This is a real puddle jumper and we bounced along until arriving home sweet home.
All of this, however, was well worth the most wonderful time the three of us shared in the beautiful south of France.